Lebanon is witnessing some of its toughest times in history. The once-flourishing Switzerland of the Middle East has been affected by deep-rooted corruption and political internal and regional conflicts.
Today, the economic situation topped with the pandemic and political instability is further deteriorating.
For as long as people can remember, Lebanese students as well as heads of families have always been urged to seek occupations abroad, due to the lack of opportunities in the country.
Yet, many who cannot afford to travel are stuck. Now, with the revolution and anti-government resistance, the economy that was crashing even before then, and the suffocating effects of the pandemic, numerous businesses are shutting down and many jobs are being lost by the day.
International Information, a research company in Lebanon, published their measurement of what could happen in the near future regarding the rate of unemployment.
According to International Information, the number of unemployed people before the October 17 Revolution was about 350,000 (25% of the workforce).
Since October 17th, and with the virus, 80,000 additional people lost their jobs in Lebanon, bringing the total number to 430,000 (32% of the workforce). 
International Information said that the indicators and economic conditions in Lebanon, and most of the countries around the world, indicate the possibility of the unemployment rate increasing in the coming months to about 65% of the workforce. That's 1,000,000 unemployed people.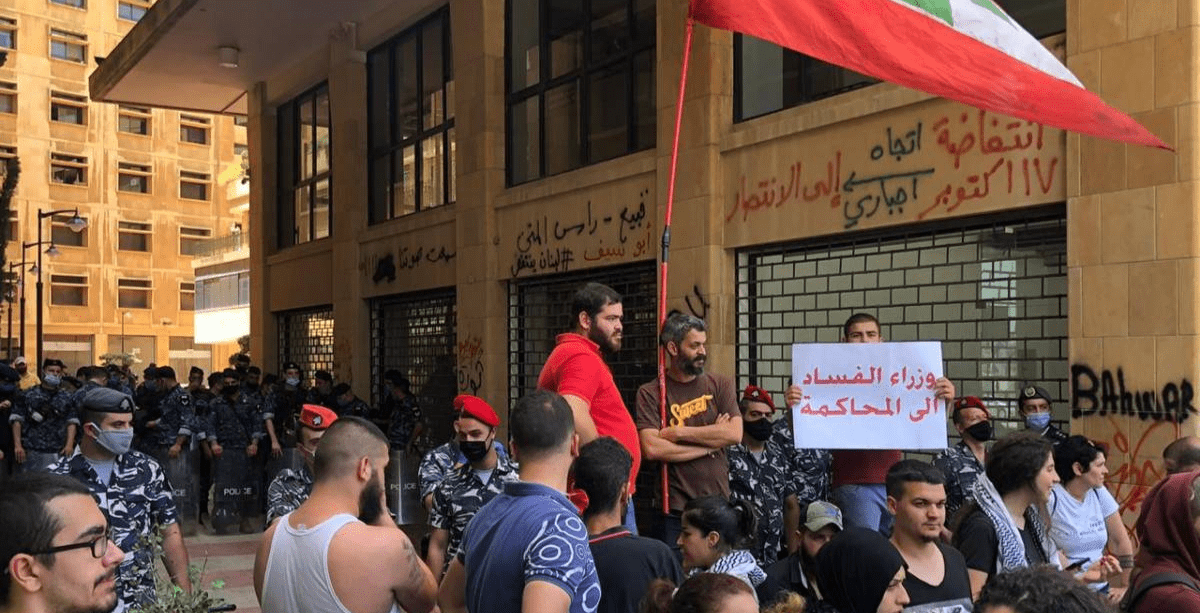 The research company also stated that up to 15,000 employees in private schools in Lebanon will lose their jobs since families will no longer be able to pay tuition.
Some restaurants, hotels, and tourist institutions will also close due to economic burdens.
We have already witnessed this happening with closures and salary cuts. This will reportedly affect around 50,000 employees.
Small commercial businesses, such as stores that sell shoes, clothes, and non-essential goods, will experience a drastic decrease in sales.
That's due to the high prices enforced on them as a result of the high exchange rate of the dollar against the lira. That will be affecting up to 25,000 workers.
Up to 60,000 people, including 30,000 fresh graduates, will also find themselves unable to find career opportunities nor travel abroad for jobs since immigration has become more difficult for the Lebanese people.
International Information also suspects that around 200,000 Lebanese people may return to Lebanon from Africa, the Arab Gulf, and Europe.
That's based on that they might lose their jobs as a result of economic reasons caused by the pandemic and for other reasons such as the decline in oil prices in the Gulf.
In addition, between 100,000-150,000 Lebanese from various sectors may lose their jobs "especially in the construction and contracting sector, in the media and press, in transportation, in banking," and more.
International Information clearly adds a disclaimer that their predictions are not 100% accurately backed up by scientific or statistic figures. However, they said that these statements sound the warning bell of a very possible future that we all need to hear.
---
Our team works tirelessly to ensure Lebanese people have a reliable alternative to the politically-backed media outlets with their heavily-funded and dangerous propaganda machines. We've been detained, faced nonstop cyber attacks, censorship, attempted kidnapping, physical intimidation, and frivolous lawsuits draining our resources. Financial support from our readers keeps us fighting on your behalf. If you are financially able, please consider supporting The961's work. Support The961. Make a contribution now.