It has been an extraordinary time for Lebanon and the Lebanese people all around the globe. Unexpected and surprising is the least that could be said on that revolution. Lebanon has seen in the last couple of weeks a new non-sectarian unified move. People from all age ranges have participated, and they all got something positive out of it.
#1. 

The real meaning of democracy and freedom of speech
For the first time, Lebanon knows no taboos. You are free to give your honest opinion on the corrupted politicians without anyone minding. It wasn't the case just a couple of months ago when people used to get judged and even sued and arrested, for saying what they think about the bloodsucking Lebanese politicians.
Lebanese people have been given space to express themselves peacefully. They have learned how to pass on their messages in funny and often sarcastic ways.
#2. 

Patience and perseverance
Lebanese people stayed on the streets for 13 days before the resignation of PM Saad Hariri. It is a new kind of dynamic for Lebanon. No force has managed to stop the people from getting off the streets, day after day, no matter how hard they tried to suppress them.
Roads were closed for 13 days to have their demands fulfilled. The Lebanese have been already patient enough to put up with the corruption of their politicians for years now, but this was something else.
#3. 

Doing the right thing
The young, the old, the rich, the poor, men, women, kids, Christians, Muslims, Druze. People from all social aspects and statuses went down to the streets with one unifying principle: Getting the corrupted politicians out.
Lebanese were all standing hand-in-hand doing what they are convinced is right for all people despite their differences. Our people have learned that they are all equal in the injustice taking place and they should not stand still, no more.
#4. 

Getting more informed, educated and cultivated
Via @alternativetourbeirut
Despite the chaos that was going on in the streets of Beirut, universities such as the American University of Beirut (AUB), Lebanese American University (LAU), and Saint-Joseph University (USJ) were strongly present. Tents were brought up, and classes were held in streets and old abandoned iconic buildings such as The Egg.
Young people were largely interested in knowing more about the constitution of the country and the solutions possible. There was even a class about how to maintain mental health during such hard times. Lebanese people have learned that knowledge is the key to change.
#5. 

You don't have to be on the streets to take part in the revolution
A lot of people were not able to go down to the streets due to several reasons. They participated despite their inability to be physically present. Social media sure helped them a lot. Painters, actors, activists, writers, singers and even priests.
It is no surprise since a lot of famous artists were part of the resistance at some point in history. Lebanese people have learned alternative and creative ways to resist and express themselves. 
#6.

Ecofriendly attitude

 
"More trash has been recycled in the past 13 days than in the history of the government!" That is what some people have claimed happened in this revolution.
Volunteers from all regions were waking up at 6 AM, heading towards Beirut streets with their gloves and bags. Roads were cleaned in the morning of each day in order to facilitate the happening of the manifestations.
#7.

Unity makes strength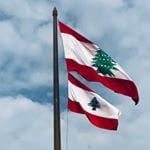 @home_throughmyeyesembedded via  
It comes as no surprise that this non-sectarian movement has brought people together. Some Lebanese were astonished though. A lot of them have lost hope in the idea of this country uniting for one collective purpose. Faith has been restored in themselves and in the future of Lebanon, through the unity of its people.
#8. 

Our history is our pride
Via Annahar
From Riad El Soleh Square and the Martyr's Square to the Grand Theatre, and from Saida to Tripoli and all through the country: Lebanon is full of beautiful stories. A lot of people have fallen in love with Lebanon, all over again.
We tend to take for granted things we have, unfortunately, our towns and cities are among them. This revolution reminded us how beautiful our country is, how culturally rich and diversified it is.
#9.

Our nation is more important than any party
Only the Lebanese flag was raised in 13 days of protests. Lebanon comes first. It is the only priority. All parties were verbally attacked, no exception. It is a huge leap forward for a country that has been divided into numerous parties in the last 45 years. A sense of strong nationalism was felt from north to south, and from coasts to mountains.
#10.

Determination for our rights
Fight for them.. and never give up.
True, the revolution hasn't ended. The journey continues towards fully recuperating our democracy on which our Consitution stands. More lessons are on the way, and we have to face them with the extraordinary unity we have proven these past days. 
They could be challenging at this stage but patience and determination are part of what we've just learned these past two weeks so we can be equipped to move into the second and not less critical phase.
Lebanon is writing its new history these days and you don't want to miss it! Follow us on Instagram @the961 for continuous coverage of the current events, and join us also on Facebook @The961Lebanon to engage with our fans in Lebanon and abroad.