Lebanon is known to have bred outstanding fashion designers that are magnets in the world of celebrities and royalties, such as Elie Saab, Zuhair Murad, George Chakra, Rami Kadi, and more.
Yet, these internationally acclaimed designers are not the only ones with outstanding creativity and talents. They had their long journey to fame and reign at the apex of their career.
In their footsteps now, others have started to shine on the Lebanese horizon, and some even beyond. They have their uniqueness, producing dapper and high-quality designs worth the international catwalks.
Here are 11 of them that you should keep under your radar:
#1 Aboud Jammal
Aboud Jammal is a young designer from Beirut who tapped into his interest in fashion at an early age and developed it from a temporary hobby to a successful career.
In 2012, he enrolled at ESMOD International Fashion University in Paris and joined the Zuhair Murad fashion house as an intern.
He graduated in 2015 with a Bachelor's Degree in Fashion Design and joined in the Beirut Young Fashion Designer Competition, earning the first-place trophy.
In 2016, he founded his own couture house, Maison Aboud Jammal, and presented his Fall-Winter collection at the international "Festival de la Mode à Tunis, which scored him his first breakthrough in the industry.
He went then to release numerous stunning capsule collections, infusing the fashion world with exquisite designs.
For more Aboud Jammal, read: Meet The Lebanese Designer Emerging At The Forefront Of The Regional Fashion Scene.
#2 Joseph Achajian
Joseph Achajian is the creative director and founder behind the Lebanese-born men's wear brand Maison Du Mec.
Achajian gathered international expertise in fashion without having a traditional education in the field. He learned directly from his family legacy of tailors and business dating back to the 1920s and combined it with his inherent creativity.
Originally wanting to be a doctor, the Lebanese-Armenian designer chose the path of fashion and founded his label that has been standing out as exceptional.
Individuality, sleek streetwear, expressiveness, and skillful craftsmanship are what can best describe his designs.
#3 Ahmed Amer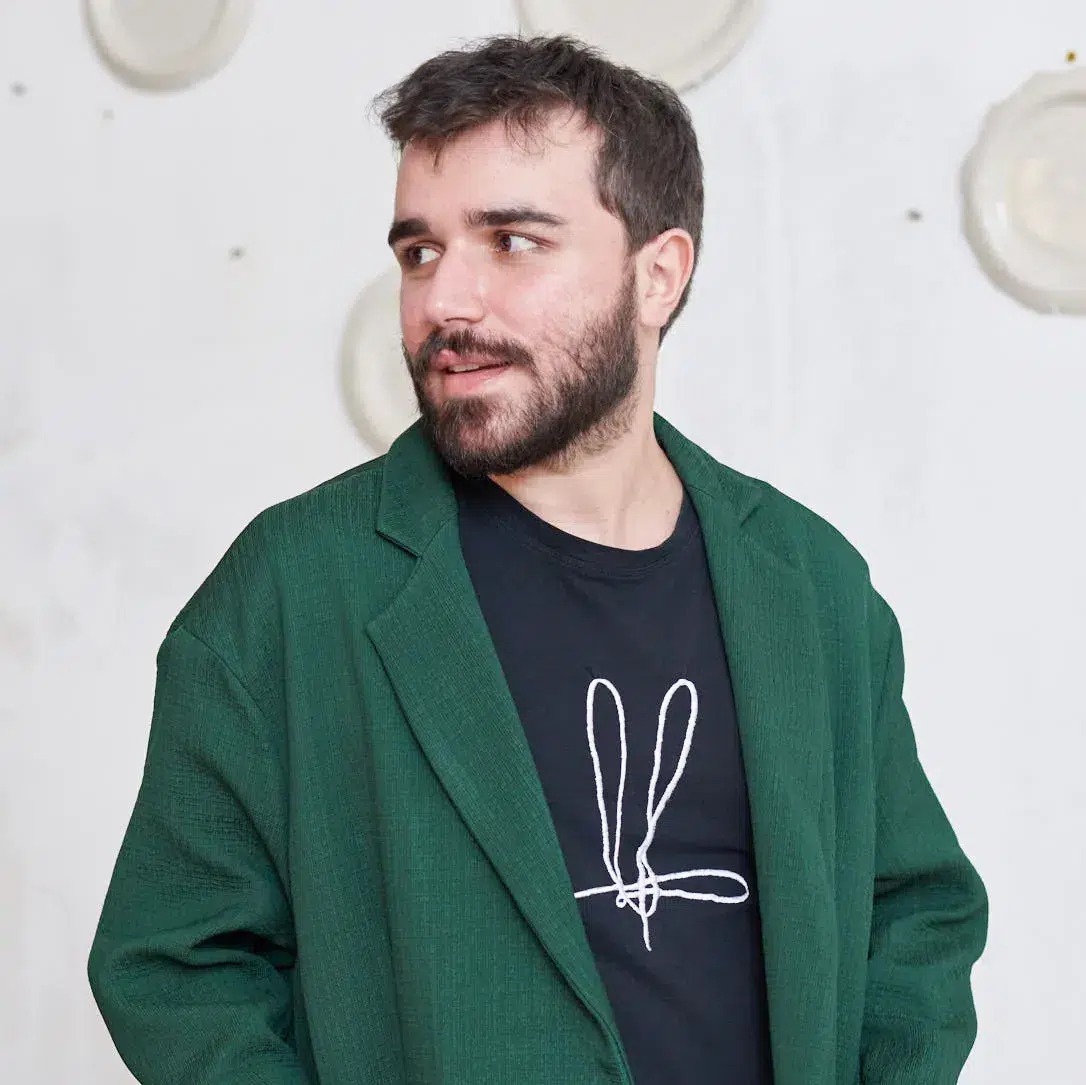 Beirut-based Ahmed Amer is a fashion designer and illustrator. After pursuing his studies in interior architecture at the Lebanese University (LU), Amer joined Creative Space Beirut in 2014, where he presented his collection at a live fashion show in downtown Beirut.
During that time, he was selected to participate in the Middle East's Project Runway, gaining exposure to the world.
Ahmed is also the winner of the Openmymed 20/21 prize by Maison Mode Mediterranée, Marseille, France.
Nowadays, the Beirut-based fashion designer is the creative director of the namesake brand, Ahmed Amer, a gender-fluid and minimalistic Ready-to-Wear.
#4 Sandra Mansour
Swiss-born Lebanese designer Sandra Mansour is becoming a great name in the fashion industry for her modern Ready-To-Wear (RTW) pieces as well as Bridal wear.
In 2020, she was the first Middle-Eastern designer to team up with the leading apparel brand, H&M, where she designed "empowering pieces" inspired by the colors of the earth and edgy designs.
World celebrities are starting to direct their attention toward her designs, as seen recently on red carpets.
For more about Sandra Mansour, read: H&M Is Teaming Up With A Lebanese Designer For A New Fashion Line.
#5 Yassmin Saleh
Born in Beirut and raised in Abu Dhabi, Yassmin Saleh began her journey in Fashion after enrolling at the prestigious Istituto Marangoni in Milan.
She then explored her fashion skills training at the Lebanese American University (LAU) and completed her Bachelor's degree in Fashion Design.
In 2015, she won the Jury Prize and was selected to intern at the Elie Saab headquarters in Beirut. In 2017, she won the Prize of Excellency in Craftsmanship for her collection "The Dance of the Psyche."
In 2018 she was selected to participate in the Starch Foundation, where she launched her first collection for her brand Yasmin Saleh.
#6 Tatiana Fayad and Joanne Hayek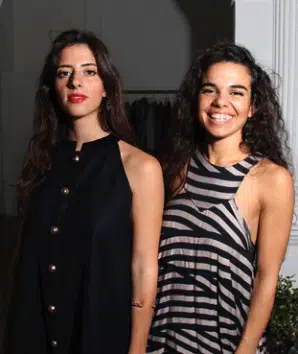 The two emerging Lebanese designers and childhood friends Tatiana Fayad and Joanne Hayek have "blossomed" into sustainable fashion designers. They are the owners of the fashion label Vanina World.
They initiated their journey in fashion in 2007 with their socially conscious label, which is growing international fans with their sustainably-made jewelry, shoes, bags, and clothes.
Their creativity has reached great success, especially after the launch of their first collection "Coined", which they created using Lebanese Pound coins, thus involving sustainable ethics with fashion.
Now, Vanina World, and both Tatiana Fayad and Joanne Hayek, are celebrated for their bold talent and creativity.
#7 Mira Hayek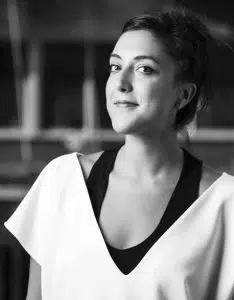 Mira Hayek is a Beirut-based designer whose Ready To Wear designs are inspired by geometry and motifs.
After studying Graphic Design at the Lebanese American University (LAU) in Beirut, she began training in Milan, where she enrolled at Istituto Marangoni to study fashion design.
Hayek then continued her master's degree in Fashion and Textile Design at the Istituto Europeo di Design.
Her talent secured her an internship at the ateliers of Elie Saab in Beirut and at Erdem in London.
In 2011, she was selected by the STARCH Foundation – Beirut to launch her very first ready-to-wear collection.
#8 Salim Azzam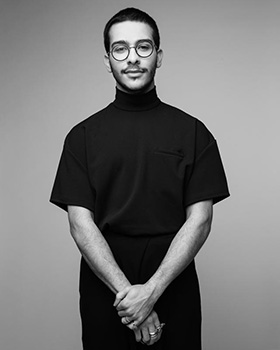 The emerging Lebanese fashion designer, Salim Azzam, is reviving the art of embroidery with women in the Chouf region.
His namesake brand features intricate skills by local women and Salim Azzam's vision for sustainability.
Currently, Salim Azzam is shining on the Lebanese fashion scene with his designs.
For more about Salim Azzam, read: Lebanese Designer Is Empowering Local Women Through His Fashion Work.
#9 Hussein Bazaza
Beirut-born Hussein Bazaza developed a deep love for fashion at a very young age, which led him to enroll at ESMOD Beirut, graduating in 2011.
He then interned at the leading fashion houses of Maison Rabih Kayrouz and Elie Saab.
He was only 23 years of age when he took off on his own, opening his first atelier and showroom in Beirut.
The Lebanese designer received the prestigious Elle Style Award for "Best Upcoming Middle East Designer" in 2013, and the "Best Emerging Designer" for The Middle East Fashion Awards in 2015.
Hussein Bazaza is now stunning and influencing the world of fashion, making it to Forbes 30 Under 30 regional List in 2018.
#10 Salim Cherfane
Born and raised in Beirut, Salim Cherfane creates bold and vibrant designs.
He studied graphic design and art direction at L'Academie Libanaise des Beaux-Arts (ALBA) and took the path of fashion design.
In 2018, he was selected by Starch Foundation to showcase his first-ever fashion collection.
Inspired by very beautiful and fun patterns, Salim founded his designer brand, Jeux De Mains, for both men and women.
According to him, his brand's main aim is to combine playfulness with fashion to explore a wide variety of themes that fit everyone.
#11 Steffy Gemayel
The Lebanon-based designer Steffy Gemayel founded her brand after her name in 2017, creating stunning designs inspired by her mother, a conceptual collage artist.
Steffy is creating pieces infused with handmade items and craftsmanship inspired by the cities she had lived in, namely London, Beirut, and Florence.
In 2020, she shifted into a more eco-friendly production, using newly recycled and up-cycled products made with crochet.
During the same year, she launched the first crocheted bag collection for Spring 2020, which was a great success for both the brand and the designer.