Tripoli, the capital of North Lebanon, is a historical coastal city where the old meets the new, and a place where the hospitality of the locals could astound you.
From its stunning beach, ancient historical sites, romantic port, captivating religious attractions, and altogether delicious cuisine, Tripoli does call for a day of discovery.
Here is how to best enjoy your visit to Tripoli:
Start your day with a delicious Kaak Bil Jebneh
Tripoli offers delicious street food, especially the traditional Kaak Bil Jebneh (Cheese Kaak) which is one of a kind. It's not just a delight, it will give you the right energy boost to embark on an exciting day of discovery.
Visit the picturesque El-Mina area
El-Mina port was a strategic trade point in the region since the Phoenicians and throughout history. It is a captivating spot to visit and walk through its corniche, its ancient alleys, and its charming houses.
If you plan to spend a full day in Tripoli, consider taking a boat ride from El-Mina to Rabbits Island.
While in El Mina, do also check Tripoli's old railway station, the second oldest train station in Lebanon.
The railway used to operate between Homs in Syria and Beirut's central station in Mar Mikhael. However, the train station was badly damaged during the civil war.
Here are more things you can do in El-Mina.
Discover the Citadel of Raymond de Saint-Gilles
Also known as Qala'at Sanjil or Qala'at Tarablus, the Citadel of Raymond de Saint-Gilles is a landmark of Tripoli. It was built around 636 CE by the Crusaders, and is often described as one of the oldest constructions in Lebanon's history!
Visit Al Mansouri Great Mosque
If you want to check out an amazing religious heritage, visit the Mansouri Great Mosque, also known as The Great Mosque of Tripoli, a stunning mosque built during the Mamluk period.
Get to admire the Iconostasis of Saint Georges Church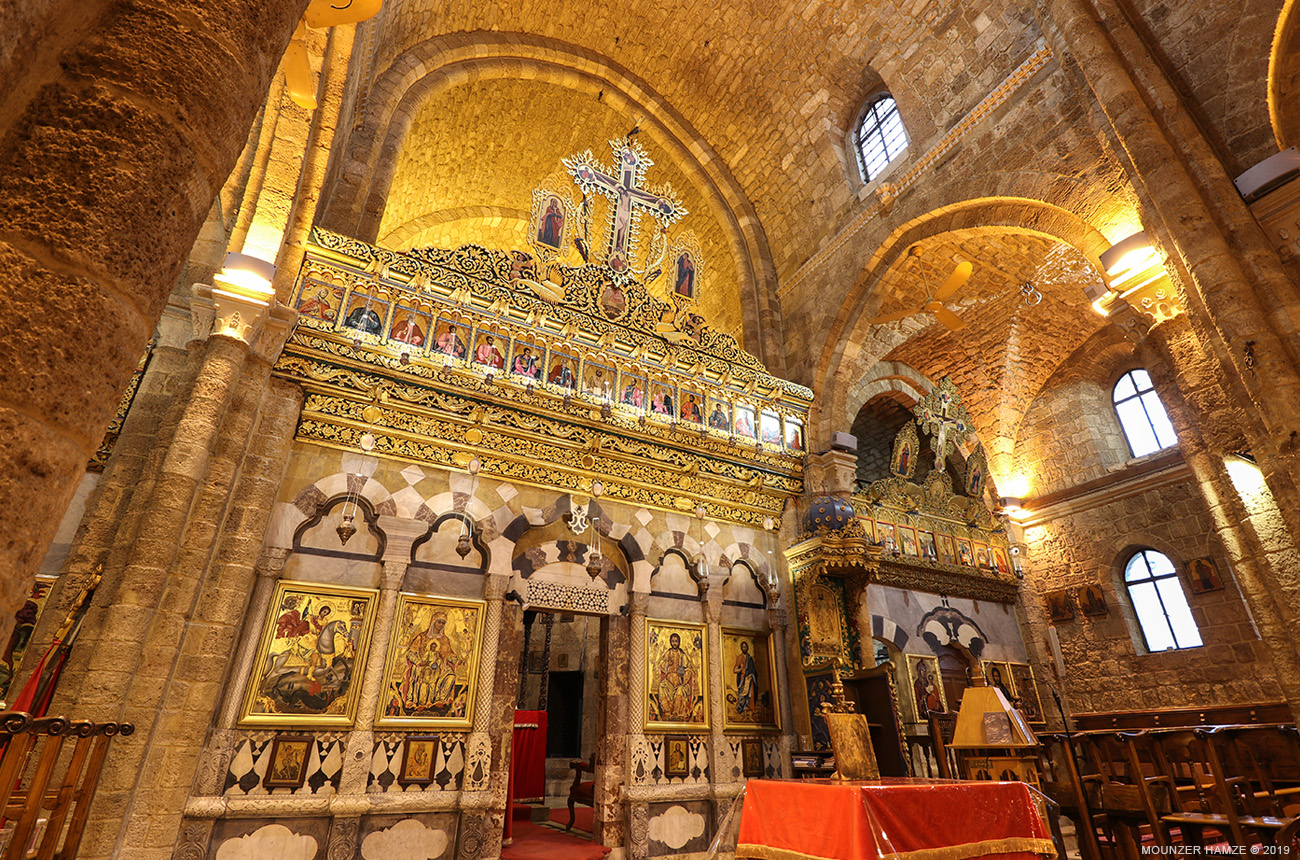 Tripoli is also home to many beautiful churches of different denominations. Among them is the architectural masterpiece of Saint George's Cathedral built in 1732. Its impressively beautiful Iconostasis is a must-see.
The church has also a collection of distinctive 19th-century icons
Tour the Soap Khan
This site is worth visiting for both its antiquity and the variety of soap-making workshops and shops surrounding a square courtyard with a fountain.
The Soap Khan is famous for its natural soaps of all kinds, made with nature's ingredients like olive oil, honey, flowers, herbs, and essential oils.
Explore Tripoli's old souks
This is not just one souk, but 9 vibrant souks reminiscent of the ancient history of Tripoli: Souk al Attareen, Bazerkan, Haddadin, Haraj, Kameh, Koundarjiyeh, Nahhasin, Samak, Sayyaghin!
Discover Al-Tal Square
You will get to see the stunning historic buildings commissioned by the Ottomans with European-influenced architecture.
The square also boasts the Nawfal Palace and Tripoli's clock tower landmark, built around the 1900s.
Step back in time at the remarkable Hammam Ezzeddine
The Hammam Ezzeddine in Tripoli is an old Turkish bath, and a great place to discover breathtaking architecture, with a fountain in the middle, a stunning dome, and faded colors that reflect on the Hammam's historical features.
See up close the stunning architecture of Al Shoker Mosque
Al Shoker mosque is one of Tripoli's most beautiful mosques where people gather to worship quietly.
The mosque also boasts amazing interior architecture reflected by a stunning dome, colors, and symbols.
Treat yourself to Tripoli's delicious sweets
Tripoli is known for its variety of delicious traditional desserts, some are specialties of the city, and some are common across Lebanon yet presented differently or with a twist.
You do need to try the local specialties since you made the trip to Tripoli, like the succulent Kneffeh bil Ashta or the mafroukeh pistachio. The Tripolitan Halawet el Jibn is also a must-try.
Some of the city's dessert shops are centenary, like the Palace of Sweets Hallab 1881 (1881), and Rafaat El Hallab 1881, where you can also get to try the Tripolitan Lahem Bil Ajeen: Sfiha.
Get to admire the famous Oscar Niemeyer's complex
One can't visit Tripoli without checking the complex of buildings designed by the internationally acclaimed architect Oscar Niemeyer. Commissioned in 1963 for a World's Fair event, the project came to an abrupt halt in 1972 at the onset of the Civil War.
The complex is part of the Rachid Karame Fairground and is totally Instagram-worthy from various spots!
Spend the night at one of Tripoli's guesthouses
If you and your loved one(s) want to taste the charm of Tripoli for many days, there are many guesthouses and hotels in the city, namely the gorgeous Beit el Nessim where you will get to feel authentic architecture! For more info, contact 03 308 156.