We have previously shared with you that Lebanon ranked among the top 15 most billionaire-dense countries. Recently, Forbes released its annual list for the richest people in the world. So naturally, more than a few Lebanese made it onto the prestigious list.
The richest Lebanese achievers cited for 2019 are:
#1 Najib and Taha Mikati ($2.5B)
With 2.5 billion, both siblings Najib and Taha Mikati hold a joint place at #916.
Najib Mikati is no stranger to mogul status. He served twice as Prime Minister of Lebanon, and he is by far the wealthiest self-made billionaire in the Middle East.
The Mikati siblings built their empire from scratch, back in 1982, when they founded Investcom, selling satellite phones at the height of the civil war of Lebanon.
Today, the Mikati siblings share the ownership of M1 Group, a highly successful Beirut-based investment firm. Its investments include stakes in South Africa, France, New York, London, and Monaco.
#2 Issam Fares ($2.3 B)
Issam Michael Fares is a prominent Lebanese businessman, a former member of the Lebanese Parliament and former deputy Prime Minister of Lebanon. Now 80, Fares is a billionaire entrepreneur with an estimated net worth of $2.3 billion.
Fares is the proud owner of one of the world's 200 super-yachts. He also has a building, the Issam Fares Institute, at the AUB campus named after him.
#3 Bahaa Hariri ($2.1B)
Treading on the heels of the Mikati siblings and Mr. Fares, with a net worth of 2.1 billion, Bahaa Hariri takes third place on our 2019 list and ranks the 1116th worldwide on the Forbes' List.
Bahaa is the eldest son of martyred Lebanese Prime Minister Rafiq Hariri and an heir to a large portion of the fortune of his father. Bahaa expanded his financial lead in 2008 when he sold his stake in Saudi Oger, the Hariri family's construction business, to his brother Saad, the current prime minister of Lebanon.
The real estate company of Bahaa is currently involved in a $5 billion project to revitalize an area of Amman in Jordan.
#4 Robert Mouawad ($1.5B)
Further down the Forbes' list, and 4th on ours, Robert Mouawad and his sons occupy the 1511th place with a staggering $1.5 billion.
As any Lebanese can tell you, the name of the Mouawad family has long been tied to the most luxurious jewelry business in the Middle East. The business was established in Beirut in 1890 and passed from father to son to include Alain and Pascal Mouawad in 2010.
Mouawad is the proud owner of one of the most dazzling gem collections of the world, including Dynasty, a 51.12-carat Russian diamond estimated at nearly $10 million.
#5 Ayman Hariri ($1.3B)
Unsurprisingly, another Hariri has graced the Forbes' list and ours.
A son of late Prime Minister Rafiq Hariri, Ayman became a young billionaire at the age of 27 when he inherited his stake in the company of his father, Saudi Oger. In 2014, Ayman followed in the steps of his older brother Bahaa and sold his share to his brother Saad.
In 2017, Ayman also sold his stake in another family holding company, GroupeMed, for an impressive $535 million.
An entrepreneur and risk-taker, Ayman regularly invests in promising startups and enterprises. In addition, he is a co-founder and CEO of Vero, an ad-free social media platform that allows users to share music, videos, and photos.
#6 Fahed Hariri ($1.2B)
The youngest sons of Hariri, Fahed wraps up the Forbes' list of Lebanese top billionaires of 2019 with a respectable $1.2 billion.
After selling his share in Saudi Oger to his brother Saad, Fahed chose to invest in Lebanese banks, including Bank Audi, and in real estate in New York, Paris, and Monte Carlo. He is also a developer of residential buildings in Beirut.
With over two-thirds of our people living abroad, many other billionaires who made it on the Forbes' list are of Lebanese descent, and we take pride in citing them as well:
#7 Carlos Slim Helu ($64 B)
Needless to say, the Lebanese descendant Carlos Slim Helu still holds his place in the prestigious list of Forbes, for 2019 as well. He reigns on the throne of the 5th richest person in the world!
The Helu family controls America Movil, the biggest mobile telecom firm in Latin America. Carlos also owns stakes in Mexican construction, consumer goods, mining, and real estate companies, and 17% of The New York Times.
With a whopping $64 billion, Helu was the richest man in the world four years in a row from 2010 to 2013, outranked only by Bill Gates in 2014.
#8 Joseph and Lily Safra ($17.4 B)
With $17.4 billion, the Safras take the cut as the 2nd richest family of Lebanese who settled abroad. Joseph Safra was born and raised in Beirut before moving to Brazil in his early 20s to establish his banking empire.
#9 Gilbert Chagoury ($7.4 B)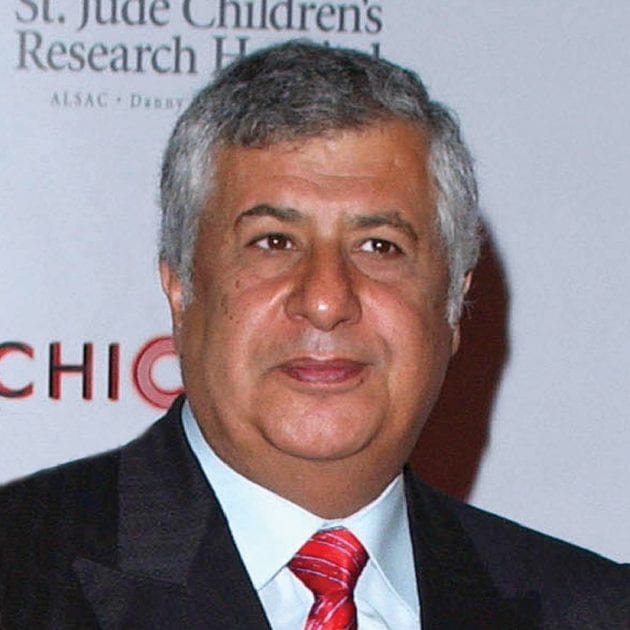 You name it, and he's done it!
Lebanese businessman, diplomat, and philanthropist Gilbert Chagoury built an industrial conglomerate with interests in construction, real estate, and property development, flour mills, water bottling and purification, glass manufacturing, insurance, hotels, furniture manufacturing, IT, catering, telecommunications,  and international financing.
Born to Lebanese immigrant parents in Lagos, Nigeria, Mr. Chagoury studied in Lebanon at the Collège des Frères Chrétiens before returning to Nigeria.
#10 Jacques Saade ($7B)
Before passing away in June of 2018, Lebanese-born French businessman Jacques Saade ranked #228 with $7 billion. He was the founder and chairman of the third-largest container transportation and shipping company in the world, the CMA CGM Group.
#11 Nicolas Hayek ($4.1 B)
A Lebanese-American Swiss businessman, Nicolas George Hayek was –until his passing in 2010– the co-founder, CEO, and Chairman of the Board of The Swatch Group. His family still resides over his $4.1 billion Swiss watch industry.
#12 Tom Gores ($4.1 B)
Tom Gores, born Tewfiq Georgious, is a Lebanese American businessman and investor.  He is the founder of Platinum Equity, a private equity firm with headquarters in Beverly Hills.
In 2011, Gores also became the owner of Detroit Pistons of the National Basketball Association (NBA), making him a popular name in the American household.
#13 Robert Naify ($4.0 B)
Robert Naify was a self-made Lebanese-American motion picture and media tycoon. He was known for his ownership of a chain of movie theaters, a cable company, and a post-production and sound mixing firm.
Before his passing in 2016, at the age of 94, his net worth reached $4 billion.
#14 Tony Fadell ($3.2 B)
Anthony Michael Fadell is a Lebanese-American engineer, inventor, designer, entrepreneur, and angel investor. He served as the Senior Vice President of the iPod division at Apple Inc., and is known as "one of the fathers of the iPod."
Fadell hit billionaire status in 2014 when he sold to Google his company Nest Labs for $3.2B.
#15 David Nahmad ($3 B)
A retired fine arts dealer, David Nahmad is a descendant of a Jewish Lebanese art family residing in Monaco and a cousin of the late Edmond Safra.
The Nahmads are widely known as the single biggest buying force in fine art!
#16 Richard Rainwater ($2.8 B)
The career of Richard Edward Rainwater is a true rags-to-riches story.
Richard was born in a middle-class Lebanese-American family to Walter J. Rainwater Sr. and Regina Dieb. The family owned a wholesale grocery store in Texas. Richard went to public schools and graduated with a Bachelor's degree in Mathematics before earning himself an MBA from Stanford.
Before passing away in 2015, Rainwater was an investor and fund manager with multiple investments in the petroleum industry. He also briefly served as advisor to US President George W. Bush Jr.
#17 Alvaro Saieh ($2.4 B)
Álvaro Saieh Bendeck is a Chilean academic, economist, and businessman of Lebanese-Palestinian descent. He is the chairman of CorpGroup, one of the largest conglomerates of Chile, making him the 4th richest man in Chile.
Forbes listed him as the 745th wealthiest person in the world.
#18 Manuel Maroun ($2 B)
Maroun is the owner of CenTra Inc that controls the Ambassador Bridge, the international crossing connecting Michigan and Ontario.
The bridge is the only privately owned border crossing between the US and Canada, and it is currently estimated to be worth between $1.5 and $3 billion.
#19 Joe Jamail ($1.7 B)
Until his passing in 2015 at 90 years old, Joseph Dahr Jamail Jr. was an American attorney and billionaire. He was the wealthiest practicing attorney in America, and was frequently referred to as the "King of Torts." He earned Forbes' title of 373rd richest person in America before his death.
Known for his passionate, aggressive, and sometimes abrasive advocacy on behalf of his clients, Jamail won 5 verdicts for over $100 million and more than 200 for at least $1 million.
#20 Alfred Helu ($1.2 B)
Cousin to richest billionaire Carlos Helu, Alfredo Harp Helú made a fortune in finance cofounding the stock brokerage Acciones y Valores de Mexico, also known as Accival. With $1.2 billion, Helu ranks 1818th place on the Forbes list.
Disclaimer: The aforementioned numbers are close estimates of annual net worths as of the years 2018 and 2019 by Forbes.
Despite being deceased, Jacques Saade, Nicolas Hayek, Richard Rainwater, and Joe Jamail are mentioned in our list because they made it to the Forbes' Billionaires Lists the respective years prior to their passing away.