If you're a fan of Lebanese cuisine, you already know the most known ones and the most written about: Hummus, Tabbouleh, Shish Taouk, Falafel, Shawarma, and the likes.
However, Lebanese cuisine has a much longer and wider traditional menu, and some of these super delicious dishes tend to be disregarded in getting duly cited or showcased.
In Lebanon, though, many households are still making them, and for a good reason. They are a delight!
Here are some we strongly recommend you find a way to try and enjoy.
#1 Kibbeh Samak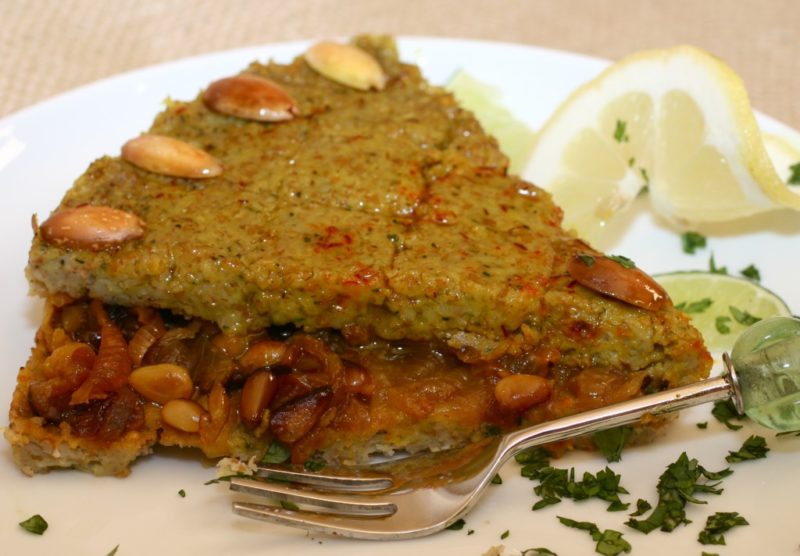 A Northern Lebanese specialty, Kibbeh Samak (pronounced Kibbet Samak) is a seafood version of the baked Kibbeh, which is traditionally made during the Lent period.
Fish is used instead of meat and the filling is made of fried onions and pine kernels, aromatized with cumin and other spices.
#2 Kibbeh Arnabieh
Another recipe of the Lebanese Kibbeh, this delicious Beiruti dish is made of Kibbeh drenched with tahini citrus sauce, and not just any citrus aroma. The authentic Kibbeh Arnabieh uses the bousfeir oranges for this special Lebanese family dish that can keep you wanting more.
#3 Maqloubeh Battenjein
A festive dish, rich with a variety of ingredients, the Maqloubeh Battenjein is a culinary art in its own right. It's prepared in layers of lamb meat and/or chicken, rice, and a variety of vegetables, with a particular presence of eggplants (battenjein), as its name indicates.
While it is said that it's a Levant dish, it is particularly made in Lebanon and Palestine. The main ingredients are layered on top of each other in the pot and with eggplant slices covering the insides of the pot, and all left to nicely cook.
Once ready, the pot is turned upside down on a serving plate, hence the "maqloubeh" in the name.
#4 Bemieh Stew
A household favorite, the Bemieh is a stew of Okra, a vegetable widely present in Lebanon's agriculture. It's cooked in tomato sauce, whether with or without meat, and is enjoyed with the Lebanese vermicelli rice.
Another version of the vegetarian Bemieh stew is cooked with dried peaches. That combination of sweet and sour, rare in Lebanese cuisine, was brought in by the Armenian culture in Lebanon.
#5 Kafta Karzieh
Introduced into the Beirut cuisine by the Armenian community, Kafta Karziyeh is a sweet and sour dish of Kafta meat cooked with cherries. Rarely found in Lebanese restaurants in town, it is however served in some Armenian cuisine restaurants in Beirut.
#6 Zaatar Akhdar Salad
A flavorsome citrus salade made of fresh wild thyme, which is abundant in Lebanon's nature, the Zaatar Akhdar (Green Thyme) is very loved across the country and is especially present in the Northern Mezza.
It is simply made of green thyme and fresh onions, and sparkled with lemon juice and extra-virgin olive oil. It's most enjoyed as is with Lebanese bread or siding meat dishes.
#7 Awarma Beid
A traditional breakfast of the Lebanese mountains, Awarma Beid is a dish of eggs scrambled with meat confit and brighten up with fresh lemon juice upon serving. It's consumed with Lebanese bread and fresh tomatoes and cucumber on the side, and some love it with Labneh.
Nowadays, the Lebanese use ground beef for this dish as it is easier and certainly faster to prepare.
However, the tastier traditional recipe of the Lebanese mountains uses a confit of lamb meat and fat, previously seasoned, fried, and stored in airtight containers. They are sealed with clay for the winter season as part of the Lebanese mouneh.
#8 Sheikh El-Mehchi
The legend has it that the name surged from the shape and look of these beautifully stuffed eggplants where the "heads" are kept during the cooking process.
Unliked the most-known stuffed eggplants in the Lebanese cuisine, these ones are selected small and fat, instead of the long ones. They are sliced open on the side and filled with a cooked mixture of meat and onions, and also pine kernels.
They are then placed in a baking pan, immersed in seasoned tomato sauce, and left to nicely bake. They are consumed with Rez Shaeriyeh, the famous Lebanese vermicelli rice.
#9 Tajen Fish
Present in the Lebanese Mezza of traditional restaurants, the Tajen is a delicious dish of Tuna fish cooked with a generous quantity of sliced onions and tahini sauce, and enhanced with fresh lemon juice.
The topping of fried or toasted pine kernels adds a delicious crunchy texture. It is often consumed with fried Lebanese bread.
This dish is so delicious that it is also prepared as a meal at home.
#10 Richta Soup
A highly nutritious soup known mostly in the northern region of Lebanon, the Lebanese Richta (also known as Aadass Bil Homod), is a delicious warm meal of lentils, selek (chards), and potatoes, flavored with fried onions, garlic, and green coriander. It is brightened up with fresh lemon juice upon serving.
Particularly loved during the cold season in Lebanon, this rich soup is a household favorite.
Fun Fact: For centuries, the Lebanese northern capital was a heaven of lemon and orange orchards. Their aroma filled the air of the city, mixing with the scents of jasmine from the home gardens. That abundance of citrus is still reflected in many of the Lebanese Northern dishes.
#11 Shish Barak
One of the Lebanese people's most loved warm dishes, the Shish Barak is made of meat-filled dumplings that are baked and then cooked in Laban (plain yogurt) that is flavored with fresh pounded garlic.
More pounded garlic, this time fried with optional pine kernels, is added at the last stage of the cooking, giving an amazing taste to this winter-popular dish. A dash of dry mint herbs is optionally added upon serving.
#12 Hummus Balila
The Lebanese Hummus Balila is made of chickpeas cooked with lemon juice, garlic, and cumin. It's topped with fried or toasted pine kernels and served warm.
The Balila is known as a nutritious, energy-boosting breakfast. However, it is also consumed any time of the day, especially during Ramadan at the break of the fast.
#13 Hindbeh
If you haven't got to try the Hindbeh side dish yet, you need to make it a priority. Some Lebanese restaurants do still serve it as part of their Mezza, especially in the North of Lebanon. At home, it comes to the family table as a good healthy side dish, usually siding meat.
The Hindbeh (dandelions) are soaked, boiled, and then fried nicely with some garlic until tender then topped with caramelized onions. Some prefer to fry the onions with the Hindbeh for a stronger flavor. Drops of lemon juice are sprinkled over upon serving.
#14 The Lebanese versatile Zalabia
These traditional deep-fried treats are made from fermented dough, milk, anise seed, and sesame seed. They are eaten with Labneh for breakfast or dusted with icing sugar and enjoyed as a sweet snack.
#15 Shanklish Salad
The Shanklish is a Lebanese traditional cheese made with Labneh and that goes through a long process of preparation before reaching its proper aging period.
The Shanklish ball is cut into very small pieces then topped or mixed with diced tomatoes, red onions, and fresh parsley, then lightly drizzled with extra-virgin olive oil. It is consumed with Lebanese bread, any time of the day.
A must-try for those who haven't yet savored it!
#16 Kafta Bil Sayniyeh
A Lebanese family favorite, which is also known as Kafta W Batata Bil-Forn, the baked Kafta & Potatoes dish is a regular on the family table. The lean ground beef is mixed with finely chopped parsley and onion and seasoned to form what is widely known as the Kafta.
It is then divided into patties, placed in a baking pan, and topped with a layer of sliced onions and a layer of thickly sliced potatoes. It's baked saturated in seasoned tomato sauce.
This Lebanese dish is mostly sided with Rez Shaeriyeh, the Lebanese vermicelli rice.
#17 Makdousseh Battenjein
Another pickle of the Lebanese cuisine that has earned its place in this listicle is the Makdousseh Battenjein.
The eggplants are chosen very small and fatty, cut in their center to be filled with small chunks of walnuts and red peppers. They are left to mature in airtight glass containers filled with a mixture of vinegar, water, salt, and fresh herbs, usually thyme.
The Makdousseh is very popular in Lebanon, mostly served with the Mezza variety, and enjoyed with the Lebanese "Milk of Lions": The Arak.
Like the Lebanese cucumber pickle, the Makdousseh has digestive benefits, which makes it great to consume during (or in preparation of) a heavy social meal.
#18 Freekeh Djeij
The name "Freekeh" hails from the act of rubbing the roasted green durum wheat, which grants this traditional dish its particular flavor, along with its seasoning. It's initially cooked with braised chicken but also with added meat, and/or green peas and carrots.
#19 Cauliflower Stew
A delicious dish of cauliflower and minced meat, cooked in tomato sauce, and consumed with Lebanese vermicelli rice, this can also be done without meat and is as delicious and light.
#20 Koussa Khiyarieh
A heritage dish from the North of Lebanon, the Koussa Khiyarieh is a version of the stuffed zucchini cooked in Laban that is mostly known in Lebanese cuisine. While its name suggests that this recipe has cucumber, it has none. It is mostly because of how the zucchini is cut into thick slices.
The minced meat is cooked with onions and pine kernels, to which the slices of zucchini are then added to be lightly cooked before cooking it all in the Laban. It is consumed with Lebanese vermicelli rice.
#21 Spinach Lahme Stew
Another nutritious meal that is popular in Lebanese households. Minced meat is cooked with crushed garlic and freshly chopped coriander, after which the chopped spinach is added.
The mixture is cooked together, with no added water since the spinach releases gradually its liquid, turning this into a delicious and very nutritious dish.
Lemon juice is added at the last stage, and also pine kernels before serving.
#22 Burghul 3a Banadoura
Little known outside of the north, this light dish of wheat cooked in seasoned tomato sauce is super delicious and mainly made of Burghul, onions, and dices of tomato. It is consumed as is or as side dishes.
It's specially delicious with toasted Lebanese bread.