Some values transcend borders, and some things are just universal. Your Lebanese mother is one of them. Wherever you are in the world and whatever your age may be, there are things you simply do not tell your Lebanese mother and expect a reasonable reply.
#1

"I'm going out."
Excuse me? Have you filled in a 3-day application and submitted the corresponding form?
#2

"I won't be home for dinner."
Bear the consequences bravely, for you have sinned. How could you commit such atrocities when you know damn well there's food at home?!
The oldies are here. Mum brought with her a roast pork, chicken and two bags of #Lebanese bread. Dad already feeling guilty about going out for lunch when "el berord melyen ekhaal"… @LebaneseProblem #woglife pic.twitter.com/B7UeKp3RRU

— Lillian Saleh (@LillSaleh) February 24, 2019
#3

"Can I sleep over at my friend ….'s place?"
Very ambitious, indeed. You might have lost your mind or your mother is about to lose hers.
Via The961
#4

"Let's throw out these clothes of mine."
Oh, the shame! Has your mother taught you nothing?! You have 14 cousins waiting for your old clothes. If not, don't you know that these cotton shirts make for wonderful cleaning rags? The material is remarkably absorbent! What's wrong with you?
#5

"Why do I have to visit all your 24 cousins?"
An annual if not seasonal ritual you'll just have to accept. And don't even try to get out of it by saying you can't remember them. That's a rookie mistake. You're too good for it.
#6

"I think I want to take a gap year to travel."
Do you think that a medical degree is going to hang by itself on the wall of your mother's living room?
#7

"I want to study an Art major."
Following up on the previous theme, anything short of engineering, law, or medical school is just a waste of time.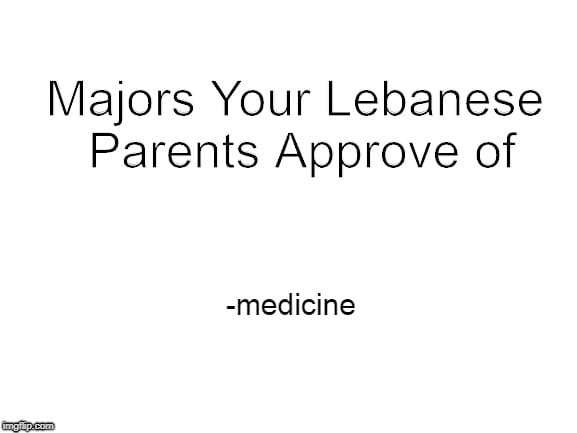 Disclaimer: This is an old mentality. Many parents have since included law degrees and MBA to the list of acceptable degrees.
Be it as it may, your Lebanese mother is the one who wakes up extra-early on school days to prepare you a labneh and olive sandwich…, and the only one who will drive you to the airport for your 4 a.m. flight and literally stand there to wave the plane goodbye until it fades in the sky.
Your Lebanese mother is a rarity to behold and a treasure to be cherished. Happy Mother's Day, all!