Towards the end of his service, the 24th Secretary of the U.S. Department of Health and Human Services, Lebanese-American Alex Azar was awarded the highest state order of Lebanon for his "lifetime achievements in public service."
On behalf of Lebanon's President Michel Aoun, the Lebanese Ambassador to the United States of America, Gabriel Issa, granted Azar the National Order of the Cedar – Grand Officer Grade at the Embassy of Lebanon in Washington D.C.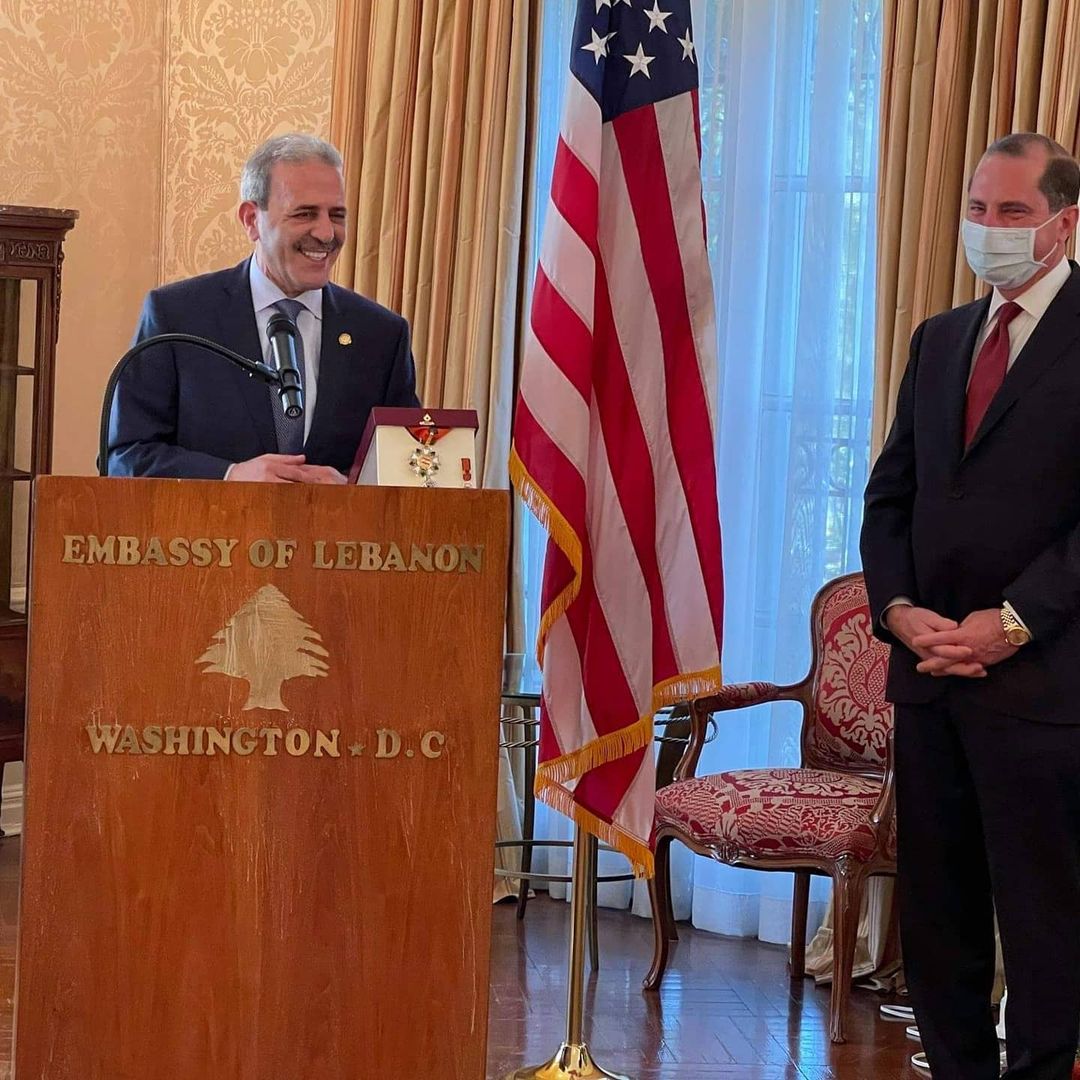 Azar, who hails from the northern Lebanese village of Amioun, was appointed as the United States' Health Secretary in 2018. He is among many successful Lebanese people in the U.S. to partake in the country's politics.
Giving remarks at the Embassy of Lebanon, Azar said that the U.S. Department of Health and Human Services "benefits greatly from the talents of the Lebanese people, which includes alumni of the American University of Beirut who hold key positions at the Centers for Disease Control and Prevention and the Federal Drug Administration."
In highlighting the success of Lebanese worldwide, Azar mentioned Moderna, the company run by American-Lebanese Noubar Afeyan, and that developed a COVID-19 vaccine with 94% effectiveness.
He also thanked and appreciated the United States for standing by his homeland throughout difficult times. He cited that, in 2020 alone, the United States provided more than $395M in humanitarian assistance for Lebanon in COVID-19 aid and medical/emergency support in the wake of the Beirut blast.
Azar wrapped up his speech with a quote by President Aoun, "Beirut and Lebanon will heal its wounds and rise from the ruins like it has risen over and over again throughout history."
On January 12th, Alex Azar reportedly presented his resignation from the U.S. Department of Health and Human Services, effective January 20th, which is the date "he would have been leaving office once President-elect Joe Biden is sworn in," reported NBC News along with several mainstream media outlets.