Interestingly enough, you will most likely find a Lebanese restaurant at every corner of the world, and even in the most unexpected and remote places, like in the ancient city of Mainz in Germany.
A village yet the capital and largest city of Rhineland-Palatinate in Germany, Mainz is located on the Rhine and Main river opposite Wiesbaden on the border with Hesse.
In Germany, Mainz is considered a rather small village with a small population of only 217,118 (as of 2018). It is part of the Frankfurt Rhine-Main Metropolitan Region.
The impressively beautiful town of Mainz was founded as Mogontiacum by the Romans in the 1st Century B.C. and served as a military fortress on the northernmost frontier of the Roman Empire and as the provincial capital of Germania Superior.
By the 8th Century A.D., Mainz became an important city of the Holy Roman Empire, the capital of the Electorate of Mainz, and the seat of the Archbishop-Elector of Mainz, the Primate of Germany.
Like most higher and smaller villages, Mainz was heavily damaged during World War II, with what has been estimated as thirty air raids destroying about 80% of the town center, including most of the historical landmarks and buildings.
Today, Mainz is considered a major meeting point and transport hub. It is also popular for its wine production.
Mainz currently boasts two Lebanese restaurants just minutes apart in the center of its old town. They are not only quite popular but are often packed with people at lunchtime, with waiting lines going out into the streets.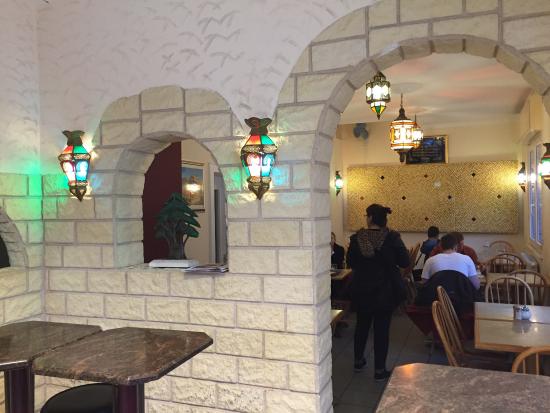 Le Cedre du Liban restaurant is home to all the right kinds of Lebanese fast food.
From barbequed goodness to shawarma to everything in between, this restaurant is most famous for its shawarma platters and tabbouleh. It also has daily traditional Lebanese lunch options.
One popular travel blogger had this to say about the restaurant:
"This place is just fantastic for Lebanese food. The prices are very reasonable and the quality is very good. Every time I order a schwarma I'm never disappointed.  It's just great to have it close by when I need a fix. If you go, try not to go in peak business hours cause you might find a line. But the guys work quickly, so it's never so long."
If you're looking for more of a sit-down dinner and a full Lebanese mezza, Restaurant Damas is an ideal option after a long day.
Famous for its full-set Lebanese menu and its shisha corners, this Lebanese restaurant requires a reservation a couple of days in advance during its peak seasons.
If any thoughts should keep you company on your upcoming business trips, it's that a home-cooked meal is most likely a train ride, a short walk or a hitchhike away. 
Both these Lebanese restaurants in Mainz have quite a high ranking on popular apps and blogs on the web, with both earning an average rating of 8.2/10 on Foursquare.