According to the Artistic and Executive Director of New Arab American Theater Works in Minneapolis, Kathy Haddad, the Lebanese community put down roots in the west side of St. Paul and in northeast Minneapolis over 100 years ago.
Churches established 100 years ago by Lebanese are still there today. "The Lebanese are an interesting population because it is a very old population in the United States," she said. "The largest group of Middle Eastern immigrants came from what is now Lebanon, and was then Syria, 100 years ago."
Haddad is planning to find Lebanese immigrants in Minneapolis who put down roots in the United States 100 years ago, and she's planning to bring their stories to life in a theater production. Maybe her theatre production could star a Minneapolis actor with Lebanese roots, like Vincent Vaughn.
Via Hello Magazine
Vince Vaughn was born in Minneapolis, Minnesota in 1970 to a father of mixed ancestry including Lebanese. His mother, Sharon Eileen, is a real estate agent and stockbroker who was once ranked as one of the United States' top money managers by Bloomberg Wealth Manager magazine.
Vaughn grew up in Buffalo Grove, Illinois, where he played football and baseball and wrestled, although he has called himself "unathletic" and "very average" at high school sports. He then moved to Lake Forest, where he graduated from Lake Forest High School in 1988.
He was introduced to musical theater at a young age and decided to become an actor in 1987. He has credited his mother as the inspiration behind his career, saying: "I saw her overcome stuff, and I thought if you worked hard at something you'd give yourself a chance".
In 1988, Vaughn was cast in a Chevrolet television commercial and subsequently moved to Hollywood to embark on an impressive career. His first film role was 1993's Rudy playing Jamie O'Hare, where he also struck up a friendship with featured Jon Favreau.
Vaughn received wider success when he was cast in 1996's Swingers with Jon Favreau. The movie Swingers was released in July 1996 and became a successful independent film. 
Director Steven Spielberg cast Vaughn in the blockbuster The Lost World: Jurassic Park, which gave him increased exposure. In 1998, he starred in the critically acclaimed drama Return to Paradise with Anne Heche, and starred in Clay Pigeons with Janeane Garofalo and Joaquin Phoenix.
Via Zimbio
In 2000, he played in The Cell with Jennifer Lopez and, in 2001, appeared in Made, another film penned by Favreau. Vaughn also appeared in Dwight Yoakam's directorial debut movie South of Heaven, West of Hell. It was his role in the successful 2003 comedy Old School that skyrocketed his popularity.
In 2004, he appeared alongside Ben Stiller in the hit films Starsky & Hutch and Dodgeball. After this series of roles, Vaughn was dubbed one of the Hollywood "Frat Pack", a group of actors who frequently co-star in film comedies.
He subsequently appeared in 2005's Thumbsucker, Be Cool, and Mr. & Mrs. Smith. Also in 2005, Vaughn starred alongside Owen Wilson in Wedding Crashers, which grossed over $200 million at the United States box office. In 2006, he performed with Jennifer Aniston in the comedy-drama The Break-Up.
More recently in 2013, Vaughn co-wrote and starred alongside Owen Wilson in The Internship, and performed in 2015 in Unfinished Business, and in the second season of True Detective alongside Colin Farrell.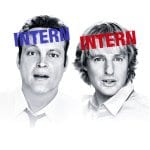 @theinternshipmovieembedded via  
In 2016, he played in the crime thriller Term Life, which featured his friend and frequent collaborator Jon Favreau in a supporting role, and was directed by another frequent collaborator, Peter Billingsley.
In 2018, Vaughn co-starred alongside Mel Gibson in Dragged Across Concrete, his second collaboration with S. Craig Zahler, whom he previously worked with the year before on Brawl in Cell Block 99.
On a personal note, Vaughn married Canadian realtor Kyla Weber in 2010, and the couple have two children: daughter Locklyn Kyla Vaughn (born 2010) and son Vernon Lindsay Vaughn (born 2013). 
Via Netflix
In 2019, he starred in two major films, Fighting with My Family alongside Dwayne Johnson, and Seberg alongside Kristen Stewart. If you're getting into the Holiday spirit, you might want to catch his Christmas movie Four Christmases with Reese Witherspoon for a good laugh.