Dozens of protesters gathered outside the U.S. Embassy in Awkar on Friday to denounce America's interference in Lebanon's affairs, reported the Associated Press.
"Hezbollah, Syrian Socialist National Party, Palestinian, and Communism flags were being waved in the air by protesters who had gathered on a road," reported The Daily Star. 
The protesters threw stones at Lebanese law-enforcement and attempted to remove barbed wire separating them from the embassy. They were later sprayed with water cannons.
They also burned the American flag and fake dollar bills in a symbolic stance against the Western country. 
"Some protesters chanted 'death to America' and 'Labbayka ya Nasrallah'," added The Daily Star.
In a related action against the US Embassy this week, a cleric filed a lawsuit against Ambassador Shea, accusing her of insulting "half of the Lebanese people" when she named Hezbollah a terrorist organization, and several other allegations.
This is the second time this week that an anti-America protest took place.
Earlier, on Wednesday, dozens of anti-American protesters gathered on the airport road to denounce a visit by General Kenneth McKenzie, the commander of the United States Central Command. 
His special visit to president Aoun was to reaffirm America's support to Lebanon's security and stability, and to the Lebanese Army. The same sentiment was shared by Italy, France, and Egypt as well.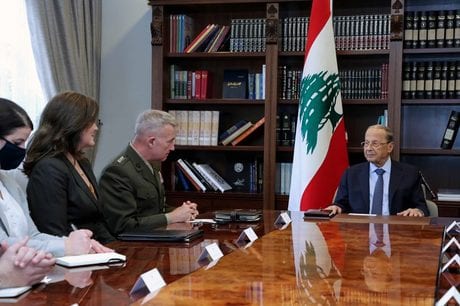 In addition, the UN High Commissioner for Human Rights, Michelle Bachelet, sounded the alarm over Lebanon's situation becoming uncontrollable and urged the Lebanese government to make reforms.
The international community, as well as people of the Lebanese October 17 Revolution, strongly hope to see Lebanon stand back on its feet with urgent reforms that can end the compounding crises.