The Lebanese-Armenians have long thrived in the country as their community grew and succeeded in many fields.
Several of their traditional food became so popular across the country, for so long, that many don't even know that these are from the Armenian cuisine, like the Basterma and the Soujouk, and even the Mante.
Delicious, rich in flavors, and nutritious, the Armenian food in its variety is a must-try. Here are some of the most notable ones you can't miss tasting while in Lebanon:
#1 Mante
Manti is a type of baked beef dumpling topped with yogurt, sumac, and tomato sauce.
#2 Sou Boreg
Sou Borg is a traditional Armenian pie made of layers of fine dough sheets. It is filled with cheese or with cheese and parsley and baked to crispiness in the oven. It is a great comfort food
#3 Lahmajoun
Lahmajoun resembles the Lebanese Lahm b-Aajeen and has come to be called Armenian pizza in recent times. The flat dough is covered with a cooked spiced-up mixture of ground meat, onions, tomatoes, and green bell pepper, and then baked.
#4 Vospov Keufte (Lentil Kebbeh)
Vospov Keufte is a lent (vegetarian) dish. It is made from mixing bulgur and red lentils cumin, paprika, and other spices.
#5 Nivig
Also a vegetarian dish, the Nivig is a mix of chard and chickpeas cooked with olive oil, cilantro, garlic, and flavored with spices.
#6 Tahinoz Hatz
Tahinoz Hatz is a pastry of flatbread filled with tahini and sugar. Some like to add cinnamon. It is a very well-known dessert in Lebanon. You can taste it at any Armenian bakery.
#7 Sari Burma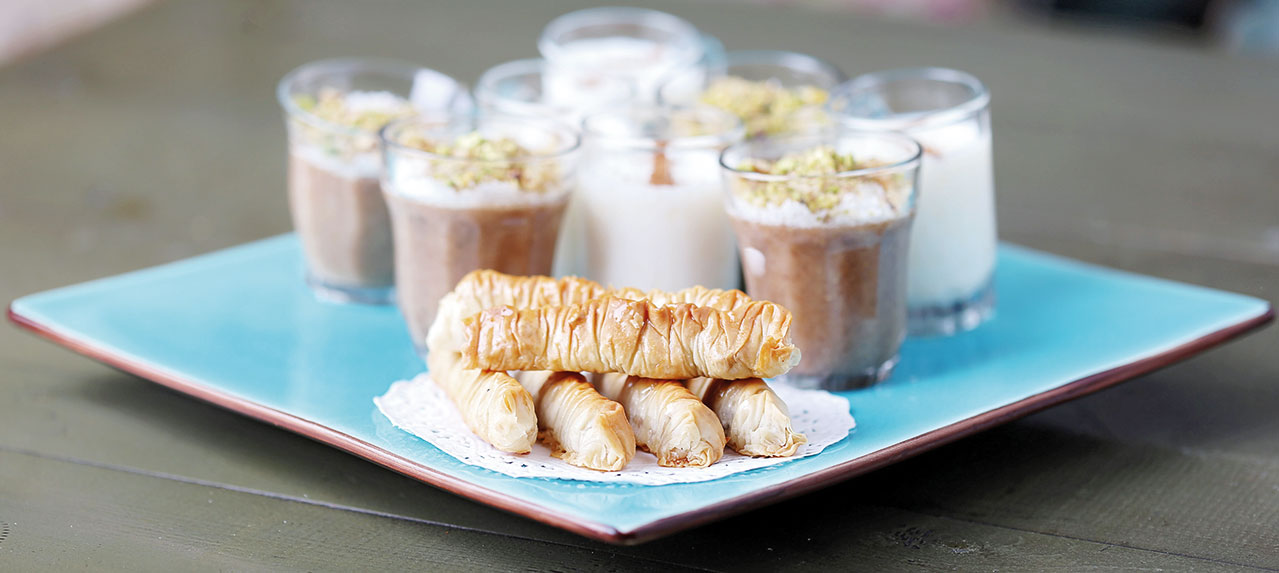 Sari Burma is like a baklava. This dessert consists of a flaky and buttery dough filled with walnuts and sugar syrup. Usually, it is made on Orthodox Christmas.
#8 St. Sarkis Halva
St. Sarkis Halva (or Sourp Sarkis) is a dessert prepared for the Saint Sarkis feast day in February. This delicious dessert is a marshmallow-like paste filled with walnuts and topped with sesame seeds. You can also find this popular dessert on the day of Saint Sarkis name.
#9 Ghapama
Ghapama is an Armenian Christmas dish that is also prepared for other celebrations. It is a pumpkin stuffed with rice, dried fruits, walnuts, spices, and meat.
#10 Anushabur
Anushabur is a delicious Christmas dessert pudding made with wheat, berries, and dried food.
#11 Itch
The Armenian Itch or Eech is a refreshing vegan side dish that resembles the Lebanese Burghul Bil Banadoura. It is light and nutritious and is also consumed as a salad. It's made of cracked wheat (Burghul), spring onions, tomatoes, and tomato paste, and chili paste.
#12 Tanapur
Also known as Spas, this traditional Armenian dish is a yogurt soup with pearl barley, onions, and coriander, and is as delicious as comforting.
#13 Anoush Abour
A sweet pudding traditionally prepared for Christmas and New Year, this "sweet soup" is made from wheat, berries, dried apricots, and raisins. It is further flavored with rose water and sweetened with sugar, then topped with pomegranate kernels and nuts, and a dash of cinnamon. And yes, it is as delicious as it sounds!
#14 Urfa Kebab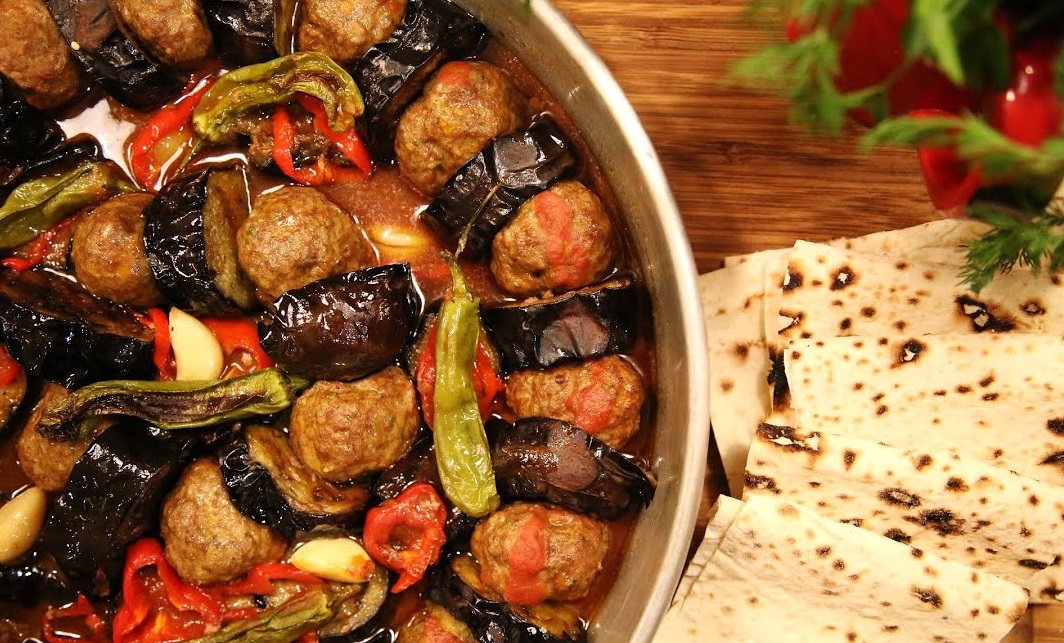 A flavorsome Armenian dish of Kabab and eggplants, usually cooked in the oven with tomato sauce and spicy pepper, and aromatized with garlic and dried herbs.
#15 Gata (Armenian Coffee Cake)
The Armenian Gata is a succulent vanilla pastry that is both crispy and flaky creamy and served with a cup of tea or coffee, hence the name. Some add chopped toasted walnuts to the filling.
#16 Loligov Soujoukh
A traditional dish of spicy sausages (soujouk) cooked with chopped tomatoes and lemon and juice. Ohannes Restaurant in Batroun takes it a step forward, serving the Loligov on creamy garlic topping slices of fresh tomatoes.
#17 Zeitounov Hats
The Armenian olive bread comes deliciously filled with chopped olives and onions and cut into "hat" pieces.