An exceptional Lebanese professional actress and holder of almost half a dozen publications, Hanane Hajj Ali has ventured out to emphasize her political and feminist activism through her plays and acting.
In 2020, selected from a pool of 27 nominees from 18 different countries, Hanane took the first place position in the Gilder/Coigney International Theatre Awards.
This major international award is presented every 3 years, acknowledging non-U.S. theatre women.
Among the finalists was also another Lebanese, theater director, writer, and performer Maya Zbib who is founding member of Zoukak Theatre Company. 
With the prestigious award, new artisitic and professionl networking opportunities have opened up for Hanane Hajj Ali with NY theaters and artists. That's in addition to "be featured in a series of special events showcasing her work," according to the New York University.
All of this was solely due to her brilliance in writing and acting out the nonconformist and out-of-the-ordinary play: Jogging.
Jogging is a humorous and yet dark tragedy that delves into the realm of two women: The first, who poisons her children in the name of love, and the second, a mother whose children died fighting in a war.
The play was quoted to be a "partly autobiographical and taboo-breaking performance that tackles the Bermuda triangle of Religion, Sex, and Politics."
The play was first performed in 2016 in the Middle East until it eventually showed at the Edinburgh International Festival in 2017 in Scotland.
On February 16th, 2021, the League of Professional Theatre Women (LPTW) presented Hanane Hajj Ali with the Gilder/Coigney Award, followed by an acceptance speech.
Hanane Hajj Ali's conservative roots are what pushed her to venture into being an activist and feminist.
Her political awareness sprouted during the Lebanese civil war when she lived in Beirut. Gaining strength and endurance through the struggle, she translated it into her art-acting.
She now works on ensuring that her power is displayed through her performances, not shying away from depicting the power of a woman.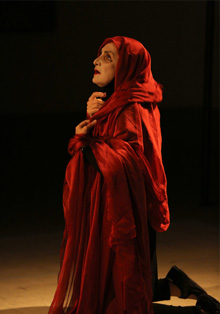 Interesting to know, Hanane studied performing arts at the Lebanese University (LU) "secretly" whereas publicly she was studying biology, according to her interview with American Theatre.
Her public performances then began with the Hakawati troupe in the south of Lebanon, until she ventured out and began performing on a more international level.
Worth mentioning that, in 2005, Hanan Hajj Ali was a member of the UNESCO Expert Facility of the Convention on the Protection and Promotion of the Diversity of Cultural Expressions.