The repercussions of the economic crisis that began to manifest in Lebanon last year have not only affected the living conditions of Lebanese living in their homeland, but also the diaspora generally, and international students particularly.
As a result of the rapid deterioration of the Lebanese pound against the US dollar, and the capital control measures, parents of Lebanese students abroad became unable to send sufficient money for their children's tuition and necessary expenditures.
The good news is, on Wednesday, the central bank (Banque du Liban) issued a new decision that instructs banks in Lebanon to approve cross-border transfers from the country for these cases.
Starting August 19th, "banks operating in Lebanon must carry out money transfers abroad from their clients' current accounts in foreign currency to secure the payment of tuition fees, rent, and the cost of living for Lebanese students abroad," the BDL's press release read.
These transfers are subject to the following conditions:
The student must have been enrolled in an educational institution and living abroad since before the end of 2019.
Documents proving the amount of the tuition fees and rent must be presented. It is acceptable if it has been customary for the account holder to carry out transfers to cover these expenses.
The tuition fees must be transferred directly to the beneficiary when they are due.
The total annual value of the transfers must not exceed $10,000 or its equivalent in other foreign currencies.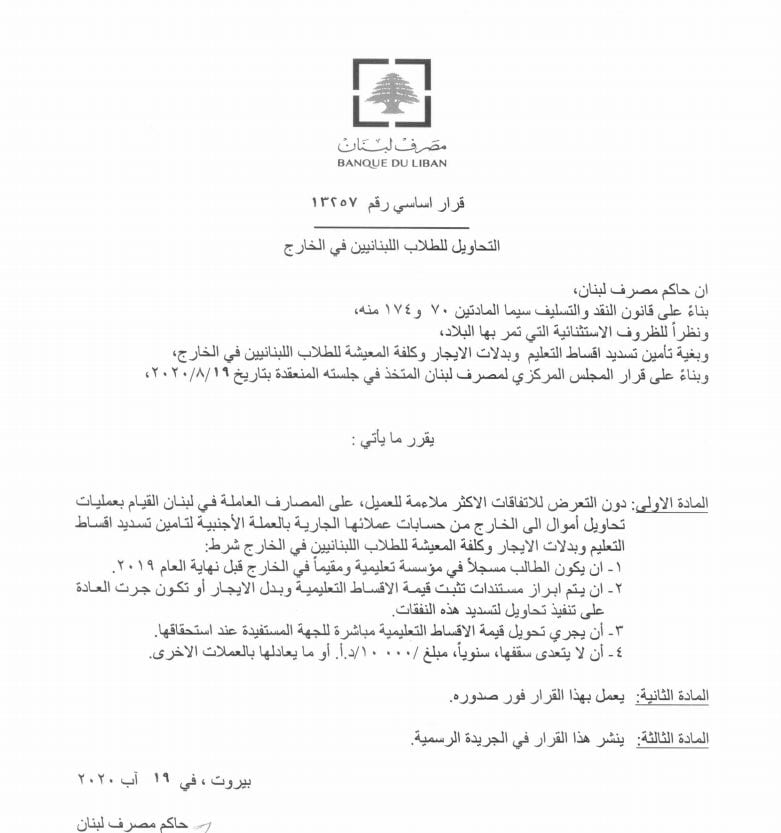 This decision should provide a breathing space for the Lebanese students who have been, in some cases, struggling to even buy food because of their parents' inability to send enough or any money due to the economic and monetary crisis.
Tarek, a Lebanese student who has been living in Germany for 2 years, told The961 that the high USD/LBP exchange rates have recently caused him to struggle financially, noting that other Lebanese students are suffering from the same issue.
"It's become very difficult for us, especially considering that we are no longer able to find jobs because of coronavirus. Other than the tuition fees and rent, we have to pay for electricity, phone lines, not to mention food," he said.
With this new decision, these students hope to return to some of the normal stability they once had before their flawed state's shadow reached them and reminded them of what they had escaped.