This hometown of Mikhail Naimy has more to its story than its beautiful scenery, healthy climate, renowned apples and vineyards, and cycling spot for mountain bikers.
Its story goes far back in time to the Phoenicians and the ancient Greeks who left us their marks all over that place.
Perched at an altitude ranging from 1250 meters above sea level and all the way up to Qanat Bakish at about 1800 meters of height, this mountainous village in Metn cuddles at the foot of the majestic Sannine Mountain, and is one of the highest inhabited spots in Lebanon.
If you haven't explored Baskinta yet, it is time you do so. You will come to see the remnants of several Greek palaces with their enormous stones, pillar stands, and underground passages.
Relics of ancient cemeteries, coins, and pottery have outlived the damages of times to tell us of the past existence of the Phoenicians and the Greeks in that high mountain land.
The Phoenicians left us their Adonis and Atargatis temple nearby the Baskinta town of today, in Faqra, some 11 km away, in what is today the largest ski resort in the Middle East.
Heading farther up to Baskinta's highest spot in Qanat Bakish, you will come to see the remnant of the temple of the Greek god of merriment and wine: The Bacchus temple.
We often assume that remote areas in the mountains were not favored by ancient civilizations and their rulers, for being little equipped to challenge roads and weather. However, Baskinta is one of these places that contradict that assumption.
Its mountainous land revealed golden numismatics, coins, and also jewels that belonged to Queen Helena (c. 250 – c. 330), mother of the Roman emperor Constatine the Great, and who became known as Saint Helen of Constantinople.
Archeologists have placed these relics to the time of the reign of Suljok and Antokhios.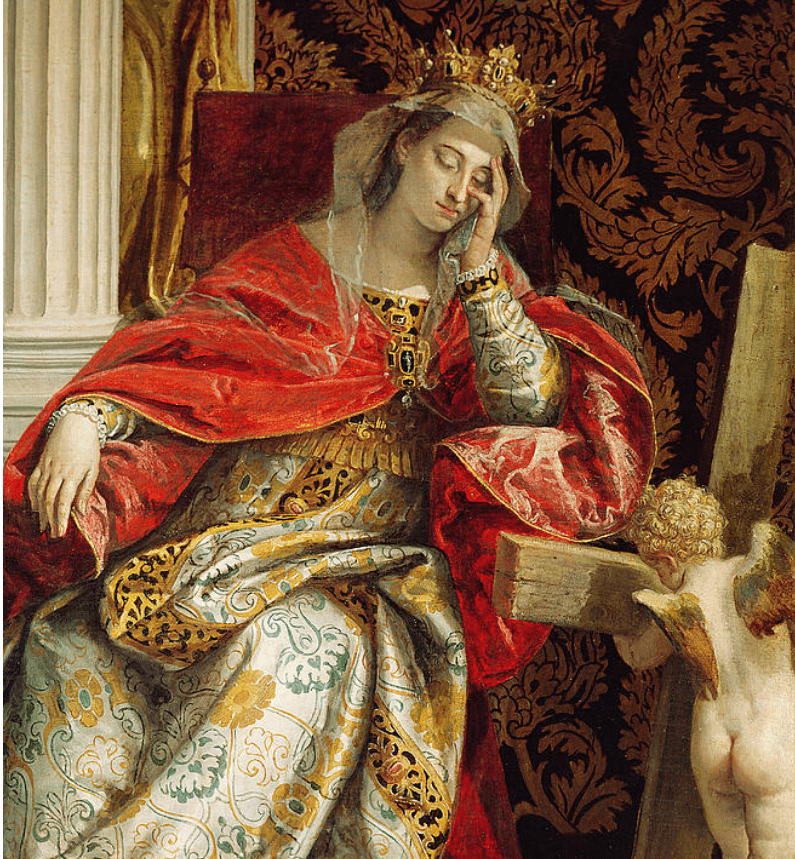 We can't but wonder what brought Queen Helena all the way up to Baskinta on her way to the Holy Land in her quest for the true cross.
The question remains hanging in time and space. The certitude of her holy pilgrimage through Baskinta isn't, though. The Cross of All Nations was there built to commemorate it.
That beautiful spot of Lebanon carries a Syriac name that means "the abode" and nestles at the base of Mount Sannine with outstanding panoramic views and exhilarating weather.
Today a much-sought summer and winter destination, for vacationers as well as skiers, it boasts with hotels and chalets, and also summer residences.
Baskinta, that almost-divine abode in the mountains, gave birth to one of Lebanon's greatest poets, novelists, and philosophers: Mikhail Naimy, world-famous for his spiritual writings.
A peer of Gibran Khalil Gibran, he co-founded with him in New York the renowned literary society: Pen League.
From the Baskinta neighborhood, ensued another famous man of thoughts, Amin Maalouf, an award-winning author who was later nationalized French, and whose works were translated into over 40 languages.
Another son of Baskinta who has become known to the world is the fashion designer George Hobeika.
Baskinta is home to 15,000 residents who enjoy all facilities, including three main schools. It is sought by hikers for its great hiking trails, by mountain bikers for its off-road trails, and by campers for its serene natural spots.
Baskinta has also a literary community that organizes a 24-km hiking tour throughout 22 literary landmarks related to acclaimed Lebanese literary figures, natives of Baskinta.