The Lebanese Instagram account "Pervs Of Lebanon" that works daily on exposing every sexual predator and harasser in Lebanon is calling to boycott Roadster Diner after it has repeatedly welcomed Marwan Habib.
Marwan Habib, an accused alleged rapist and sexual predator who has more than 50 allegations against him, has been recently mentioned in the Instagram account.
As followers of the account send their daily submissions regarding Habib's whereabouts, the Instagram page shares updates on where Habib is routinely spotted.
Habib has been spotted multiple times spending a joyful outing in Roadster Diner, in both the Jbeil and Batroun areas.
The Pervs of Lebanon team continuously tagged the local restaurant in their social media posts to raise their attention on the matter but to no good.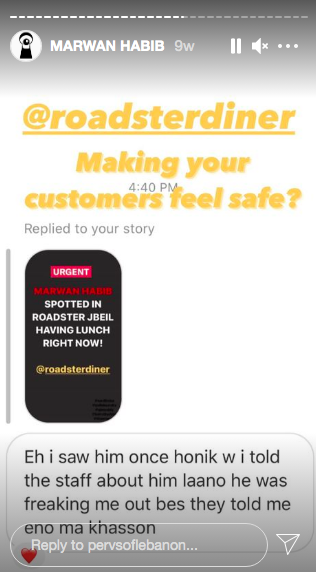 Roadster Diner, which is a private business and is technically not obliged to refuse clients by public demands, turned a deaf ear to the repeated messages.
Therefore, people have chosen to call for boycotting the restaurant chain, citing its inability to keep its other customers safe from the man accused of repeated sexual assaults.
During December of last year, several people accused Marwan Habib of sexual harassment, in which more than 50 women came forward to reveal their stories of the abuse they suffered from him.
According to the allegations, several of the women tried asking help from the authorities, but to no avail.
Habib, later on, went on MTV's show hosted by Joe Maalouf and denied all the accusations against him.
Responding to that public denial claim, a lawyer named Kareem Majbour, who appeared on the same show with Habib, took matters into his own hands and filed a lawsuit against him.