Christmas this year is different, especially in Beirut. From the economic crisis to the pandemic to the blast, 2020 has been a tough year for everyone, even Lebanese businesses.
After the blast, businesses and organizations around the world mobilized to raise funds for Beirut, and many that can still afford it have continued to do so.
This Christmas cherish your loved ones by giving back to the community, helping local businesses stay on the ground, and donating to families in need.
#1 L'aterlier Arc-En-Ciel
These beautiful and meaningful pieces from L'atelier Arc-en-Ciel are hand-made and painted by people with disabilities in Lebanon, who would otherwise have been neglected.
The atelier is managed by the Lebanese NGO Arc-en-Ciel that has recently been integral in Beirut's recovery and aims to promote and participate in sustainable development.
#2 Coqlico Candles & Pots
Coqlico is aiming to preserve Lebanese heritage by creating these locally made Fenjan designs. The Fenjan can come as a candle or even a pot to inspire people to grow their own plants and herbs.
Part of Coqlico's main mission is to help unemployed Lebanese with this endeavor.
#3 Malik Made
85% of the proceeds from this Beirut cedar tree necklace will go to Dammeh For Humanity's efforts to help the affected communities in Lebanon.
#4 Raphaelle Macaron's Tote Bag
100% of proceeds from this unique tote bag designed by Raphaelle Macaron comics' artist are going to Impact Lebanon.
#5 Sarah's Bag
Sarah's Bag is known for giving back to the community, from making donations during the pandemic/economic crisis to raising funds for disaster relief in Beirut.
The socially conscious company also employees and empowers less fortunate women in Lebanon. Additionally, a selection of Sarah's Bag items that are being sold by Dikkéni will also support the local NGO, Lebanon Needs.
#6 Keess Official
These reusable eco-friendly bags made in Lebanon make a nice stocking stuffer idea. In collaboration with the satirical Lebanese artist, The Art of Boo, Keess Official is donating part of the proceeds to Lebanon Needs.
Asides from giving back to charity, Keess Official is a great initiative in itself for promoting sustainable lifestyle, recycling, and raising awareness about the environment.
#7 Be Lebnen
From promoting tourism in Lebanon to giving back 10% of proceeds from December sales to SSVP Jounieh and Live2Share organizations, Be Lebnen's scratch-off Lebanon map is a unique gift to your adventurous and patriotic friends – especially since traveling during the pandemic has been practically impossible.
#8 Beirut-inspired art
A portion of proceeds from a handful of Beirut-inspired posters designed by Beirut-based artist Yasmine Darwiche are going to local NGO Lebanon Needs.
#9 Urban Feet Socks
Don't know what to get for your Secret Santa? Urban Feet is a super unique Lebanese brand that creates statement socks that everyone can appreciate.
The brand recently held a campaign where all proceeds were donated to the Lebanese Food Bank. Urban Feet is also donating proceeds from its exhibitions.
#10 "Talk About Lebanon" Shirt
100% of proceeds from the "Talk About Lebanon" shirt are going towards Live Love Beirut's initiative to rebuild Beirut.
#11 A giftcard from Dikkéni
Dikkéni promotes shopping with a purpose and promotes local creators and designers. It often partners up with local NGOs and non-profits to donate a portion of sales to those in need.
#12 Fusion Clothing
A Lebanon-born fashion label, Fusion by HK, has been donating a percentage of proceeds from its "Rebirth" collection and entire profits from bracelets to an organization working on Beirut disaster relief, helping vulnerable families, and more.
#13 "Been There, Done That" Notebooks/Planners
Born out of creativity and the love of stationary, Been There Done That (BTDT) is there for all the perfect desk aesthetics and inspire you into the right mindset for the new year's goal setting.
In addition to being environmentally friendly and using 100% Lebanese recycled paper products, BTDT has helped Haddak Men B3id (HMB)'s efforts to tackle poverty and end hunger in Lebanon.
It is currently offering a fun collaborative bundle supporting other small Lebanese businesses.
#14 B&C Soaps
Another fun stocking stuffer idea would be these bath bombs from B&C Soaps, one of Lebanon's few handcrafted soap businesses.
They told The961 that they are trying to find all supplies locally to support all industries. You can even opt for getting scented candles or a unique gift set for someone who deserves to get pampered.
#15 From The Villages
When the pandemic broke out, young graduates from the southern village of Deir Mimas launched an initiative to support their local farmers and artisans.
They decided to use their expertise to create an online marketplace to help their locals profit from the products they passionately create.
Now, From The Villages is offering Christmas gift baskets full of homemade goodies to spread joy to your family members while helping hardworking growers and creators along the way.
#16 Beit El Baraka
KANZ is the latest project by Lebanese NGO Beit El Baraka. It aims to celebrate and embrace the unique tastes from Lebanon and is now offering Christmas packs that include unique recipes from villages across Lebanon.
#17 Neo City Garden
Neo City Garden is donating 10% of their profit to the initiative Renovate Lebanon that is helping renovate the houses that got destroyed by the Beirut Blast. It has a lovely trendy collection of bracelets and necklaces hand-crafted with love by Lebanese artisans.
#18 Gifts at IRAP Christmas Market
The Institute of Audio-Phonetic Reeducation, an NGO launched in 1960, for children with hearing problems, has a large variety of items at its Christmas market with the participation of local artisans.
The Christmas market opens this week, as of December 10th, from 10 am to 7 pm, in Rabwe.
#19 Sesobel gifts
Sesobel's stores are destinations to consider for your Christmas gifts that help support the reputable NGO with its services to Lebanese Children with Disabilities.
Buying from their stores will help the organization overcome its current difficulties in coping with the economic crisis. Their stores have now reopened and Monday to Saturday, from 10 am to 7 pm.
#20 Talar Nina's "Liban Tote Bags"
In response to the Beirut blast, the Armenian label Talar Nina saw an immense response to its "Liban Tote Bags". The brand told The961 that proceeds of these specific products will go to the Lebanese Food Bank and Impact Lebanon.
#21 IWC Schaffhausen "Solidarity with Beirut"
Presented in collaboration with Beirut-based NGO Nusaned, IWC Schaffhausen's "Solidarity with Beirut" watch comes in very limited quantities. Proceeds from sales will go to Nusaned.
#22 Bulgari necklace
This Bulgari necklace is being auctioned off as part of Sotheby's "To Beirut With Love" initiative to raise funds for the people of Lebanon.
#23 Dior cuff
This Dior cuff is also part of December's charity auction of Sotheby's that is partnering with Creatives For Lebanon and Art For Beirut to raise funds for those impacted by the Beirut explosion.
#24 Mukhi Sisters diamond earring
Mukhi Sisters was among the many businesses affected by the blast. The jeweler donated this double-sided diamond earring to be auctioned off by Sotheby's this month to benefit charities working to support those affected by the explosion.
#25 Noor Fares
Lebanese designer Noor Fares, who is participating in the organization of this charity project, donated this one of a kind pair of earrings to Sotheby's "To Beirut With Love" auction to support rebuilding Beirut.
#26 Sabine Getty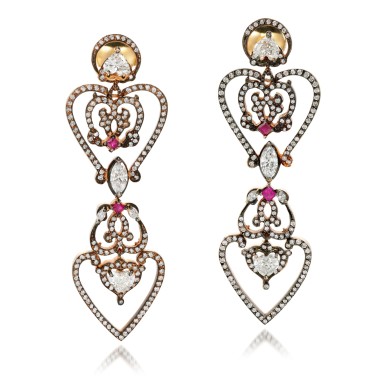 Sabine Getty, whose father is Lebanese, is a Swiss-English jewelry designer, socialite, and contributing editor at British magazine Tatler. Getty is also participating in the Sotheby's "To Beirut With Love" auction with this pair of ruby and diamond earrings.
#27 Venyx x Muzo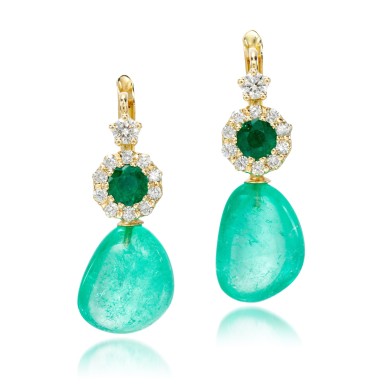 This pair of emerald and diamond earrings, donated by Venyx along with Muzo, is being auctioned by Sotheby's "To Beirut With Love" charity initiative.
#28 Lebanese Glass 'Ibriq'
Shattered glass from the Beirut explosion is being collected and recycled into something that keeps the Lebanese tradition alive. For every traditional water jug or ibriq sold, Lebanese Glass donates $1 to Live Love Recycle.
Check also this list of places in Lebanon where you can shop for Christmas while supporting the local economy.
#29 Live Love Tripoli Charity Shirt
Live Love Tripoli launched its own initiative to support people in need during the holiday season, donating 100% of the proceeds from this t-shirt to the Lebanese NGO, Bird of Lyf.
#30 Millner Co. ME
A percentage of the proceeds from any item from its entire watch collection, Spanish brand Millner Co. ME, is donated to the Lebanese NGO, Bird of Lyf.
The watch company also has a Lebanese edition watch that comes with a special cedar tree bracelet.
It's worth noting that behind the Spanish brand is a full team of Lebanese employees and a Lebanese designer, the brand told The961.