In an interview with Extra TV George Clooney opens up about how his wife Amal Clooney changed his life and how he popped the question out of the blue.
George Clooney actually wanted to talk to Extra TV about his new film "The Midnight Sky", which will be the actor's first movie in four years. However, the conversation quickly turned about his wife Amal.
"There's no question that having Amal in my life changed everything for me," admits George during the interview. "It was the first time that everything she did, everything that had to do with her, was definitely more important than me."
Clooney speaks of Amal as "gorgeous and funny" and as "the smartest person in every room she walks in."
"I am always very proud to be standing next to her," he expressed.
Before meeting the successful Lebanese human rights attorney, George was a popular bachelor, dubbed as the most handsome bachelor celebrity, and had no real plans to marry.
"We never talked about marriage during our first few meetings. I then asked her out of the blue and it took her a long time to say yes," the famous Academy Award Winner revealed.
The proposal
"I got down on my knee and I had this playlist of songs. So I propose to her, I'm holding the ring. And she's just holding it, going, 'Oh, my God… oh, my God.' And I'm waiting and waiting."
"We know how long it is because I know the playlist and I know when she said yes and it was 20 minutes. But after some time of her in shock, I just said, 'I kind of need an answer 'cause I'm gonna throw my hip out.' It took a while. I think it was out of shock."
Amal, The Exceptional
Clooney revealing the influence of Amal in his life doesn't really come as a surprise. She's been doing just that all around her, particularly through her career, making a difference and not on a small scale.
Born in war-torn Beirut, Amal Alamuddin and her family fled the civil war in Lebanon in 1982 and took refuge in London.
Educated at a girls' grammar school, she won a scholarship to Oxford where she studied law, then went on to study at the New York University School of Law before returning to the UK in 2010.
Those who know Amal speak of her brilliant mind, elegance, and intellect. She won the Shrigley Award at Oxford University and the Jack Katz Memorial Award at New York University School of Law.
Amal's career that blends humanitarian law and international politics isn't the only notable aspect about her.
She was chosen as Barbara Walters' Most Fascinating Person of 2015, as well as being an active advocate of vulnerable kids and refugees through the Clooney Foundation for Justice.
Just recently, she was recognized for representing clients in some of the most high-profile press freedom cases in recent years, receiving the Gwen Ifill Press Freedom Award of the 2020 International Press Freedom Award from the New York-based Committee to Protect Journalists (CPJ). ⁠
Amal & Lebanon
Despite her fame and being one of the most sought-after human rights lawyers, Amal never forgets her homeland.
At the uprising of the Lebanese people, she wrote an empowering article of support, A Moment of Hope for Lebanon, published by Annahar.
About the Thawra, she said, "I watch a united population espouse a common vision for change based on dignity and equal opportunity."
"The Lebanese have lived, and for too long, in a system that entrenches their differences. They have been let down by leaders who have abused public office for private gain," she said, echoing the pain of the people.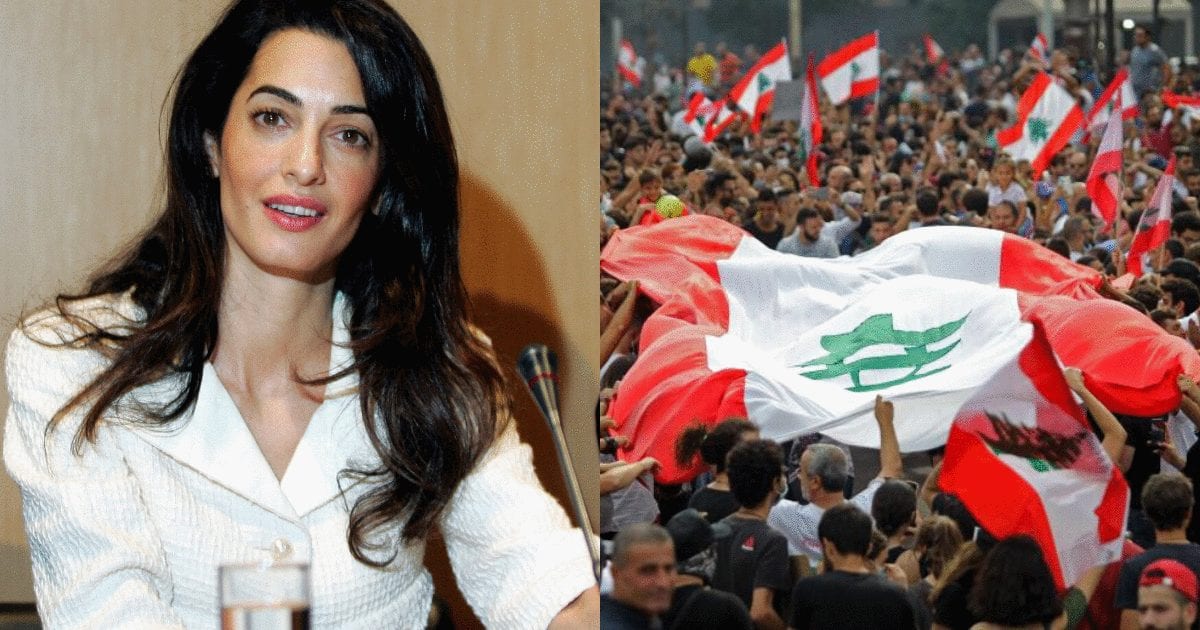 "One government after another has failed to provide services as basic as electricity, safe water, decent infrastructure, and clean streets. Change has long been overdue," she stated the undeniable fact that has brought Lebanon to its current harsh situation.
"As people chant together, dance, and link arms, not just people from one community, one party, one sect; but all Lebanese, standing shoulder to shoulder to say enough is enough," she stressed.
Directly after the Beirut Port explosion, Amal and her husband donated to three Lebanese humanitarian organizations that provide basic relief on the ground: the Lebanese Red Cross, Impact Lebanon, and Beytna Beytak.
The Clooney Couple
The power-couple share a great sense of humor. During the American Film Institute Ceremony where George Clooney received the Lifetime Achievement Award, he made quite a public statement.
He said in his speech that when he married Amal, he didn't know that he'd be marrying an entire nation. He then recounted how a guy who was 100 yards away from him at the UN started shouting: "George Clooney! I am Lebanese!"
The couple's plans for having children were equally spontaneous to their marriage. "We never talked about having kids and then one day we said, 'What do you think?'" Clooney said, explaining how, after a short time later, Amal was pregnant.
But the surprise didn't end there as the couple later found out they'll be having twins.
George joked about his parenting skills, saying "I've got two 3-year-olds. All I do is teach them to put Nutella in their nappy and go around and scare people."
Proving he is just like any other average citizen during the lockdown, Clooney said, "We're all at home, washing dishes, mopping floors, doing laundry, and looking forward to a vaccine sometime in the near future."
Clooney's upcoming new movie
In the new post-apocalyptic sci-fi thriller "The Midnight Sky," Clooney is playing a scientist stationed in the Arctic who tries to warn a space crew about facing extreme danger.
Along with acting, he also directed and produced the Netflix movie that was shot in Iceland. "It's tough to direct yourself in a snowstorm," Clooney admitted.
The Midnight Sky is set to be released on Netflix on the 23rd of December, and here's the trailer for Clooney's fans: