Canada has been home to many Lebanese, some are students who have thought it for education but many more were immigrants who sought it away from the civil war or for a better future in the land of equality and dignity.
They built roots and became an important community in Canada, playing key roles in its economy, politics, society, and education.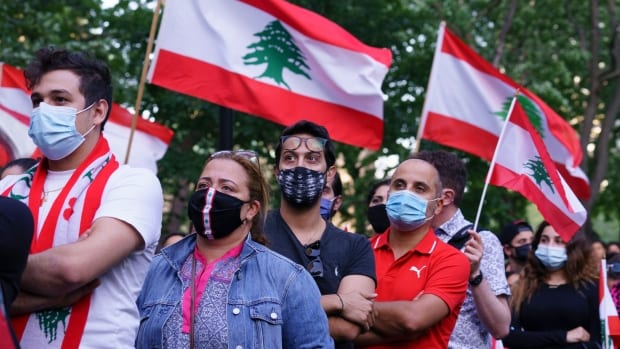 These Lebanese-Canadians remain attached to their homeland and fiercely care that it regains its sovereignty and gets out of its crises and corruption.
Canada, the country that values them as its own citizens with all dues and rights, did not fall short on sending millions of dollars in humanitarian assistance to their homeland to help the people struck by this catastrophe.
In main cities across Canada, one could see public displays of support and solidarity, with landmarks lit with the Lebanese Flag, like the Champlain Bridge in Montreal, and the CN Tower in Toronto.
In Montreal, the municipality "Hotel De Ville" even lowered its three official flags in a day of mourning for the victims of Beirut port explosion:
In Quebec City, the minister requested the same, lowering Quebec official flag:
The Federal of Government of Canada went further ahead and launched a Lebanon Matching Fund to support the fundraising of the Lebanese business leaders in Canada who just formed a coalition.
Now, the Lebanese-Canadians are asking their government to stop considering the current Lebanese one a legitimate one.
In Montreal, they took to the streets on August 7th to demonstrate and make their voices heard by the Federal Government as they publicly denounced Lebanon's rulers and years of neglect, corruption, and dysfunctionality.
They protested just like the Lebanese back home, shouting the same anthems "Kellon Yaane Kellon" (All of them means all of them), and demanding their resignation.
Ghassan Fayad, who helped organize the protest, said: "The explosion just symbolically showed the world how ridiculous the situation is. The explosion helped bring all the Lebanese people together to say 'enough is enough."
They are heartbroken after the mighty explosion caused by corruption and neglect, and they ain't going to sit silent.
We all share the same sorrow and, while we feel hopeless in Lebanon and hostage in our country, the Lebanese-Canadians as all the Lebanese diaspora in the world are not going to let it continue.
They have families back home, and they want them safe and well, living in dignity.