Drake's fashion label "OVO" is showcasing support for Lebanon through the release of a dedicated Cedar of Lebanon line of hoodies, as well as T-shirts.
The items will be released on Wednesday, and will be exclusively available for online purchase. All proceeds are being donated to the Lebanese Red Cross, in support of the victims of the Beirut port explosion.
"OVO" is co-owned by artist Drake, and Lebanese-Canadians Oliver El-Khatib and Noah "40" Shebib. The famous trio is also behind the "OVO" Sound Record Label.
The limited-edition line consists of hoodies in black and red, while the T-shirts are available in white and black. The clothing items feature OVO's exclusive owl label, with the Lebanese flag embedded into the design.
The Instagram post announcing the amazing news received more than 70,000 likes in less than 14 hours!
This limited-edition series in support of Lebanon is unique in its kind. OVO's logo is super famous worldwide, and it now has the Lebanese flag incorporated for this collection, which sends a strong message of solidarity while supporting the Lebanese Red Cross.
Once again, Drake's brand steps up to support the victims of the August 4th explosion.
A month ago, the celebrity's brand launched a call to its 1.3 million Instagram followers, captioning its post: "Join us in supporting the Lebanese Red Cross. Swipe up to donate directly to the relief fund."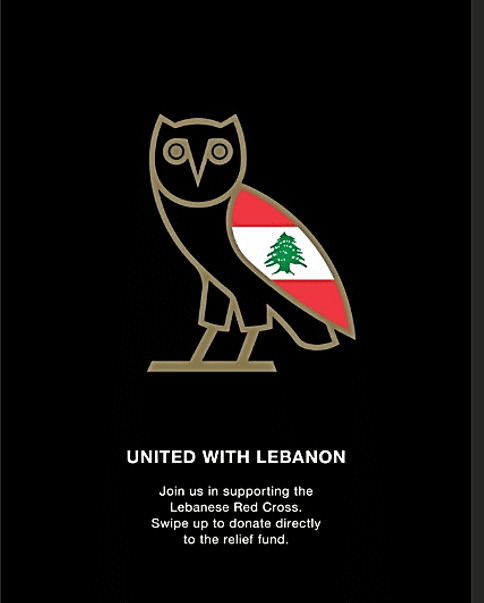 The Lebanon-specific products will be available online only on their site, most likely starting at midnight EST (7 am Beirut time).
For people in Lebanon, just a reminder that this is considered an international purchase and will be taken from the limit on card payments your bank as imposed.
The Lebanese Red Cross is currently in need of support to continue coping with this disaster that befell on hundreds of thousands of people in Beirut.