The Lebanese Red Cross has been a life-long helping hand for the citizens and now more than ever during this catastrophe, asserting efficiently and with transparency its crucial role in Lebanon.
Its role of late has been beyond extraordinary. In fact, the citizens as the international community are heavily counting on the LRC and its teams of volunteers to bring the country out of its current human demise.
Saving lives, rescuing victims, attending to injured, sheltering thousands of families, providing foods and meds, assessing thousands of homes, reuniting families, and even providing counseling.
Among the many international donors helping with the disaster relief through the Lebanese Red Cross, Drake's clothing line OVO is now stepping up to support its humanitarian efforts.
Captioning "Join us in supporting the Lebanese Red Cross. Swipe up to donate directly to the relief fund," the celebrity's company is urging its 1.3 Million Instagram followers to contribute to the cause.
OVO highlighted the story under Lebanon Relief. and embedded the Lebanese flag into the famous brand's logo. OVO40 has also switched its Instagram profile picture to the Lebanese flag.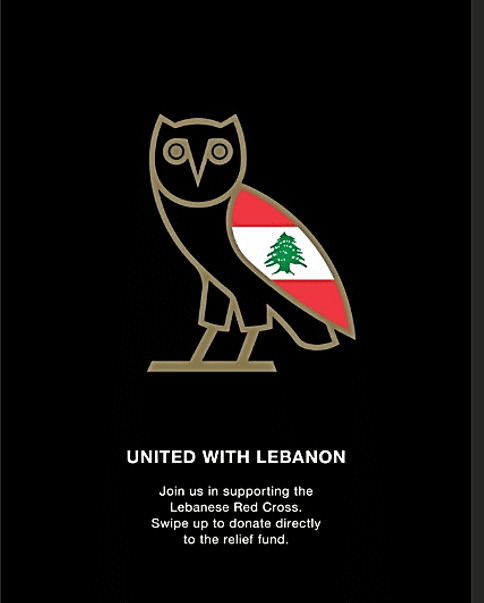 October's Very Own clothing brand is not only owned by the Canadian rapper Drake, but also by Lebanese co-founders rapper Oliver El-Khatib and producer Noah "40" Shebib.
Both these Lebanese creators are behind Drake's success through their record and clothing brands OVO.
Now, both of them are contributing to the Lebanese cause by guiding their followers on where to donate for Lebanon's most hardworking NGO.
Many Lebanese celebrities in the diaspora are contributing to blast-struck Beirut, like ex-Miss USA Rima Fakih and her husband Wassim Sleiby, owner of XO records, who started a fundraiser for Lebanon's different NGOs.
The Lebanese Red Cross is fully trusted by the Lebanese people and the international community, and this is why.