Lebanese security forces have exposed an organized drug-trafficking network that had been using manakish ovens to smuggle drugs outside Lebanon.
As part of its work against drug trafficking, the Judicial Police unit has revealed an organized drug-trafficking network operating under the cover of shipping "manakish ovens," the Internal Security Forces (ISF) said in a statement on Saturday.
Surveillance operations, conducted in coordination with the ISF's Information Branch, recently led to the identification of "one of the most dangerous members of the said network, and its mastermind, and he is called A.H. (Syrian, born in 1969)."
After over a month of surveillance, it was revealed that A.H. had tricked a shipping company with the claim that he owned a company that manufactures ovens, using a fake ID card that presents him as 57-year-old Lebanese national "Y.N."
With the fake identity established, he would ship drugs under the cover of shipping ovens to sell them in Europe.
According to the ISF, this network's most recent shipment was on November 20th, 2020, when French authorities seized 465 kg of cannabis "professionally concealed in two ovens" and arrested the perpetrators on French territory.
The failure of this attempt prompted the network's members to switch their shipping destination to Arab Gulf countries.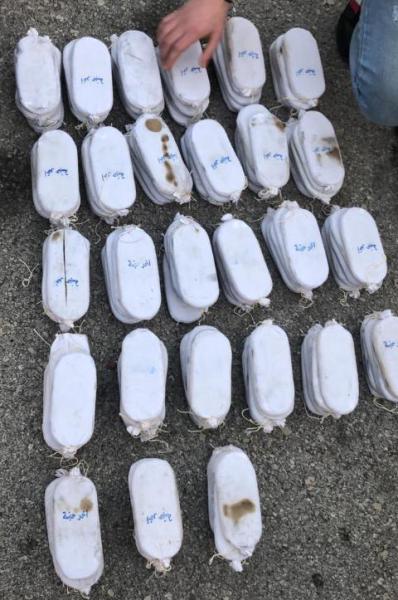 On February 3rd, security forces received information about one of the network's members being in Dora, in the Matn District of Mount Lebanon Governorate, transporting an oven containing cannabis with the intention of smuggling it to an Arab Gulf country.
Accordingly, a joint force of the central Anti-Narcotics Office and the special forces unit reached the location, seized the oven, and arrested 31-year-old Syrian national "A.H." and 24-year-old Lebanese national "J.A."
At the same time, another joint force of the same units raided the aforementioned mastermind's house in the locality of Bouar, Keserwan District, arresting him and a 15-year-old Syrian national identified as "M.H."
The force then raided a warehouse operated by the network in Zouk Mosbeh, wherein 35 kg of cannabis prepared for shipping were seized, in addition to 27 kg of the same substance, concealed in the oven that was seized previously.
Upon their interrogation, the detainees admitted to having performed several smuggling operations to France and other European countries.
The ISF said an investigation has been launched and that work is underway to arrest the rest of the perpetrators.