A group operating as a drug-trafficking network was arrested in a series of operations by Lebanese security forces.
After receiving information about the network, the Internal Security Forces (ISF) Information Branch began working on identifying and arresting its members, the ISF said in a statement on Tuesday.
Eventually, the intensified investigations and surveillance operations led to the identification and arrest of the following individuals:
32-year-old Lebanese national "J.M.," nicknamed Abou Hatem — the network's mastermind
30-year-old Syrian national "A.A.," nicknamed Shaqqour
25-year-old Lebanese national "N.W."
23-year-old Syrian national "M.S."
27-year-old Lebanese national "S.S."
27-year-old Lebanese national "T.S."
29-year-old Lebanese national "A.K."
42-year-old Lebanese national "A.K."
The eight suspects were arrested in several security operations conducted on July 6th, 7th, and 8th in each of Sad Al-Boucharieh, Tabarja, Bouar, Safra, Sayfi, and Nahr Ibrahim.
Additionally, four of the network's customers, identified as "S.T." (30), "A.W." (24), "A.A.A." (31), and "W.D." (29) – all Syrian nationals – were arrested.
After cracking down on the suspects, security forces seized three cars and a motorcycle that they've been using in their operations.
At the time of his arrest, the head of the network, J.M., was carrying 150 sachets containing cocaine weighing around 360 grams, in addition to 100 plastic caps containing crack cocaine weighing around 430 grams, according to the ISF. He was also carrying four cell phones.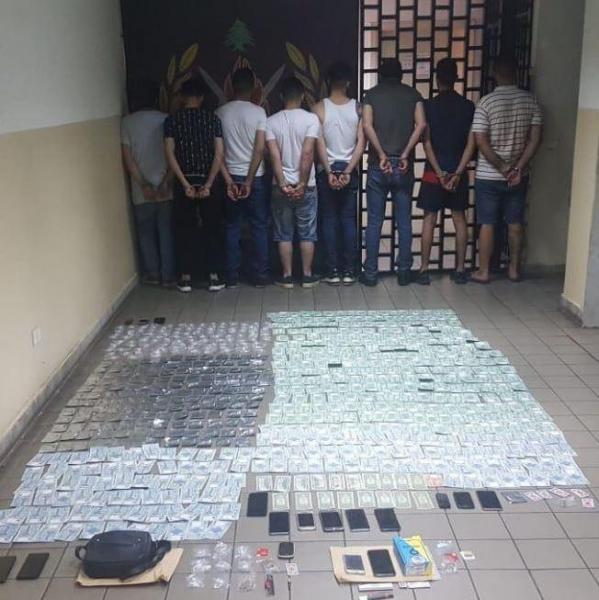 The second suspect on the list was carrying cash and a phone. The customers had some cocaine and cannabis on them, as well as six packs of rolling paper, at the time of their arrest
After searching them, security forces found 32.2 grams of cannabis, 6.4 grams of cocaine, in addition to narcotic pills, empty plastic caps, and nylon bags used for packing drugs, in the second, third, and seventh suspects' houses.
Plastic containers and aluminum foil used for abusing drugs were also found in the said houses, along with four packets of rolling paper and nine phones.
During his interrogation, the first suspect confessed to being the head of the network and to transporting drugs from Beqaa to Beirut and Mount Lebanon, where he would hand them over to the second suspect.
For his part, the second suspect confessed to distributing drugs to the sellers.
The remaining suspects confessed to selling drugs to a large number of customers in multiple areas in the Beirut and Mount Lebanon Governorates, while the four customers confessed to abusing drugs and facilitating prostitution.
The detainees have all been referred to the competent judicial authority, pending the necessary legal action.