Business owners are rushing to help devastated Beirut after the August 4th explosion that caused misfortunes to its citizens.
Dubai's F&B industry launched a Save Beirut fundraising event under the patronage of Emirates Red Crescent to help with the disaster relief efforts of NGOs in Beirut.
Restaurants like Couqley, Zuma, Gaia, Roka, AL Beirut, Café Younes, and 100 more are cooking for Beirut on August 30th.
By ordering from the participating restaurants, people will be donating to Beirut-based NGOs that are tirelessly working to help those impacted.
The Save Beirut initiative is managed by the Lebanese Business Council Dubai, Pulp, and more hospitality operators that will coordinate with the participating restaurants.
Restaurants will donate 30% to 100% of the proceeds to the cause, and customers can add their own contributions as well.
With a goal of 10 Million AUD set in mind, which is about $7M, the F&B outlets will cook around the clock, starting at 8 AM until 3 AM.
The funds will be wired to Lebanese NGOs through Save Beirut's initiative partners.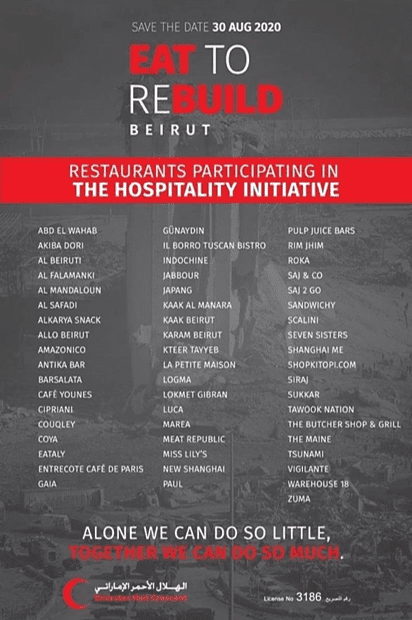 By eating luscious desserts, fast food, Lebanese, Italian, and more, on August 30th, residents of Dubai will be contributing to the disaster relief efforts in Beirut.