Elvis Presley's copy of Gibran Khalil Gibran's most famous book, The Prophet, is on sale for nearly $30,000 in the UK.
London-based rare books dealer Peter Harrington has put up the iconic rock and roll singer's annotated copy of The Prophet for sale for £19,500 ($26,670) as part of its summer catalog.
This is the first time this copy has been placed on sale in the country. Presley had presented it to his friend Ed Parker, founder of American Kenpo Karate, in 1960, according to Fine Books Magazine.
The late star was known to have a passion for reading, and The Prophet, which consists of 26 prose poetry fables, was one of his favorite books, so much so that he memorized it, according to Parker's memoir of Presley, Inside Elvis.
He also regularly gave annotated copies of this book to friends.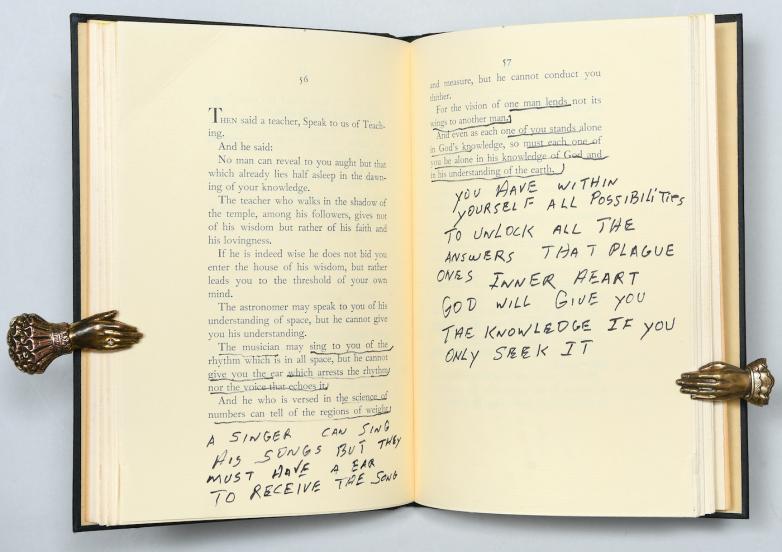 "A singer can sing his songs but they must have [an] ear to receive the song. You have within yourself all possibilities to unlock all the answers that plague [one's] inner heart[.] God will give you the knowledge if you only seek it," Presley's annotations on this particular copy say.
The Prophet has sold more than a million copies around the world since its printing began in 1923. It is also one of the most translated books in history, available in more than 100 languages.
Notably, Gibran's book was hilariously quoted by Breaking Bad star Bryan Cranston when he was marrying a couple as, yes, an ordained minister, in the 1970s.