Ever since the coronavirus outbreak has been circulating in many countries outside China, people have been complaining that the Beirut airport is not offering a test to examine if arrivals are infected or are coronavirus-free.
It was confirmed before that the airport has implemented preventive measures, and that the Ministry of Public Health has equipped the airport with computers that can monitor internal and external body temperature through laser.
These devices are said to transmit digital oscilloscopes on a large screen that divides body heat by color.
When a person passes, the laser is directed toward the head, which helps the staff detect "coronavirus" or any other virus, when the color turns red, which means that the body temperature is high.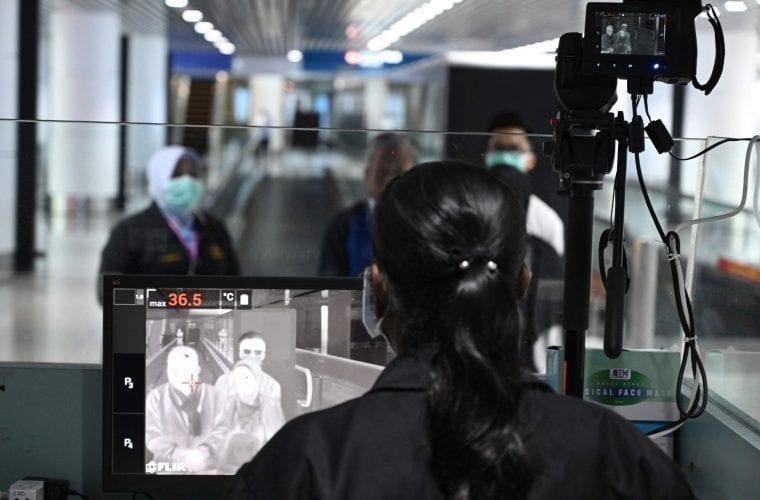 In this case, according to the sources, a potentially affected person would be transferred to quarantine to assess his/her condition and would be immediately under necessary measures, either by deporting them or transferring them to a hospital.
However, arrivals have been affirming that the procedures supposed to be taken at the airport are almost negligible and not enough to detect the deadly virus.
One Lebanese expat recorded a video of herself and posted it on Facebook speaking about her experience in that regard.
Thuraya Taleb got back from Beijing, China, to Beirut on a plane on February 4th, and confirmed that the only examination passengers were offered in Rafik Al-Hariri airports was a fever check. 
"I was lucky that I got out from the nightmare when I did," Thuraya said in the video two days after her arrival in Lebanon. "The moment I got out, Beijing got completely locked down."
In the video, Thuraya thanked the Consul at the Embassy of Lebanon in Beijing, Zaher Al-Aridi, for personally calling all Lebanese expats in Beijing and checking if they are in good health.
Thuraya speaks of the moment she arrived at Beirut airport and checked in, confirming that there is no sign whatsoever to direct visitors coming from China to get examined for coronavirus.
Wearing a mask, Thuraya approached a security guard and asked him where she can reach the health ministry to get examined or where health inspections are being held.
She was escorted to get her fever checked and was asked to submit a form with her personal information and phone number.
According to Thuraya, it was obvious that the health ministry was not offering coronavirus tests.
Thuraya said that she put herself in personal isolation in her friend's empty house in Broummana because the option was not offered by Lebanese officials.
"Health ministry did not offer me anywhere I can stay so I can protect my loved ones and the Lebanese people, in case I do have the virus."
She explained that the reason behind her personal isolation is that the coronavirus can stay inside a person's body for 14 days before it appears.
This means that one can be in really good health (no fever or even flu) but would still carry the virus if not tested prior.
Thuraya also explained that if she carried the virus, anyone might get infected and affected, especially people with low immunity and chronic diseases.
She confirmed that the majority of the Chinese who carried the virus had chronic diseases, the likes of cancer, asthma, cardiac diseases, low blood pressure, etc.; all of which a huge percentage of Lebanese people suffer from.
"Until now, I have not been quarantined, and no precaution has been made. The only thing they did is call my aunt to ask if I have a fever or not. Had they did a small test to check if I have coronavirus, I would not have needed to isolate myself for 14 days."
"We did not ask you to evacuate us from China," Thuraya said directing her speech to the Lebanese officials, "we did not ask you to help us get in Lebanon, or help us get out of China, we did not ask anything of you."
"All that we are asking is that if someone comes from China, to check for the diseases in order to protect the Lebanese people."
She proceeded to say, "My family and friends are worried about me, and all that we are asking of the health ministry to check if I have the virus or not."
Thuraya also clarified that Chinese people got off the plane alongside her and once they arrived at Beirut airport, they took off their masks and went on with their lives.
"The only thing they did is take my name and phone number so they can check up on me and see if I have a fever. What happens if I say yes, what if I did have a fever? Would you have anything to treat me with?" Thuraya concluded.
On another hand, the World Health Organization WHO confirmed on February 2nd that most countries will be equipped to detect coronavirus within a week.
Health Minister Hamad Hassan tweeted on his account on Twitter saying: "Thermal surveillance devices are indicative of the clinical condition only. Follow-ups from the Ministry's Prevention and Surveillance Directorate continue to place arrivals from China in quarantine in their homes; examination and isolation are available at the Rafic Hariri Hospital for morbid cases and not any other. "
In another tweet, Hassan said: "According to WHO's guidelines, the two-week quarantine is for those arriving without symptoms from China at home or in a remote location."
"As for isolating the patient, this would be applied at people coming from the epidemic site exclusively or with the appearance of symptoms."
UPDATE: Thuraya has been put in quarantine in Rafik Al-Hariri hospital based on her request. She underwent an examination in her home and was proven to be in good health with no evident symptoms.