When irresponsibly stored Ammonium Nitrate in the port of Beirut exploded, a major part of the capital crumbled. Hundreds were killed, thousands were injured, over 300,000 families lost their homes, and countless businesses vanished into dust and ashes.
In the absence of any government plan to rescue the country's capital, the people have been relying on each other and on the NGOs to try to survive the catastrophe. And the NGOs have been relying on foreign aids and expats' initiatives to deal with the emergency phase that isn't over yet.
In a stand of solidarity, several brands are dedicating part of their sales to help with the relief efforts of these NGOs.
As of date, these are the brands that are supporting Lebanon, some even donating 100% of their sale proceeds, and some part of their sales.
#1 East Wave Concept
East Wave is an online concept store that sells different brands on its website.
The store will offer a percentage of their proceeds to Lebanese NGOs through the sale of many designs and accessories by Nemozena, Bil Arabi, Ziad Fakouri, and many more artists.
#2 Repossi
The Italian luxury jewelry house announced its stand with the Lebanese Red Cross by dedicating the profits of the Berbere Chromatic ring to the NGO.
The three-red-circled ring has the Lebanese Cedar embedded in its design and will be available for purchase by mid-September.
#3 Christopher Esber
Based in Australia, Lebanese-descent womenswear designer Christopher Esber is donating, until the end of August, all his brand's sale proceeds to the Lebanese Red Cross, Lebanese Food Bank, Beit El-Baraka, and Impact Lebanon.
Esber has also launched a call on his Instagram for people to support Beirut relief efforts.
#4 Piece Of You
The custom-jewelry store based in the UAE is donating a percentage of the sales of the Lebanese Map necklace design to Lebanese charities at the end of August.
#5 Louis Vuitton
The French luxury brand is pledging US$400,000 from the sales of its Silver Lockit to UNICEF to support health workers, and families and children affected by the explosion.
#6 Rula Galayini
Rula Galayini is not only a Dubai-based accessories brand, but its pieces are made in Lebanon since 2007.
Thus, the brand is offering a 20% discount on its items through Help Lebanon promocode. And, they will be donating 100 dhs for every item sold to Lebanese charities.
#7 Marzook
Famous for their orb designed clutches, the founders of Marzook are donating a percentage of their proceeds to help the impacted families in Lebanon through the Kuwait Red Crescent Society.
#8 Zouhair Mrad
Drawing force and inspiration from his belief that Beirut will rise again, Zouhari Mourad released a limited edition design of T-shirts: Rise From The Ashes.
100% of the proceeds will go to support the ongoing humanitarian efforts of Offre Joie.
#9 Talar Nina
Talar Nina, a Dubai-based brand, is owned by Lebanese-Armenian model and artist Lea Hadidian and Tala Fakhoury who created these Beirut tote bags specifically for raising funds for the fallen city.
By purchasing these vintage inspired tote bags, customers will be donating 100% of the proceeds to Impact Lebanon and the Lebanese Food Bank.
#10 1998
The Egyptian-based fashion brand, 1998, created the Beirut tote bags specifically for raising donations to the Lebanese Red Cross.
#11 Nafsi
Nafsi is a clothing brand that creates eco-friendly and aims to give back to communities.
So, the brand created two T-shirts Kafa, meaning enough, and Nafsi, and will donate $20 for each tee sold to Impact Lebanon.
#12 Qasimi
London-based menswear brand, Qasimi, is known for their sociopolitical stands through their fashion shows and apparel.
All proceeds allocated from the Don't Shoot T-shirt, at the end of August, will be donated to the Lebanese Red Cross.
#13 Also, Freedom
Inspired by her time in Lebanon, Dhalia Hage is helping Lebanon through her clothing Los Angeles-based brand Also, Freedom.
100% of the proceeds from their statement Free Generation T-shirt and Unify long-sleeved dress will support small businesses that were destructed by the explosion.
#14 Amongst Few
The Dubai-based brand, Amongst Few, released a limited edition "prosperity" tee in which 100% of its sales will be equally donated to Offre Joie, Impact Lebanon, and the Lebanese Red Cross.
Successfully, the brand was able to allocate so far 8,796.91 USD to the designated NGOs.
#15 Hussein Bazaza
Lebanese designer Hussein Bazaza is offering all the profits of his 'ARCHIVES PROJECT VOL.1' collection to the Children's Cancer Center of Lebanon (CCCL)  until October 2020.
Although his atelier in Beirut was devastated by the explosion, Bazaza is dedicating himself to help the CCCL that he deems even more in need of humanitarian support.
#16 Ali Cha'aban x Nuna Atelier
Nuna atelier based in Dubai collaborated with Lebanese-Saudi artist Ali Cha'aban to create the 4-8-2020 memoir tee, in tribute to the victims of the tragic explosion of August 4th.
All proceeds of the Beirut tee will be donated to the Lebanese Red Cross.
#17 Fusion by HK
The Lebanese-Ghanian brand, Fusion by HK, is dedicating 10% of its 'Rebirth' collection sale proceeds to support the Bird of LYF NGO in Lebanon, which is providing shelter and food to families affected by the blast.
It has also pledged 100% of its profits from its newly launched initiative Bracelets of Hope to support families with daily supplies.
#18 Drake's OVO Brand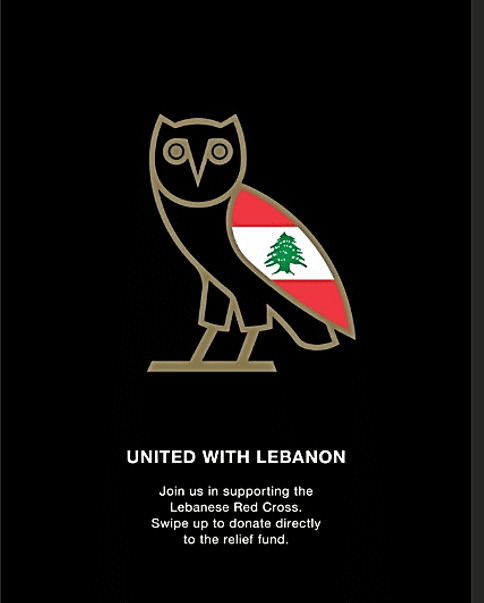 Drake's clothing line OVO, which has some 1.5M followers on Instagram alone, just launched a campaign "United With Lebanon" in support of the Lebanese Red Cross.