The streets of Beirut all have a special and interesting history, and these stories reside in their names. From Bliss Street to Rue Van Dyck, every corner has a tale to tell.
We already unraveled the stories behind the french streets of Beirut, but there are other foreign names that aren't French of other streets in the city.
A lot of people influenced the city, and a lot of events took place in Lebanon; here are some of the people and events that were behind 5 streets' names in Beirut:
Bliss Street
One of Hamra's main streets in Beirut, Bliss Street is named after Dr. Daniel Bliss, a Christian missionary from the United States and the founder of the American University of Beirut (AUB).
Daniel Bliss was born on August 17th, 1823, in Georgia, Vermont. He passed away on July 27th, 1916, in Beirut, Lebanon.
He attended Andover Theological Seminary and prepared for foreign and overseas missions. Bliss was assigned to Syria in 1855 and arrived in Aley, Lebanon in 1856.
He founded the Syrian Protestant College, which opened in Beirut in 1866 and came to be known as the American University of Beirut. He was named President of AUB.
A building in the university and the popular Bliss Street were named after him.
Up to the mid-1960s, the tram used to pass along that street and stopped in front of AUB's Main Gate.
Rue John Kennedy
Originally called Rue Perthuis, this street in Ras Beirut was renamed in 1963 to honor President John F. Kennedy, the famous 35th president of the United States who served from January 1961 until his assassination in November 1963.
Hundreds of schools, streets, parks, and centers across the globe carry John F. Kennedy's name.
Worth noting that John F. Kennedy's most famous quote, which he said in his inaugural address in 1961, was actually by the Lebanese literary genius Gebran Khalil Gebran (The New Frontier, 1925).
Rue George Post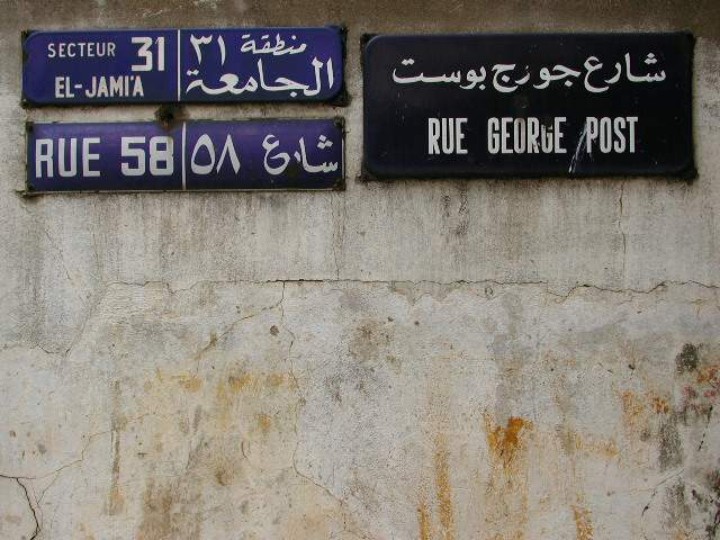 Rue George Post is another popular street in Ras Beirut. It was named after Dr. George Edwrad Post, an American surgeon and academic born in 1838 in New York City and who died in Beirut in 1909.
Dr. Post was one of the founders of the American University of Beirut. He was a professor of surgery at the Syrian Protestant College in Beirut (now the American University of Beirut).
Dr. Post also contributed to the study of ecology and vegetation of the Middle East. In 1871, he became the first person to sedate a human patient in Lebanon using chloroform.
He graduated from the University College of New York and later published 18 articles in Arabic.
Rue Spears
Rue Spears in Beirut was named after British General Edward Spears.
Born in 1886 and dead in 1974, Spears was a British Army officer and Member of Parliament noted for his role as a liaison officer between British and French forces during WWI and WWII.
He served as a Member of the British House of Commons and was head of the British Military Mission in Paris.
Edward Spears received the title of Knight Commander of the Most Excellent Order of the British Empire in 1942, and he was appointed the first British minister to Syria and Lebanon.
The reason Beirut honored him by naming one of its streets after him is his role in standing by Lebanon in claiming its independence from France.
Due to his initiatives, Great Britain recognized a de facto independent Lebanon in 1942.
Rue Van Dyck
Located in the Ras Beirut district, this street was named in honor of Cornelius Van Allen Van Dyck and runs east-west from Rue John Kennedy to Rue George Post.
Cornelius Van Alen Van Dyck, born in Kinderhook, New York in 1818 and dead in 1895, was an American missionary and translator of the Bible into Arabic.
He graduated as M.D. from Jefferson Medical College in 1939. He was sent to Lebanon by the American Board of Commissioners for Foreign Missions as a medical missionary for the Dutch Reformed Church.
He resided in different areas around Lebanon, including Beirut, Aley, and Sidon.
Van Dyck studied Arabic under the two famous writers Boutros Al-Bustani and Nasif Al-Yaziji. He later collaborated with Yusuf Al-Asir in translating the Bible into Arabic.
Van Dyck became a professor of pathology and internal medicine in the medical school of the newly founded Syrian Protestant College, which later became the American University of Beirut.
He also taught astronomy in AUB's literary section, directed its observatory and meteorological station as well as the mission press, and edited its weekly journal Al-Nashran.