In a new act of solidarity with the Lebanese people in the aftermath of the August 4th explosion, France has decided to resume issuing visas for the people of Lebanon.
As a result of this new measure, without any additional restrictions other than the standard conditions, Lebanese citizens residing in Lebanon can now travel to France more easily by applying for one of the French visa options.
Upon acquiring an entry visa, Lebanese people can reserve flights to France so long as the country's standard public health procedures are respected and followed.
As such, all individuals over 11 years-old arriving from Lebanon will be subject to a mandatory PCR test upon their arrival in France.
Those who have a negative test result performed no longer than 3 days before boarding a plane to France can submit it to the airline during the registration process.
Furthermore, and according to the press release of the French Ministry of Europe and Foreign Affairs, people who couldn't be tested prior to departure from Lebanon will be directed upon arrival in France to the health checkpoints of the airport for an RT-PCR test.
In case, they test positive, they will have to commit to a two-week quarantine upon arrival.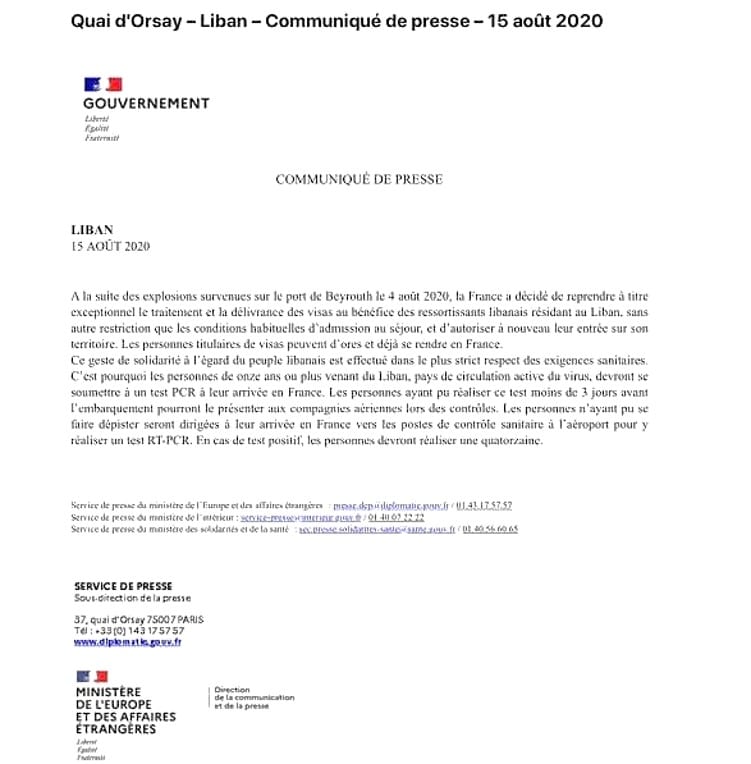 France's exceptional "gesture of solidarity with the Lebanese people" comes 11 days after the Beirut Port explosion, and coincides with a similar initiative by Canada.
Earlier, the Canadian government announced the establishment of an immigration task force dedicated to supporting the delivery of consular services to Lebanese people and ensuring fast responses to their inquiries in the field of immigration.
France is still pending of Lebanon and the Lebanese. Recently, after his brief visit following the explosion, French President Emmanuel Macron urged Lebanon's leaders to pursue the formation of an "interim technocratic government" that will undergo serious reforms.