On Monday afternoon, Lebanon received a batch of medical supplies shipped from France. A group of Lebanese officials alongside the First Counselor of the French Embassy supervised the unloading of the 500kg shipment.
After the crates arrived at the airport, Counselor Salina Grenet-Catalano praised "the strong relations between Lebanon and France."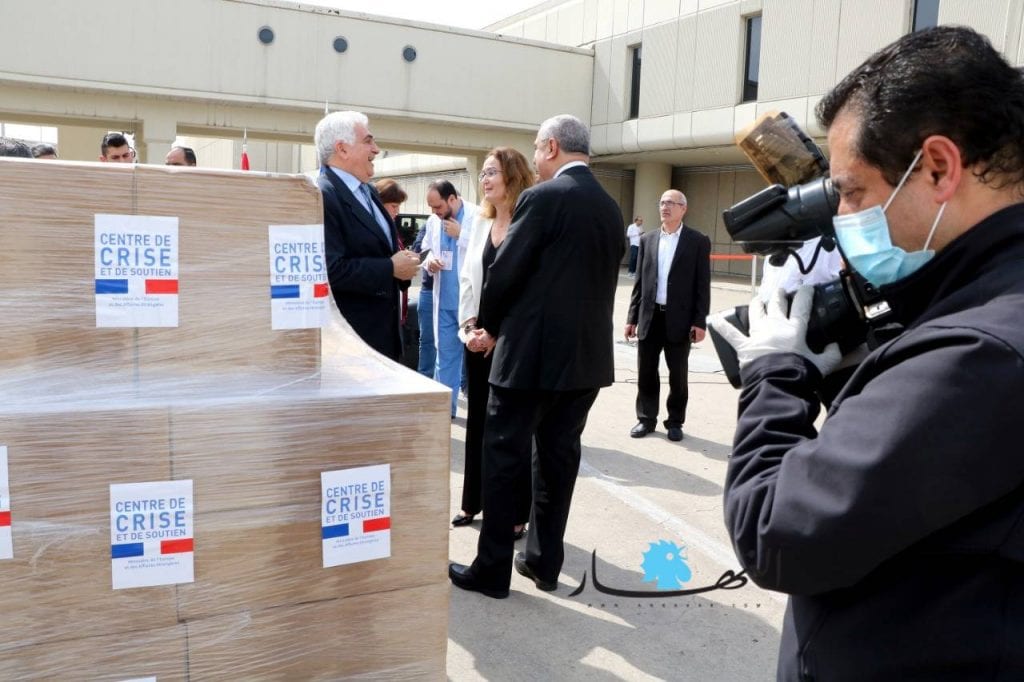 She asserted that France always stands beside Lebanon, "especially in these difficult economic and social conditions." Furthermore, the counselor presented the medical supplies as an aid for the Lebanese to help battle the COVID-19.
During his last visit to France, the Minister of Foreign Affairs met with French officials and requested the country's help in this matter. He also spoke at the airport following Grenet-Catalano's speech.
The supplies France sent are 500 protective medical suits, 50 pairs of protective footwear, 1,000 pairs of medical gloves, and 50 thermometers.
Orderly, Minister Nassif Hitti thanked French authorities for the "necessary medical and humanitarian assistance, crucial at this stage."
He indicated the serious need for cooperation with friendly countries "to fight this dangerous virus threatening our societies."
The minister also pointed to the importance of raising public awareness to better fight and overcome the virus.
France will continue its global efforts
Later on Monday, the French Embassy in Lebanon released a statement in which it commented on the event.
"In response to an official request from the Lebanese authorities, France, in solidarity with Lebanon, sent around 500 kilograms of medical protection equipment to Rafic Hariri Hospital," the embassy said.
Additionally, the embassy assured that France "will continue to support global efforts to combat this epidemic." Unfortunately, Rafik Hariri Hospital confirmed 9 new cases on March 9th, bringing the total of coronavirus cases in Lebanon to 41.
Indeed, Lebanon urgently needs all the medical equipment it can get from France and other nations. Since the economic crisis struck Lebanon last year, medical supplies became scarce in the country.
In a similar effort, Chinese people, whom the virus has affected the most, recently donated medical supplies to Lebanon.
Until a cure is developed for the novel coronavirus, such acts of international support and solidarity are momentous for everyone. By making this fight a collective one for all nations to wage together, this virus will soon be history.