In 1974, the internationally famous French singer Mireille Mathieu visited Lebanon. It was just one year before the Lebanese Civil War broke out.
In this spontaneous picture, she is seen standing in Souk El-Nourieh, a historic farmer's market in Beirut.
That same year, she recorded a live album "Mireille à Byblos" in the city of Byblos. The vinyl record, pressed in Lebanon, is extremely rare to come by these days and is considered a precious item.
Mireille & Fairouz
The singer also happens to be a close friend of Lebanon's beloved ambassador to the stars, Fairouz. Based on the pictures they share, it looks like they hit it off and became good friends.
While Fairouz has met many international celebrities in her life, it seems she is very close to Mathieu.
Fairouz even hosted Mathieu at her home in 1974 and, a year later, Mathieu had the honor to see Fairouz in France.
During her first European television appearance on the French show "Numéro 1", Fairouz dedicated the song "Habbaytak Bissayf" (I loved you in summer) to Mathieu, who embraced her after the performance.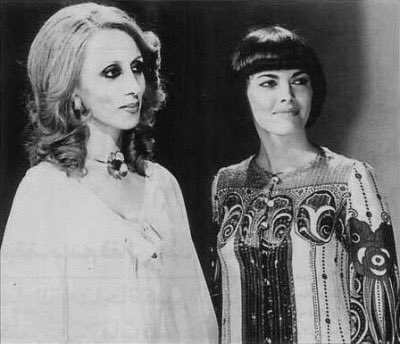 Years passed and the French star returned to Lebanon in 2015 to perform at the Byblos International Festival, in the same city where she had recorded her live album 41 years before.
Mireille Mathieu, who was also a hit in Lebanon, has over 1200 songs in 11 languages and has sold more than 150 million albums worldwide.
She is still active in her music career and recently joined Instagram.