Lebanese people always like to be the best. From preparing the largest bowl of tabbouleh to rowing across the Indian Ocean, the spirit of Lebanese people made Lebanon enter the Guinness Book Of World Records many times!
These are 13 records broken by Lebanon!
#1 Largest bowl of tabbouleh
Around 300 people prepared the largest bowl of tabbouleh which is a national dish in Lebanon. The serving weighed 3,557 kilograms.
This was part of a festival in Beirut's Saifi Market where local businesses were selling Lebanese products. The aim of this event was to show Lebanon's pride in its national dishes and local products.
#2 Largest serving of falafel
Chef Ramzi, a famous Lebanese chef, prepared the largest serving of falafel with his team. The serving weighed 5,173 kilograms. To note, this record belongs to a new category.
#3 Largest bowl of hummus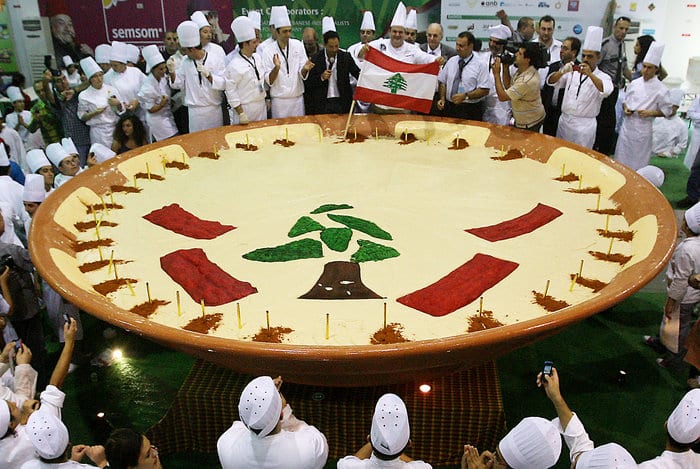 A bowl of hummus that weighed 10,432 kilograms was made in Lebanon, breaking the previous record which was set by Israel.
Another goal was to prove that hummus is a Lebanese dish. Lebanon and Israel have been arguing on the origin of this Middle Eastern dish for a long time.
#4 Largest cereal breakfast (attendance) and largest cereal box
In 2016, Poppins has organized the largest cereal breakfast in the world in the Old Souk of Jounieh. There was an attendance of 1,852 people.
In this event, another record was broken! The cereal brand unveiled the largest cereal box in the world! It contained 2,7 tons of corn flakes.
#5 Longest iftar table
Ramadan 2017 in Lebanon has been highlighted by the longest iftar table in the world which was 2,184 meters long. The event was organized by a charity organization called "Ajialouna". This iftar table gathered 5,400 people from all over Lebanon.
#6 Largest number of model sports cars and dioramas
Nabil Karam is a former Lebanese racer and the owner of 37,777 model sports cars and 577 dioramas. He showcases them his museum which is called the Karam Museum. There is a message behind this museum and that is to drive safely.
#7 Longest interview
"Dalia, you are officially amazing!" A new #GuinessWorldRecord set this morning! #DaliaFrayfer #Lebanon pic.twitter.com/cDbIskoTG1

— نيشان (@Neshan) January 29, 2017
Dalia Freyfer, a Lebanese reporter, set a Guinness world record for presenting the longest live television broadcast since 1914. She held 91 interviews in 24 hours.
#8 Fastest row across the Indian ocean
Along with his 2 crewmates, Maxim Chaya rowed the Indian Ocean in 57 days 15 hours and 49 minutes – which is considered to be the fastest row ever.
#9 Largest Seafood Display
Batroun set a new world record after displaying over 2613.8 kg of seafood.
#10 Largest kibbeh
A Lebanese NGO called Almidan made the biggest kibbeh in the world. It weighed 233 kilograms. The dish was prepared by 25 women in Ehden!
#11 Largest man2ouche
AMJAD high school prepared the longest man2ouche in the world on the occasion of the independence day of Lebanon. It was 31.97 meters long. The faculty, the students, and the staff of this high school took part in breaking the record.
#12 Largest flag
The largest flag in the world is the Lebanese flag! It has a surface of 65,650 square meters. The project aimed at honoring the Lebanese army on its 65th anniversary.
#13 Longest dabke line
4,475 Lebanese Canadians formed the longest dabke line ever. The dance took part in Montreal in 2009.
---
Our team works tirelessly to ensure Lebanese people have a reliable alternative to the politically-backed media outlets with their heavily-funded and dangerous propaganda machines. We've been detained, faced nonstop cyber attacks, censorship, attempted kidnapping, physical intimidation, and frivolous lawsuits draining our resources. Financial support from our readers keeps us fighting on your behalf. If you are financially able, please consider supporting The961's work. Support The961. Make a contribution now.