Hezbollah is considered a powerful party in Lebanon and Iraq. However, it is also designated as a terrorist organization to varies degrees by 64 countries and 2 others currently deciding or finalizing decisions.
These countries are divided between those that have listed the entire organization as a terrorist group and those that have restricted the listing to just its military wing.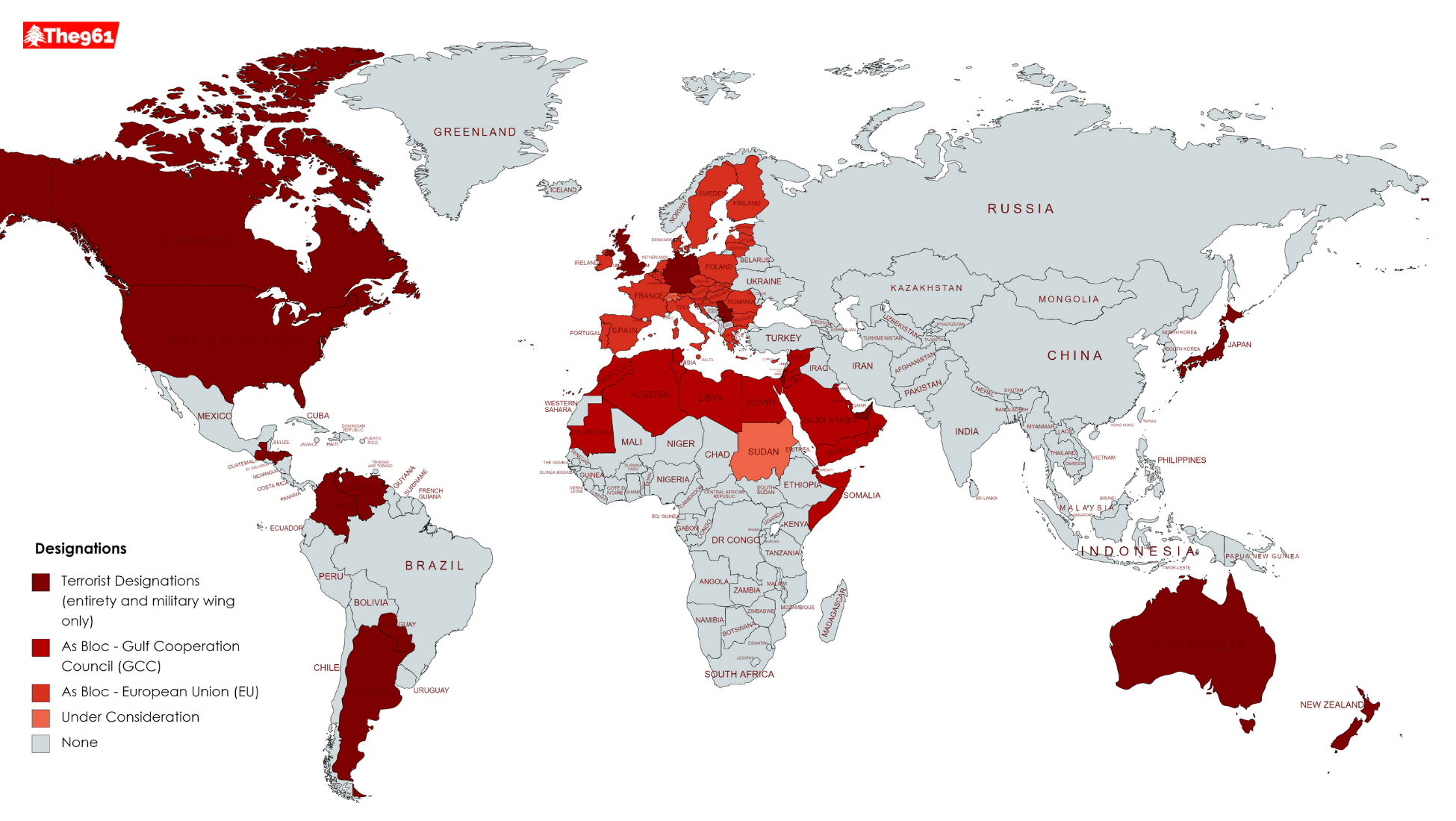 The countries/states that listed Hezbollah as a terrorist organization are:
Gulf Cooperation Council (GCC) encompassing:
The Arab League (excluding Iraq, Lebanon, Algeria, And Syria. Also excludes countries already listed under GCC):
Europe (including countries with stricter designations than those issued by EU):
Latin America:
The countries that banned the military wing of Hezbollah:
European Union (EU):
Austria
Belgium
Bulgaria
Croatia
Republic of Cyprus
Czech Republic
Denmark
Finland
Greece
Hungary
Ireland
Latvia
Luxembourg
Malta
The Netherlands
Poland
Portugal
Romania
Slovakia
Slovenia
Spain
Sweden
Currently under consideration:
The US designated Hezbollah a foreign terrorist organization in 1997. Hezbollah members and officials such as Nasrallah are also subject to US sanctions and are considered specially designated global terrorists.
Companies in Lebanon and some Lebanese politicians allegedly working for Hezbollah were also recently sanctioned by the US.
The European Union designated Hezbollah's military wing a terrorist group in 2013. However, several European countries went on to take a stronger stance on their own.
---
Our team works tirelessly to ensure Lebanese people have a reliable alternative to the politically-backed media outlets with their heavily-funded and dangerous propaganda machines. We've been detained, faced nonstop cyber attacks, censorship, attempted kidnapping, physical intimidation, and frivolous lawsuits draining our resources. Financial support from our readers keeps us fighting on your behalf. If you are financially able, please consider supporting The961's work. Support The961. Make a contribution now.