Here's some beautiful news for a change. Fast-fashion giant H&M is collaborating, for the first time, with a Lebanese designer! In fact, she is the first designer from the Middle East region to partner up with the brand.
H&M is teaming up with Lebanese designer Sandra Mansour for her newest collection "Fleur du Soleil" slated to debut next month.
In an interview with Vogue Arabia, she expressed her pride to be recognized as a designer from a country where "local artisanship, craftsmanship, and creativity have been celebrated worldwide."
Her Fleur du Soleil collection is a marriage of both romantic and edgy aesthetic that exudes feminine power.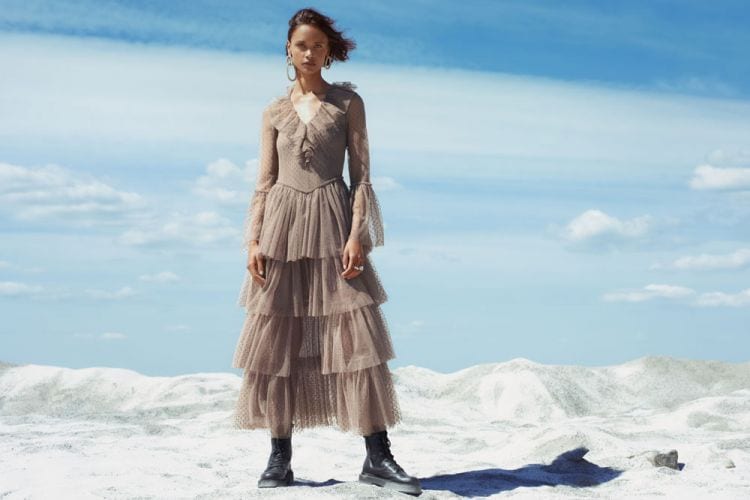 Mansour said that when she was working on the collection, she reflected on "The Sun & The Sunflower" that inspired "hope and light in these very strange and turbulent times."
She adds that one of her favorite artists who inspired the collection is the Lebanon-born Argentinian painter Bibi Zogbé for the paintings of flowers in Lebanon.
On that note, Zogbé (1890 – 1973) hailed from the town of Sahel Alma and emigrated to Argentina at the age of sixteen. Her fine art paintings were exhibited in numerous galleries around the world. Her arts currently go on prestigious auctions for tens of thousands of euros.
"Her dreamy and romantic representation of home is an ode, with a constant ability to inspire," Mansour said about Zogbé.
Over the years, the H&M has collaborated with industry giants like Versace, Karl Lagerfeld, Stella McCartney, Roberto Cavalli, Viktor & Rolf, Jimmy Choo, Lanvin, and more.
Now, it will add Lebanese Sandra Mansour to that impressive list. Proud moment! Lebanese designers do not fail to make their mark internationally.
In case you missed it, Georges Hobeika recently showcased his upcoming collection for Paris Fashion Week. It was an extravagant show that live-streamed from Tripoli's abandoned fairgrounds!