Lebanon may be one of the world's smallest countries, but it's anything but boring. This small nation is jampacked with exciting things to do, beautiful sights to see, and rich culture to explore.
With all it has to offer, Lebanon is the ultimate summer destination: here is the best way to enjoy a Lebanese summer.
#1 Go to the beach
From the very south to the tip of the north, the coastline of Lebanon extends 225 km across its Western side.
With the white sands of Tyre, rocky resorts of Batroun, and crystal blue waters near Tripoli, Lebanon has countless beaches and resorts, both public and private, all but made for you to spend your summer enjoying.
Swim, surf, get a nice tan, dive off a cliff, dine in seafood restaurants, and make sure to take advantage of the sparkling Mediterranean Sea you have at your feet.
#2 Explore Beirut
Lebanon's capital city is teeming with life and culture, from its historical churches, mosques, and fascinating museums to its gourmet food scene and lively rooftops.
There are countless places to go, restaurants to try, and people to meet in this cosmopolitan wonder, so grab a friend and start exploring this summer.
Sip coffee in the cafes of Hamra, analyze priceless art in museums in Achrafieh, eat at trendy restaurants by day, and drink in tiny pubs by night in Gemmayze, and meet your friends at a rooftop or a club in downtown.
The opportunities in this urban jungle are endless, so make sure to take advantage.
#3 Go hiking
Get in shape and get in touch with nature all at once by taking up hiking.
Lebanon has an active community of hikers and an abundance of trails that will guide you through nature reserves, charming villages, and past breathtaking waterfalls.
Not up to advanced hiking? Check this easy-hiking hot spot.
#4 Visit the mountains for a picnic
The mountain ranges of Lebanon extend 240km, almost the entire length of the country. While they serve as great means for skiing and snowboarding in the winter, in summer they transform from icy white to lush green and golden brown.
Beautiful geography and natural flora combined with incredible panoramic views make for the perfect setting for a picnic. Grab your family, partner, or group of friends, along with a basket of cheeses and wine, to enjoy an afternoon in the mountains.
#5 Try trendy restaurants
Gastronomy is a key feature of Lebanese culture. We revel in the experience of dining as much as we do making and eating tasty food.
In the age of Instagram, the presentation of dishes and the overall ambiance of a restaurant are almost as important as the actual quality of the food.
Lebanese restaurateurs have caught on to this incredibly well, and there are a plethora of trendy, aesthetic restaurants across the country you can try with your friends this summer, from the north to the south.
#6 Go to your village
Regardless if you love it and go there every weekend, or if your family has to drag you there to visit, almost everyone has a village their family traces its roots back to.
This summer, view visiting your day3a in a new light. Enjoy your trip to the village as a way to clear your head from all the craziness this year has brought.
Cherish the time you have with your family, explore your natural surroundings, and seek out stories about your village's past to get into touch with your ancestors and your heritage.
#7 Play the tourist
With the tourism sector taking an especially hard hit this year, you can both help the economy and treat yourself by acting like a tourist in your native country.
There is a reason people flock from every hemisphere of the world to visit Lebanon, and often we as Lebanese forget all the hidden gems and incredible sights our country has to offer. After all, National Geographic did list Lebanon as a 2020 travel cool place to visit.
Visit popular attractions like Jeita Grotto, Harissa, the old souks of Byblos, the Beaufort Castle, and the Roman ruins of Baalbek. There are numerous touristic sites in Lebanon we can get enough of visiting.
#8 Party in nightclubs
While it is unsafe for large gatherings of people to be packed closely together for the foreseeable future, if nightclubs find a way to safely reopen this summer, you must make sure to party in one of Lebanon's famous clubs.
With AHM booming techno within its enclosed walls, SKYBAR blasting pop on its enormous rooftop, and Taiga Batroun providing live Lebanese-music performances on the beach, there truly is something for everyone.
What makes the experience so incredible, however, will be your fellow clubgoers. Lebanese are known to party like there's no tomorrow, and you'll never forget your night because of it, even if you have to dance 6 feet apart from your friends.
#9 Go wine tasting
Lebanon and wine is a historical love affair, and our wineries are there to proclaim it. Whether you are a true wine lover or a nature lover seeking a day outdoor, our wineries are places to head to with your friends for a most pleasant day.
You could enjoy exquisite wines, have lunch at the premises, and delight in the natural scenes around you. Here is a list of some 20 wineries to make your choice.
#10 Go camping with friends
Summer in Lebanon can't be claimed summer without camping, and we're blessed enough with so many great sites for camping across the country. We all know it, the weather in our mountains is super lovely in summer.
Gear up, go "reside" in nature with your friends for a few days, and savor what Lebanon has the best to offer of outdoor life.
#11 Reward yourself volunteering and meet new friends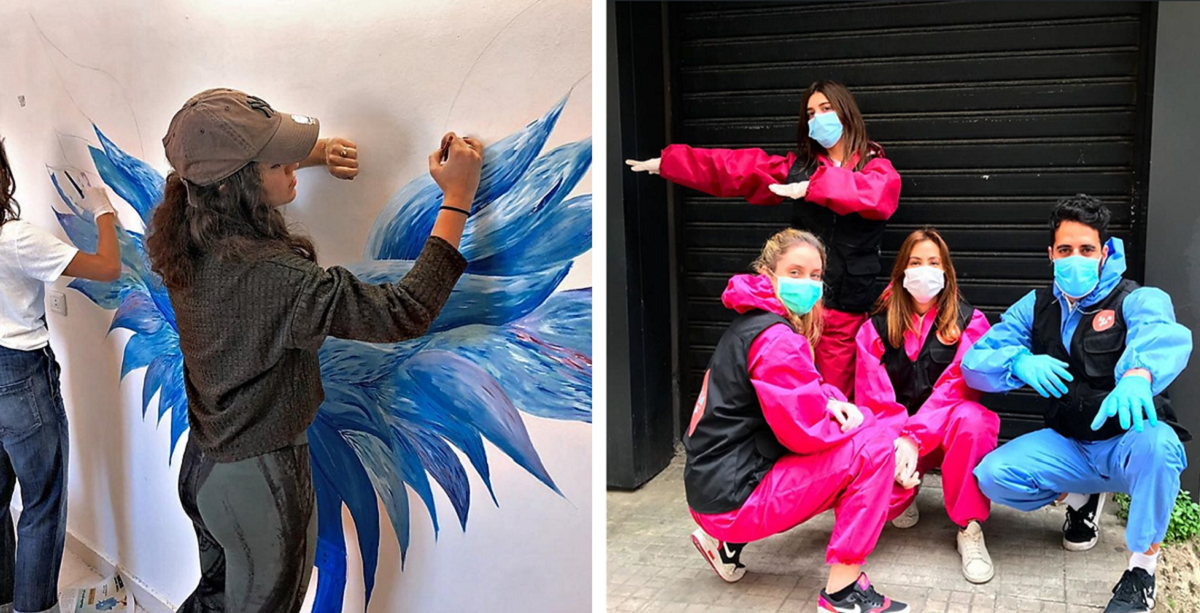 It's great to give back to our community and put our skills and time to help those in need or improve our environment. The reward in that is also personal. Volunteers know it. It grants personal satisfaction and gets you to socialize with mindlike fellows, and it can be fun!
Besides, it's always important to keep in mind those around us. This year has been particularly difficult for Lebanese, and we must have each others' backs amidst these trying times.
With free time cleared up in your schedule, make sure to find ways to help out in your community. Need some ideas? Check out these innovative and inclusive Lebanese community sharing platforms.