The IMPACT online platform has steadily grown to encompass an increasing number of sectors and domains and provided an ever-growing repository of information readily available to the public in Lebanon.
IMPACT, which stands for the Inter-Ministerial and Municipal Platform for Assessment, Coordination and Tracking, is a free online database that links the citizens, local government, and central government to a common, comprehensive platform that operates on the national level.
The platform is an initiative by Central Inspection, Lebanon's main investigative and inspection agency, to provide the public with easier access to information.
It is also supposed to serve as a tool that can facilitate auditing, incident reporting, and crisis management.
IMPACT Data Sections
The IMPACT platform makes a large stream of data available for the public to facilitate the scrutiny of government activity on various levels and in different aspects, with the ultimate goal being increasing transparency and accountability in Lebanon.
Data available on IMPACT is continuously being updated and expanded with the help of ministries, municipalities, and public servants, in addition to civil society organizations and non-government entities, such as the Lebanese Red Cross and social workers.
It currently has the following 11 main sections:
COVID-19 Decisions: An overview of the COVID-19 situation in Lebanon.

Provides information about the distribution of infection cases across governorates, districts, municipalities, and demographics.

Information about quarantine facilities across Lebanon.

COVID-19 Vaccine: An overview of the progress of the vaccination process against COVID-19 in Lebanon.

Figures, like the total number of individuals who have registered to receive the vaccine, the cumulative number of people who have received the vaccine, as well as a detailed breakdown of these numbers across different regions and demographics.

A timeline of vaccine registration.
Lockdown Permissions: Statistics about the mobility permits processed during lockdowns and curfews, in addition to additional lockdown-related data.

How many mobility requests have been submitted, approved, and rejected.
How QR scanning has been implemented (or not) in various institutions across the country during lockdowns.
How companies and employees have operated during lockdowns.

Rural Development: Information about the different demographics in Lebanon and the Lebanese diaspora.

The number of residents in Lebanon; the number of Lebanese expatriates; the average percentage of working women; the education level of Lebanese citizens; etc…
Statistics about the state of infrastructure across Lebanon.

Municipal Needs: An overview of the various health, food, financial, logistical, and security needs that municipalities across Lebanon require.
Vulnerable Households: Insight into vulnerable households in Lebanon that require aid.

The number

of household members with chronic diseases, special needs, mental disorders, and other medical cases.
The number of aid requests by districts.
The education level of each household by gender.
Aid requests by household size.

Beirut Blast: Public Administrations' Damages: An assessment of the damages recorded by government institutions and public buildings.

The costs required for reconstruction and for repairing and/or replacing damaged items.
The level of damage sustained by government buildings.
Medical Supplies: An overview of the medical supplies and teams available to municipalities across Lebanon.

The number of patients treated by oxygen in each Lebanese municipality.
The total number of medical supplies available in Lebanon.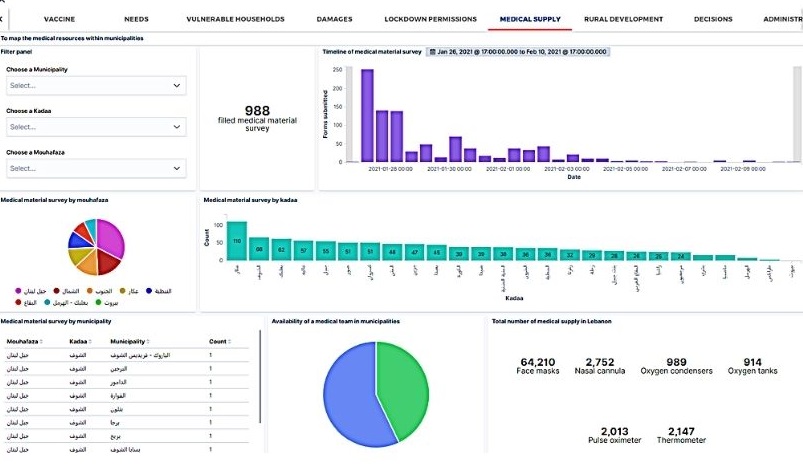 User Activity: Details about the users of the IMPACT platform and their activity.

Users include mokhtars (mayors), Lebanese Red Cross members, social workers, Internal Security Forces personnel, district doctors, and other contributors.
Data on the most active IMPACT forms, the distribution of user activity by governorate, district, and municipality.
A timeline of user activity on the platform.
Municipal Decisions: A comprehensive list of all COVID-19 measures, and their types, taken by municipalities across Lebanon.

Measures include setting up a crisis response team, imposing a curfew, sterilization training, and securing aid.

Administrative Acts and Decisions: A detailed breakdown of administrative acts.

Administrative acts include circulars, decisions, notices, and announcements issued by ministers, governors, directors, and other public servants and officials.
Navigation & Utility
The IMPACT platform heavily incorporates charts and sortable lists that allow the viewer to widen or narrow down the scale of the presented statistics to fetch accurate results.
For example, in the COVID-19 section, which, among other things, displays the cumulative positive cases by municipalities, it is possible to view the number of confirmed infections in the Mount Lebanon Governorate as a whole, just as it is possible to single out the Baabda District or the Municipality of Jounieh and view the number of confirmed cases there.
Results can similarly be filtered out for the different interactive charts included in the section.
By narrowing the gap between government and people, if utilized properly, IMPACT can help identify and address people's needs more efficiently while giving them the ability to track and monitor issues that concern them.
*Images used in this article are screenshots from the IMPACT website
---
Our team works tirelessly to ensure Lebanese people have a reliable alternative to the politically-backed media outlets with their heavily-funded and dangerous propaganda machines. We've been detained, faced nonstop cyber attacks, censorship, attempted kidnapping, physical intimidation, and frivolous lawsuits draining our resources. Financial support from our readers keeps us fighting on your behalf. If you are financially able, please consider supporting The961's work. Support The961. Make a contribution now.