At around 9 AM on Monday, February 24th, an "Iran Air" plane carrying 218 passengers landed in Rafik Hariri International Airport, amid concerns of it carrying new coronavirus cases. Upon its landing, a specialized medical team began examining the passengers.
As part of the airport's preventive procedures, the plane landed on a designated empty runway. Then, the equipped team deployed by the Ministry of Health boarded it and began taking the necessary health measures to isolate any suspicious cases.
In case any alarming symptoms manifested during the medical team's examinations, Lebanese Red Cross teams were on duty at the airport.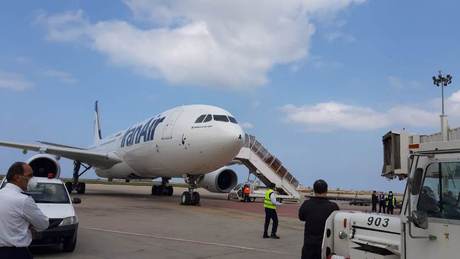 About an hour after their arrival, the passengers and crew of the Iranian plane were all declared to be showing no signs of coronavirus infection. 
They were all escorted through the airport in a separate passage to avoid intermingling with other people.
Lebanese General Security officers also took care of their passports and papers by placing them inside sterilized boxes and moved them around the airport unexposed.
The passengers' luggage was also isolated and transported via a designated conveyor belt without being mixed with other travelers' bags.
After they were declared coronavirus-free, the isolated passengers were then handed their bags and passports and allowed to exit through the airport's main entrance.
The medical team instructed them to immediately call the Ministry of Health in case they felt any suspicious symptoms.
Notably, the ministry had previously instructed that passengers arriving from countries such as Iran, where the virus has spread widely, must be transported together out of the airport in special buses.
However, MTV reported that this guideline was not followed this time "due to security concerns," which remain unexplained at the time of writing.
And controversially, a person claiming to have arrived aboard the Iranian plane said that "all the TV is saying are lies," regarding the health procedures at the airport.
"They took the name, the phone number, and the temperature, then asked us 'do you feel anything?' If you say no they say Allah Maak (God speed)," the alleged passenger wrote in a post on his Facebook wall below an image taken inside the airport.
On the other hand, another passenger told Annahar's reporter that medical examinations were indeed done before these questions were asked.
Incidentally, the same reporter was attacked by a partisan after she finished her interview with the passenger. The unidentified man forcibly deleted the video of the interview from her phone, but Annahar was able to restore it later on.
Reportedly, the Health Ministry will maintain contact with the passengers of this plane in the future to watch out for any possible health developments that might occur.
We have a dedicated coronavirus section where you can find the latest news/updates about the pandemic in Lebanon, inform yourself with WHO-verified resources, and track the number of cases in Lebanon in real-time. Click here.