The youth of Iraq are actively working to bring back hope to the cities once ravaged by the extremist group ISIS.
One of their main initiatives is making the cities liveable again for religious minorities such as Christians who fled for safety after being persecuted by the extremists.
In Mosul, young volunteers have gathered to restore the centuries-old St. Thomas church after it, like many cultural heritage places, was deliberately destroyed and looted by ISIS during the three years they occupied the city. 
"This is a message to say 'Come back, Mosul is not complete without you'," said Mohammed Essam, co-founder of a local volunteer group that is working to clean the church of ISIS atrocities.
The volunteer group called "Sawaed al-Museliya" (Arms of Mosul) has been making efforts to support the community's poorest residents by providing food and funds to rebuild their homes.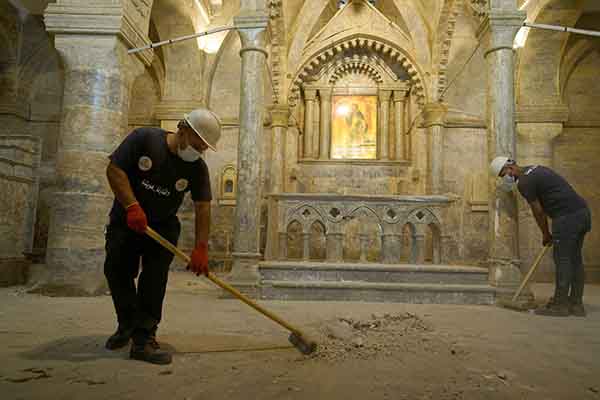 Adding now their efforts to revive ISIS-destroyed churches, the Muslim youth are hoping to support the local Christian community and reassure those who have fled that they can finally come back home.
"Even though they left, we are committed to [taking] care of them and of their places of worship," said Essam, who bore witness to the horrific crimes committed by extremists against the city's religious minorities.
"We want to say that Christians belong here. That they have a rich history here," he added. In fact, the Syriac Catholic St. Thomas church dates back to the mid-1800s.
According to Fr. Raed Adel, head of the city's Syriac Catholic churches, there were about 45,000 Christians living in Mosul until 2003. Those who remained fled after ISIS invaded in 2014.
Now, around 50 Christian families have returned to Mosul while many others visit the city daily for work or study, according to Fr. Adel.
"Our youth are the hope of this city after it suffered so many difficulties and problems," he said.