Disclaimer: This article contains written text covering the topics of sexual abuse and suicide that could be triggering to some readers.
A shocking testimony was anonymously posted through Beirut Today by a woman sharing an experience and revelation of how her, now ex, boyfriend and female friend living in Canada allegedly sexually abused her.
The woman reported that after a night with her then-boyfriend, Karl Bou Rjeily, she was on his phone to order food. While doing so, she saw Snapchat open. She opened the app curious as she didn't know he even had an account.
She saw a strange saved conversation between her boyfriend and Melissa Samaha, an old university friend that now resides in Canada.
After seeing the conversation between the two, she remembered the night before, when Karl woke her up to blindfold her, despite telling him that she didn't like it. As she looked through the conversation, she realized that there was a photo that Melissa was referring to – which was taken while she was blindfolded and unaware.
She asked Karl about the photo. After hesitating, he revealed that he and Melissa planned on "using her body for their sexual desires."
The victim reported that Melissa would give him instructions to be abusive and violent towards her and document it so that Melissa can live her fantasies through them.
After processing the reality of the situation, she realized that she had been manipulated and sexually violated. Asking him about the reason he did this, Karl said that he "wanted to experience being evil because bad people get what they want."
"Speechless, hurt, disgusted, and numb, I tried to reach for any sharp object to end my own life. I had never seen Karl more angry and violent; throwing me across the room, I fainted from numbness and shock countless times in 3 hours," the victim reported on Beirut Today.
Here are some parts of the Snapchat conversation she managed to take: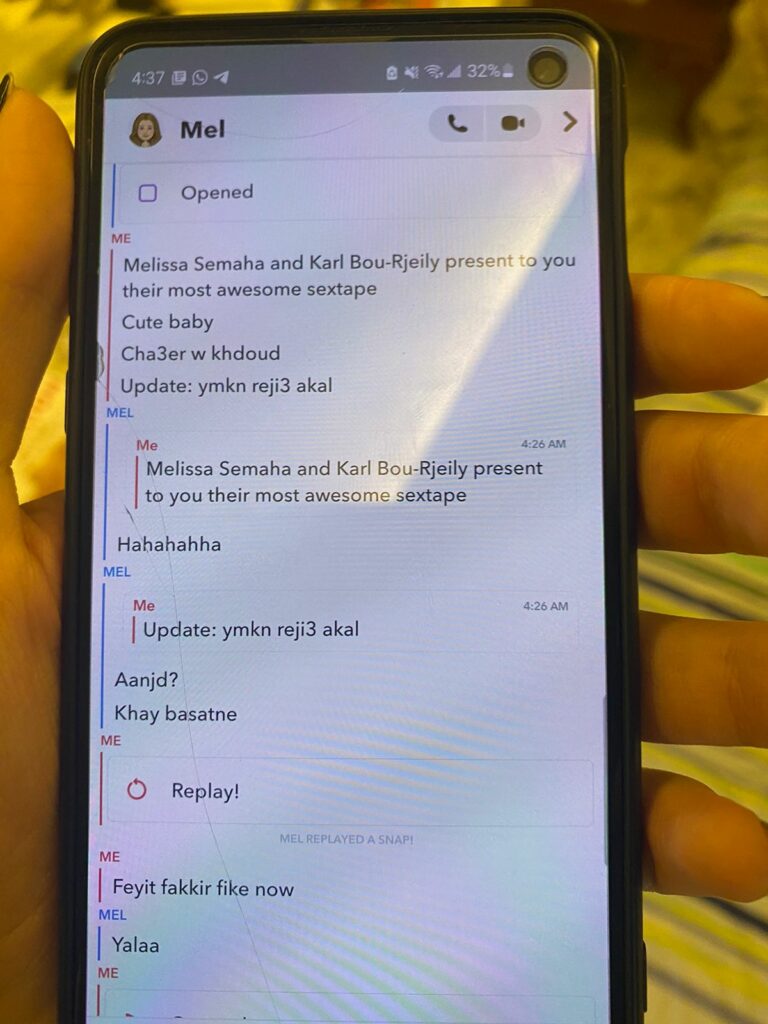 961News tried reaching Karl Bou Rjeily and Melissa Samaha but both were unavailable for comment at the time of publishing.
Melissa's Instagram has since been deactivated. Her LinkedIn account information was changed.
Lebanese social media users rushed to show support for the victim and speak out against both Karl and Melissa. Karl's public Instagram posts are filled with thousands of comments condemning his alleged actions:
Others in the comments section also blamed Melissa, calling her the mastermind behind Karl's actions.
Lebanese laws rarely protect cyber victims of sexual abuse. It's already hard enough to hold a sexual assaulter accountable legally, despite laws slowly improving. The first sexual harassment trial only took place in November 2021.
However, the unique aspect of this is that Melissa Samaha is in Canada during the abuse. Cyber crimes, including and especially sexual crimes, are taken seriously under Canadian laws.
Although it is not illegal in Canada to receive "revenge porn" (a term used to refer to intimate pictures/videos of others that are shared by someone), it is criminal to share them. But Melissa's alleged role in actively encouraging the crime could expose her to persecution under Canadian laws.