The Lebanese American University's (LAU) Fashion Design Program in partnership with Elie Saab has once again shown its commitment and pride in youthful talents.
LAU organized its 6th graduate fashion in collaboration with Elie Saab World, the renowned Lebanese fashion house. This newest edition celebrates "the Phenomenon of Leaping into Light" as part of its theme "Ignite: Burn all you know; Fashion will be born anew."
Hosted on LAU Beirut Campus, 11 fresh graduates showcased their themes and collections live on the runway, after having to resort to the online world the past years.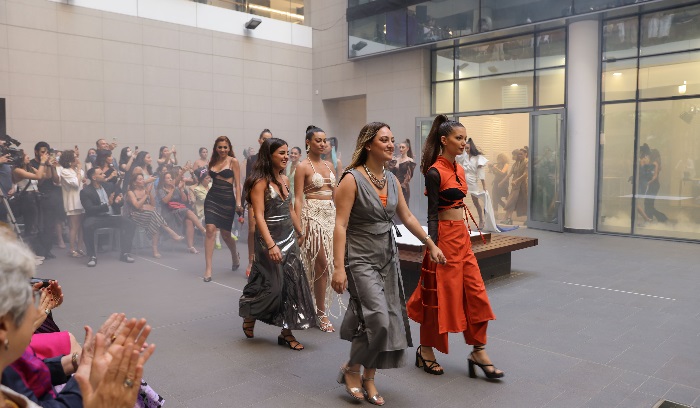 The preparations for this runaway were a comprehensive process that included a closed jury and where the students showcased their collections to the Lebanese designer Elie Saab.
During the ceremony, Elie Saab Jr. stressed the importance of hope in his speech: "Despite the exceptionally challenging times, we stand here hopeful and full of potential".
The event was sponsored by numerous Lebanese fashion brands such as K Stars, Lemonade Fashion, and Belinda Atelier as a testament to their faith in the new generation.
Nadine Sami, a Lebanese-Egyptian content creator, is one of this year's fashion graduates. "This collection is an exploration and a re-contextualization of my identity, with respect to my culture," she told 961.
In her creations, cultural references that are often interpreted as tacky and disregarded were given a second chance.
She explained to 961 that, through the re-contextualization of these populist items, "I aim to showcase the plurality of my cultural identity through this collection, as well as a plurality in my designs by mixing the highs and lows of fashion."
To wrap up the festivities, three awards were presented by Elie Saab:
Cynthia El Masri won the Jury Prize (Prix du Jury) for her "L'éternité" collection that focuses on the timelessness of the pieces and the emotions that they carry with them. Cynthia was also one of the three interns that got the opportunity to work behind the scenes for Elie Saab during Paris Fashion Week.
Lara Nakar was awarded the Concept Development Award for "Schadenfreude" which blends humor, irony, and fashion.
Zainab Haidar Ahmad received the Craftsmanship Award for "Identify Layers". The collection was inspired by patterns found in nature and aims to portray effortlessness while creating new identities.