Based in Paris, Lina Ghotmeh has been lauded as a "humanistic" architect, achieving outstanding architectural work and earning many recognitions.
In her methodology, which she called Archeology of The future, she focuses on the symbiotic whole of time, memory, humanity, space, and nature.
Her "exquisite interventions" as labeled by Daniels UToronto, "stem from thorough historical research" resulting "in constructed landscapes that enliven both memories and senses."
Who is Lina Ghotmeh?
Born in Beirut, in the 1980s, Lina Ghotmeh intended to become an archeologist, but she decided to enter the world of architecture and enrolled at the American University of Beirut (AUB).
After graduating, and claiming two prestigious awards: the Azar and Areen prizes, Ghotmeh continued her studies at the École Spéciale d'Architecture in Paris, where she earned the position of Associate Professor in 2008 which she filled until 2015.
She then worked in London, partnering with the likes of Ateliers Jean Nouvel and Foster & Partners, and won the international competition for the design of the Estonian National Museum in 2005.
She then co-founded her studio, DGT Architects, in Paris, and led the construction of the National Museum, which was granted the Grand Prix AFEX 2016 and was nominated for the Mies Van der Rohe Award.
Lina Ghotmeh's work has attracted international acknowledgment, including the Réalimenter Masséna, which won the "Réinventer Paris" competition, and the Stone Garden tower in Beirut, among other projects.
Ghotmeh also received many awards, including:
The French Ministry AJAP Prize in 2008;
The Grand Prix Afex in 2016;
The French Fine Arts Academy Cardin Award in 2019;
The Tamayouz "Woman of Outstanding Achievement" Award in 2020;
The prestigious Schelling Architecture Prize in 2021.
In 2021, she was appointed a professor member of the International Academy of Architecture.
Her unique creativity and talent brought her to be regularly invited to speak at major conferences and workshops in many countries.
She also lectured at international institutions, notably the Yale School of Architecture and the University of Toronto (UToronto) where her constructive landscapes were described as the "past meets future as histories are unearthed and memories excavated to raise questions enabling more just and sustainable architecture."
In 2021, Ghotmeh was nominated as a co-president of the RST arches scientific network for Architecture in extreme climates and as an Independent Director at the board of Saint-Gobain.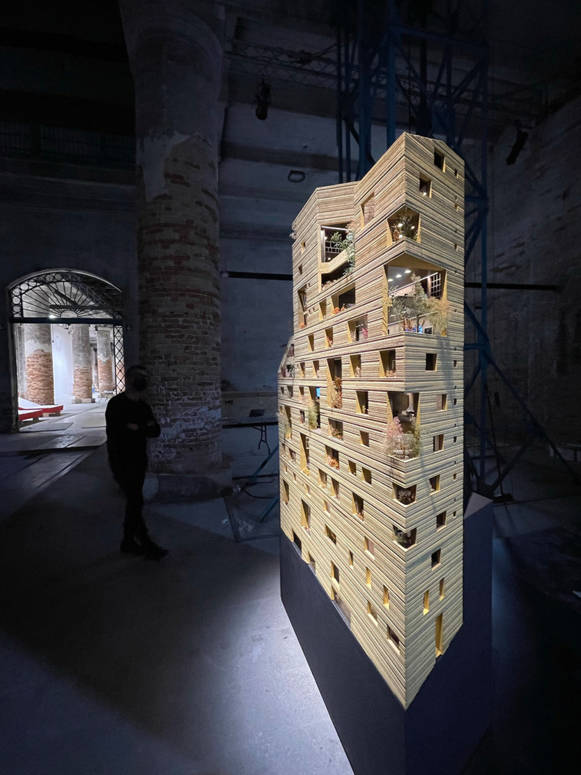 Her work was showcased in prestigious exhibitions, such as at the 17th Architecture Biennale in Venice, and was published by Phaidon, RIBA, and Architectural Record.
The known Stone Garden in Beirut is her work, a building she first designed in her home country. It stood out, in particular, after the Beirut Blast as a representation of resilience for having held to its ground, its structure withstanding the devastation.
Ghotmeh had envisioned the structure to be resilient to resist earthquakes. "We're in a seismic area. Beirut has been buried seven times, so it has to resist any earthquakes, and that's why it also resisted the explosion in the port," she said.