"It is not just poetically beautiful but also scientifically true: in the end, our atoms, our being, we are all starlight." ~ Dr. Samuel Peralta
A poem by Lebanese-Armenian writer Perla Kantarjian has been selected for the Lunar Codex project, which will send to the Moon a large and diverse collection of contemporary art created by people around the world.
The Lunar Codex will be the first project to ever launch the works of female artists to the Moon, and it will take place over three stages, each involving the launch of a moon-bound time capsule.
'We Are All Starlight'
On one of these capsules, called The Nova Collection, will be Half Woman, Half Starlight: Kantarjian's ode to her lifelong fascination with what she calls "the vast unknown," including that which lies beyond Earth.
"I penned down 'Half Woman, Half Starlight' in early 2021, when the world was in peak turmoil, especially the one in Lebanon, and existential crises had become an almost-everyday companion," Kantarjian told The961.
"I adopted a beautiful way to step out of that state of confusion — I began writing poetry as though my audience was that 'state of confusion' or 'existential crisis' and through words that affirmed my power and the qualities I enjoyed about myself, such as my feeling that I, as a woman, am as magnificent as starlight, it was as though I was battling back softly, but fiercely."
The 24-year-old Beirut-based poet would later find that her poem would not only resonate with her readers and friends but also with physicist and storyteller Dr. Samuel Peralta, the curator of the Lunar Codex project, who personally picked the piece for The Nova Collection.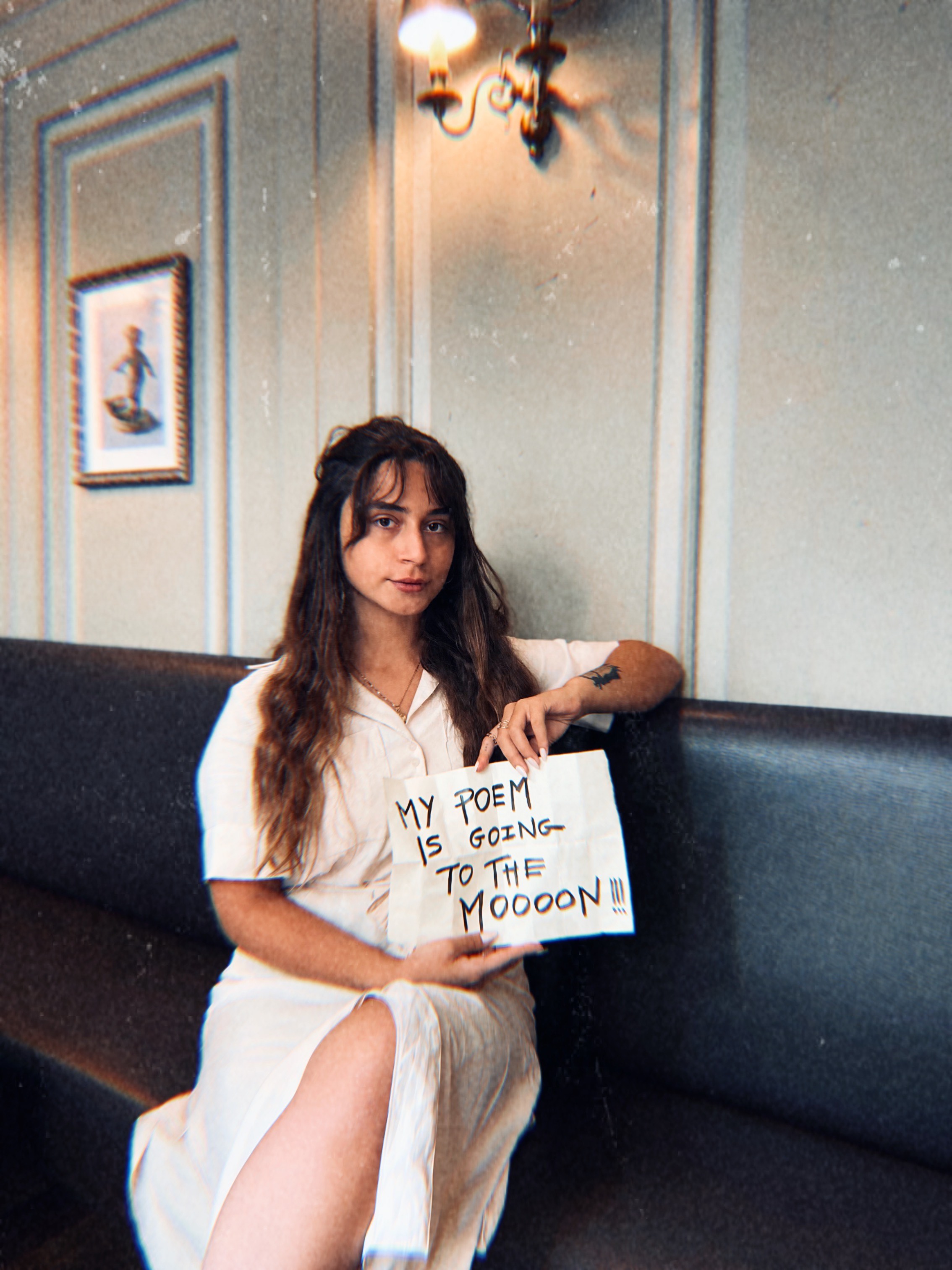 "I was torn between a few of your pieces; but when you posted the framed version of 'Half Woman, Half Starlight', it hit me: Yes, of course, this is the perfect one – because it is not just poetically beautiful but also scientifically true: in the end, our atoms, our being, we are all starlight," he told her after the selection.
Kantarjian has been writing since her childhood years, but mostly for herself for a considerable period of time, until she joined Annahar English as a freelance journalist in 2018.
"After getting comfortable with the whole 'Byline' concept, I began sending out my creative pieces to publications, and my works have been published in over 25 journals and magazines around the world, and still counting," she said.
Today, the graduate of the American University of Science and Technology (AUST) is Creative Communications Director of BLACK LEMON, the first NFT Production House in the MENA region, a position she juggles with several others.
International Literary Quarterly, NonBinary Review, Harpy Hybrid Review, Panoply, The Hellebore, Rusted Radishes, and The Armenian Weekly are some of the platforms and publications where her pieces have been published.
Going to the Moon
Having a poem of hers launched to the Moon, a celestial object that she has always felt a special connection to, however, is an entirely different experience.
"Honestly, I still haven't wrapped my head around it! It's been months since I was informed of this beautiful opportunity, and I was only able to process it lately when I decided I wanted to share the news with my community," she explained.
"To have a trace of my spirit dwelling upon its lunar surface for years to come and generations to discover is a thought that delights me and thrills me and is enough to make me fall in love with nighttime even more."
Apart from its sentimental profoundness, Half Woman, Half Starlight's upcoming trip to the Moon gives Perla Kantarjian a sense of pride for being among the first female artists whose work will be kept on the lunar surface to be discovered by future generations.
"To boot, being the only Lebanese and the only Armenian on board the Lunar Codex to date is an astounding commendation, for, despite the incessant attempts to crush our people, and wipe us off the face of the earth, we not only remained, thrived, and blossomed here, but also expanded to reach the celestials," she added.
The Nova Collection time capsule will launch with the Nova-C lunar lander on a SpaceX Falcon 9 rocket in early 2022. It will land in the Vallis Schröteri (Schroter's Valley) region, on the near side of the Moon's surface.