The Lebanese Army Commander in Chief General Joseph Aoun met the third-year officer cadets at the Military College.
He addressed them with a word in which he congratulated them on their graduation in difficult and delicate circumstances, considering that their entry to the Military College was a challenging project to avoid vacancy in light of the obstacles that prevented recruitment.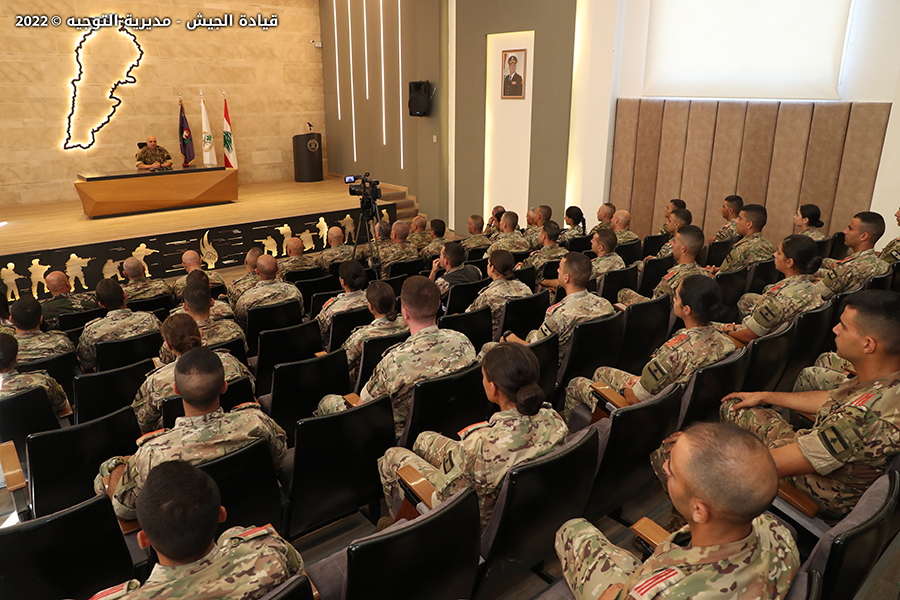 General Aoun noted that the graduation course is the first course in the history of the army to include male and female officers after three years of training, as a symbol of renewal and diversification of capabilities in the military institution.
He also pointed out that the success of the graduates came as a result of their merit and competence.
Chief Aoun called on them to live up to the heavy responsibilities that await them in the units and to be always ready to double their efforts to preserve Lebanon's security.
"Our motto is Honor, Sacrifice, and Loyalty, and martyrdom for the sake of our country is our supreme honor," he declared.
"Your sect is the military uniform, and your party is Lebanon. Stay away from the sectarian divisions that sow discord among the sons of the same nation," he instructed them, adding "Sects are a blessing, but sectarianism is a curse."
Chief Aoun mentioned how sectarian conflicts have brought the country to ruin and stressed how the Lebanese are convinced that there is no salvation for them except in the army, and they put their trust in it.
"This raises the level of our responsibilities," he stressed.
As for the economic crisis that touched the military, General Aoun concluded by saying that "The Army Command is doing its utmost to alleviate the economic crisis of the military."
Related: 5000 Lebanese Soldiers Reportedly Took Unauthorized Leave From Service