The Lebanese Air Force was established in 1949, under the command of then-Lieutenant Colonel Emile Boustany.
The role of its army helicopters is mainly military. Like in most countries, they are used in combats and defense, such as attacking ground and sky targets, transporting troops, and undertaking rescue missions.
They're also used for medical evacuation on occasions, and, as we often know, they get used at times in Lebanon to transport officials when their safety is, or not, at stake.
However, our Lebanese military helicopters had gotten to do unusual things that don't fall under their military role. And here are some relevant ones:
#1 Transporting a massive statue of Virgin Mary
Lebanese army helped transport and place a large statue of the Virgin Mary on top of a hill in Qartaba, Lebanon.
#2 Planting the Lebanese Flag on the Raouche Rock
Special forces landed by helicopter on the Raouche Rock in Beirut to plant a Lebanese flag there for the first time ever.
#3 Replacing the firefighting helicopters to extinguish wildfires
The unfortunate wildfires blazed across Lebanon in October 2019 but the Sikorsky firefighting helicopters were of no use. They were not properly maintained due to a lack of funding.
The military helicopters were used instead to attempt extinguishing the wildfires; a role these helicopters had to assume more than once for that purpose.
#4 Transporting the Holy Flame
Two Lebanese army helicopters transported recently the Holy Flame from Cyprus to Lebanon. The Holy Flame, which burns in blue color from the grave of Christ, is believed to be miraculous
#5 Enforcing Lockdown
Lebanese Army helicopters took to the skies to ensure lockdown and quarantine measures and limit the spread of coronavirus.
They broadcasted a message to cities across Lebanon, "We ask you to stay indoors and avoid leaving your homes except for emergencies, and avoid social gatherings…"
#6 Transporting non-military personalities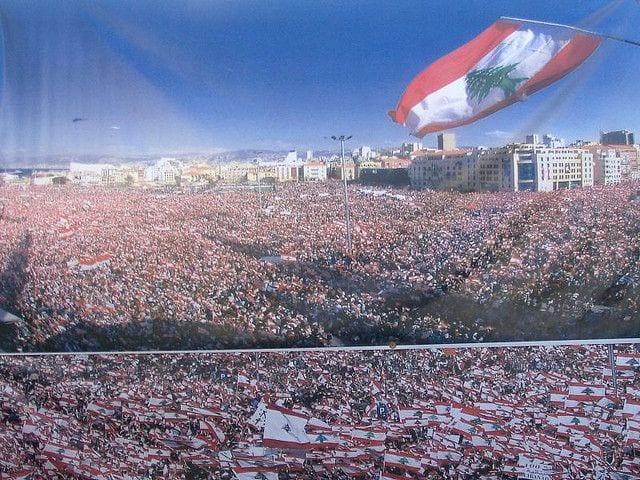 In 2005, the Cedar Revolution against the Syrian army occupation saw a massive nationwide manifestation. Patriarch Sfeir was due to travel on a mission that day but it was impossible to drive through the massive block of cars from the north to central Beirut. The Army stepped in to transport him by helicopter.
#7 Chasing criminals
The Lebanese army used recently its helicopters on a manhunt for the gunman responsible for a mass shooting in Baakline that resulted in the death of 10 people. It isn't the first time the army helicopters teamed up with the Internal Security Forces for law-enforcement.
#8 Dropping invitation leaflets over Tripoli
On April 19th, 2015, Lebanese army helicopters hovered over Tripoli, dropping leaflets over the city. The leaflets, which had the Lebanese flag and the army emblem, were invitations for the citizens to participate in Tripoli marathon on May 10th of that year, and "run for their country."
#9 Dropping Lebanese Flags over Beirut
During a military parade for Lebanon's Independence Day, the Lebanese army helicopters released from the sky countless Lebanese flags over the city.
#10 Supporting the Sidon Water Park
While this action is not an active operation per se, it is worth citing here because two army helicopters were used here for an unusual thing.
In 2018, the army moved two of its old helicopters from Rayak Military Airport to Sidon Beach, landing it successively in the sea.
That was in support of the touristic project of Sidon municipality and the "Friends of Zira and Sidon Beach" association to convert the bottom of "Zira Sidon" into a touristic fish water park.
#11 Flying to Egypt to bring back army officers
Around the end of March of this year, an army helicopter was dispatched to Egypt when coronavirus began spreading and brought back home to safety 11 Lebanese officers.
These are some of the times Lebanese army helicopters were used for matters outside the scope of their military tasks, which are, in brief, in combat: attacking ground targets, firing at enemy in the sky, transporting troops, and undertaking rescue missions.