Noubar Afeyan is the Lebanese-Armenian chairman of Moderna Therapeutics, a company whose COVID-19 vaccine has shown a 94% effectiveness in advanced stages of research.
Noubar Afeyan, entrepreneur, venture capitalist, inventor, technologist, and CEO was born to Lebanese-Armenian parents in Lebanon. He's a third-generation immigrant to Lebanon as his grandfather fled the Armenian genocide and came to Lebanon in the early 1900s.
Noubar was born and raised in Beirut, where he lived until reaching the age of 13. He recounts his fond memories of living in Lebanon in details during an interview on MTV's Sar el Wa2et show with Marcel Ghanem.
His father was Armenian from Bulgaria who had moved to Lebanon to escape communism. His Lebanese-born mother couldn't pass on the Lebanese citizenship due to citizenship laws that still exist today preventing Lebanese mothers married to non-Lebanese spouses from passing on citizenship.
He family moved to Montreal, Canada in 1976. The entrepreneur attended McGill University and graduated with a BS in Chemical Engineering in 1983.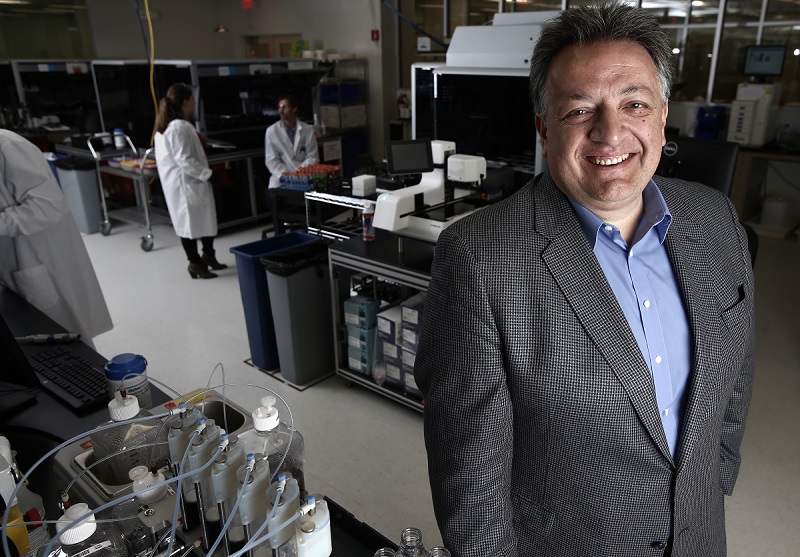 Noubar was accepted to a Ph.D. program at the Massachusetts Institute of Technology (MIT), at the time the only school with an advanced program in biochemical engineering.
After earning his Ph.D. in 1987 at the age of 24, Afeyan started his first company. "I was naïve to think I could start a company with so little experience," he told Forbes in an interview.
However, it worked out.
For 10 years, Noubar Afeyan headed PerSeptive Biosystems, which became the number two company in the bio-instrumentation field before it was acquired by Perkin Elmer/Applera Corporation in 1998.
In 1999, Afeyan founded Flagship Ventures, which develops new companies through its in-house division "VentureLabs" and also invests in startups.
Afeyan overseas VentureLabs as Senior Managing Partner and CEO of Flagship Ventures. The company has a unique approach in that it conducts its own research and forms new companies after the research has started to bear fruit.
Using this approach, Flagship Ventures and VentureLabs have launched dozens of startup companies, primarily in the life sciences and sustainability industry.
"We spend a lot of time at Flagship Ventures identifying problems and coming up with solutions that produce intellectual property that can be used to create innovations and ultimately new approaches and new companies," Afeyan told Forbes.
Moderna Therapeutics, which Noubar co-founded and helped lead as chairman, might be Flagship Ventures' most successful startup. Founded in 2009, the Cambridge, Massachusetts-based company is already valued at $3 billion and employs over 300 people.
Not just that, the drugmaker Moderna announced that its coronavirus vaccine was 94.5% effective, competing with Pfizer as a front-runner in the global race to contain a raging pandemic that has killed so far 1.2 million people worldwide.
Afeyan has authored numerous scientific publications and patents. He is a member of the board of trustees of the Skolkovo Institute of Science and Technology in Moscow, and several advisory boards, including the World Economic Forum's Emerging Technology Council, MIT's Whitehead Institute, the Harvard-MIT Division of Health Sciences and Technology (HST), and the Boston University Medical School.
Interestingly enough, Afeyan believes that being an immigrant and an entrepreneur are complementary. "What keeps you from innovating is being comfortable," he told Forbes. "If you're an immigrant, then you're used to being out of your comfort zone."
Now, he has helped build 38 companies and is the leading man behind a company that might save the world from a deadly pandemic.