This week, tons of humanitarian aid will reach Beirut from Brazil, raised by the Lebanese-Brazilian community in the country.
The 60+ tons of aid have been sent to Lebanon, expected to arrive on Tuesday, August 25th.
Ricardo Maluf, the president of Instituto Kanoun, made the announcement earlier in a webinar hosted by the Lebanese-Brazilian community's Humanitarian Aid Group, featuring former Brazilian President Michel Temer.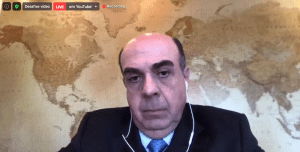 "We have donated items, money, medicines, and food. We now have over 60 tons' worth of supplies stored and ready to be sent, just awaiting some minor decisions to be taken over the next 24 hours," Maluf said on Monday.
The deadly blast on August 4th heavily damaged several hospitals in Beirut, forcing their patients to be transported to the safe hospitals, which in turn became overwhelmed by the large inflow of casualties and patients.
Since then, several field hospitals have been set up in the capital by various countries to support its medical response to the disaster.
After the explosion, Brazil pledged to support Lebanon through the tragedy, promising that it would "do more than a gesture."
With the help of former President Temer, the humanitarian aid group hopes to have the aid arrive in Lebanon "before Wednesday or Thursday," said Lebanese-Brazilian Medical Association President Robert Sami Nemer.
"And we will keep up the effort, as our Lebanon deserves more than that," he stressed.
During the webinar, Nemer advanced a request to President Temer to have the Brazilian government "take this sad opportunity to put Brazilian medicine in Lebanon as an exchange of information or even a medical humanitarian aid."
In response, Temer said that he would forward the plea to Brazil's president and health minister. "It is key to promote our advanced medicine and helping Lebanon," he affirmed.