Renown composer Steve Barakatt, a Lebanese born and raised in Canada, decided to honor his roots by creating an anthem for what he calls "Lebanon's 100th birthday" and naming it "Motherland."
Since Lebanon is way older than that, it is a must to explain that the 100th birthday he's referring to is about the declaration of "the state of greater Lebanon" by the French in 1920.
Upon the Treaty of Sevres, in 1920, the countries merged by the Ottomans under their domination were split back by the French and British Allies as the League of Nations Mandate.
On September 1st of that year, France declared Lebanon the "State of Greater Lebanon" yet under their Mandate rule. Lebanon would not become a Republic but some six years later, in May 1926.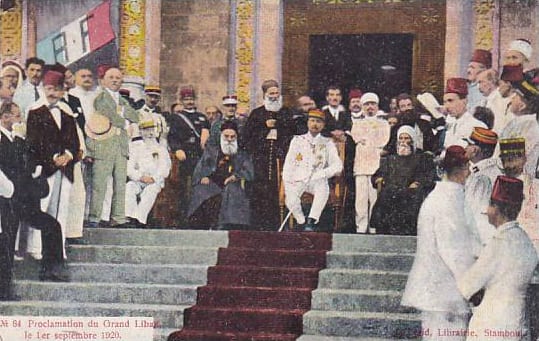 The State of Greater Lebanon was "given" a flag stating its belonging to France: a French flag with the Cedar of Lebanon.
The Lebanese people would go on with their struggle for independence as a sovereign country, which they achieved in 1943, after 23 years of French Mandate rule. The first Lebanese flag was then created.
For the Lebanese-Canadian composer Barakatt, his anthem will celebrate Lebanon and bring in "something positive."
He said: "The country needs a good vibe and positive energy, and our responsibility as musicians is to bring something positive."
"It's necessary, and I know the challenges are real and will not be easy to overcome," he explained. "It's a crisis in a crisis, but it's essential to have faith, and the 100th anniversary will carry on regardless, so we needed to do something for it."
Barakatt was born and raised in Canada to a Lebanese family. He has visited Lebanon on numerous occasions over the years.
In 2008, he visited as UNICEF Canada Ambassador to present the UNICEF International Anthem that marked the 20th anniversary of the Convention on the Rights of the Child.
Barakatt speaks about his relationship to his home country, saying that it started when he was of an early age living in Canada. His family, the Barakatts, belongs to a line of famous musicians such as the late Melhem Baraket.
This anthem, he said, is his way of "trying to give back, with a very personal and artistic initiative."
The Daily Star describes the anthem as weaving together "a delicate piano melody for the main theme, bolstered by an oriental-style accompaniment with a wind percussion and string section."
The musician forgoes the brass sections, which are usually present in anthems, for tablas, nays, and ouds.
The piece features Lebanese performers Rony Barrack (percussion), Wissam Abdelnour (oud), and Joseph Karam (nay). It also features the City of Prague Philharmonic Orchestra conducted by Nic Raine.
It's recorded by Grammy-winning engineer Jan Holzner, who previously worked with acts such as Adele and Toni Braxton, and it is set to be released this year. The music video will be directed by Lebanese director Badry Moujais.
Lebanon has lived countless occupations, most notably the hundreds of years under the Ottoman Empire rule, followed by over two decades of French Mandate, and also wars, internally and from neighboring countries.
That's in addition to decades of inefficient and exploitative leadership, our current thawra, and now the plague of the Coronavirus.
Yet, Lebanon has always prevailed as a country of resilience, infused by the vigor of thousands of years of existence, and holding on tight to its Lebanese sovereign identity.
The Motherland's anthem is a beautiful masterpiece that should primarily remind us of that.