Nesreen MacDonald was in her kitchen with her two children when the Lebanese capital was torn apart by the infamous August 4 explosion. Since then, she's been selling Lebanese food to raise money for her homeland.
Although MacDonald was born and raised in Canada, her connection to Lebanon, from which her parents emigrated to Canada in 1978, has always been strong, and her friends in Beirut continue to strengthen that connection.
Horrified by the news of the explosion on the fateful August day, she rushed to call her childhood friend in Beirut, getting an answer only half a day later.
"I got a call about 10 hours later and they were displaced from their apartment. Glass was everywhere and her son got a broken shoulder. They got stitches and it was just pure chaos," Nesreen told The County Weekly News.
Right from the start, she wanted to help, and she started to do so by selling a piece of Lebanese culture in exchange for funds that would go directly to support relief efforts in Beirut through Canada's Humanitarian Coalition.
"I was making Lebanese rice pudding and hummus the day after," she said. In small containers, she sells 10 oz. (around 280 g) of hummus or pudding for $5, and 16 oz. (around 425 g) for $8.
"I didn't want to just say 'I am Lebanese, can I have money to donate?' I wanted to offer part of my culture," Nesreen said.
With the help and support of her friends, strangers, and Facebook, the Lebanese-Canadian in Spruce Grove, Alberta, was initially able to raise $3,300 which, with the help of the Canadian government's matching program, would equate to $6,600, she said
As of October 9th, Nesreen MacDonald's charity sales have alone raised more than $4,000, and she has no plans to stop her initiative anytime soon.
"I cannot just pull $4,000 out of my pocket and donate it," Nesreen said. "I wish I could. It has been amazing and I have had such a great response. People love that they are donating and getting a taste of where this whole cooking story ended up originating from."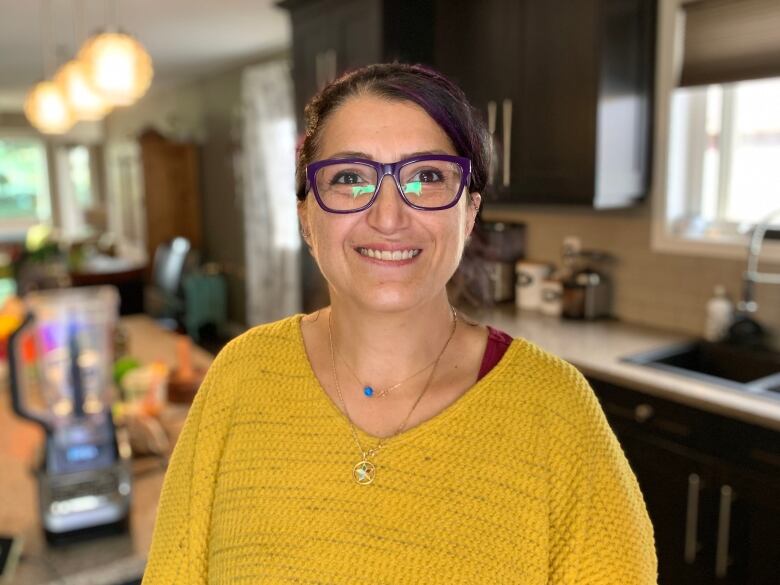 Nesreen's commitment to lend help to her homeland is similarly shared by her sister, Naaem Joumblat, who has been a resident of a small rural town of Alberta called Nanton for 22 years.
"But she makes no secret of the fact that Lebanon will always be home," said CBC.
Naeem works at a bank and her husband runs a family restaurant, the Sweet Queen. She's well-known in her tight-knit town for being "a fierce advocate" of both her Canadian town and her homeland Lebanon.
Like most Lebanese abroad, she's talkative about "Lebanon's culture, history, the beautiful scenery, and its cosmopolitan capital in happier times."
Being a working mother of two children has not stopped Naeem from dedicating extra long hours to "flooding her small town with hummus to raise money for blast victims," as CBC puts it.
And her town has been very supportive, swapping cash donations for her hummus, and genuinely asking about her family back home and what they can do to help.
"Nanton has been incredible," Naeem said. "Nanton really came together for us."
According to CBC, Naeem has lost count of how many tubs of hummus she has sold so far. Money and orders are still coming in, along with messages of support and queries about the next batch of hummus.
"I love Canada and I'm a Canadian but Lebanon is huge part of my life," Naeem said.
It is personal initiatives like these ones, from across the oceans, that give comfort to the people in Lebanon in their ongoing struggles that they are not alone, and that they are connected to people who really care and are still supporting… two months later.