"From Beirut, Lebanon to Montreal, Canada; from Montreal, Canada to the world." This is how the Lebanese Canadian rapper, I'm EZ, begins his new song "Too Soon."
Inspired by the pandemic, Imad Ezzeddine (a.k.a I'm EZ) rediscovered his old talents and wanted to send a positive message of hope for life to the world during these tough times.
"I want to inspire and empower people to keep thriving and that we all go through some hard times that are TEMPORARY," he told The961.
His Background
Imad is a first-generation immigrant, born to Lebanese parents who escaped the civil war in the 80s in search of a better life in Canada.
Despite being born in Canada, Imad only spoke Lebanese until the age of 5 when he entered an integration class with newly arrived immigrant students.
I am so thankful for Canada but Lebanon is and will always be in my heart, it's part of me, it's the source.

Imad Ezzeddine
Imad visited Lebanon a total of three times, first when he was 7-year old.  "My last time visiting was in 2013, and it was like I had always lived there. My people are so generous and welcoming and have this incomparable sense of hospitality," he tells us.
Developing a Love for Writing
As a child, Imad loved reading so much that he was inspired to start writing. By the young age of 6, he was determined to write his first book!
"In elementary school, I would not sleep at night until I was satisfied with the number of pages I had read and, a couple of days later, I would start writing my own content with inspiration found in other books. I was what they call a geek before it was cool."
Looking back, I am not surprised by my love for writing music. These tests at an early age have shaped the man I am today.

Imad Ezzedine, aka I'm EZ
His Muse: A Heartbreak
"Believe it or not, like many artists, a heartbreak was behind my inspiration to pursue music," he shared with us.
"I had been writing and recording content in high school and college but was not making it public until that defining moment. This heartbreak pushed me to rise up from my sadness, and my goal was to make her regret letting me go."
"A couple of weeks later, I was on television and radios all over the world," he said. — That was 2009, a year that saw Imad rising to fame under the stage name Khalifa.
"Months later, I was sharing the stage with 6 times Grammy award winner Outkast and, in 2011, my song Time After Time, featuring Jamaican legend Wayne Wonder, was part of the Top 20 on NRJ Lebanon."
Entrepreneurship
After a year of having excellent grades, Imad dropped out of his entrepreneurial studies at McGill University, in Montreal. Alongside his love for music, he founded his own tech company called Impressview Inc.
"My adventure was like what you see in the American TV show Shark Tank but, in real life, I raised venture capital funding and received humongous support from the Canadian Government."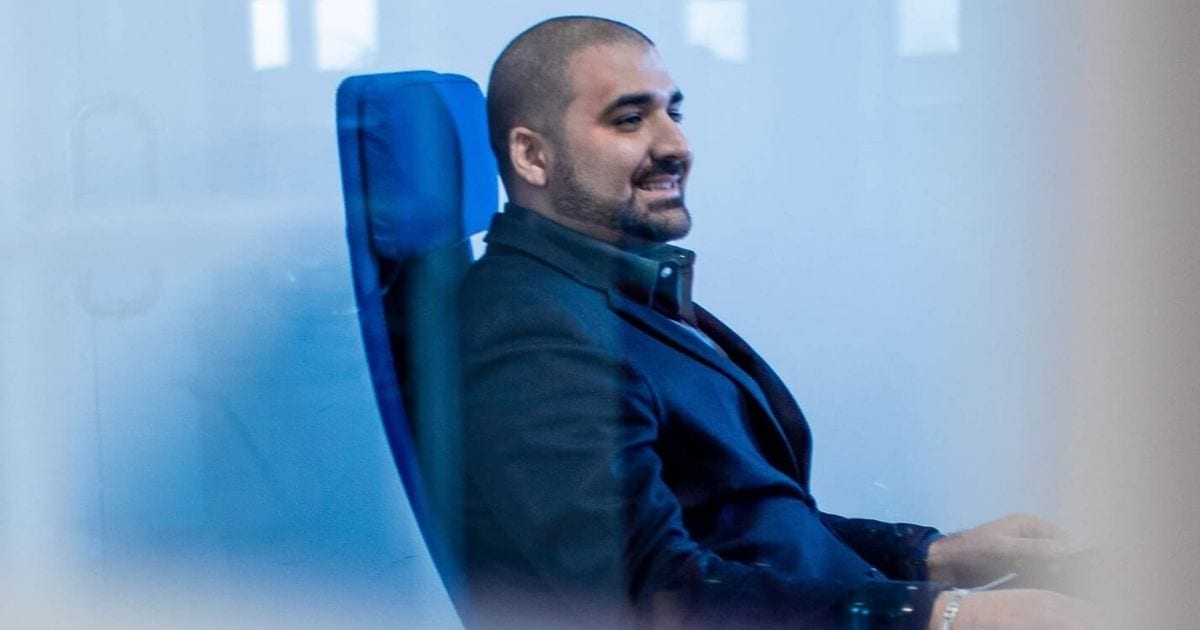 Writing Music Again
Now in confinement like the rest of the world, Imad is back as I'm EZ to spread positive messages through his music. "I'm EZ believes in unity and that we are all created equals but unique at the same time," he said.
I'm EZ believes in Unity, empathy, and paying it forward because that's what life should be all about.

Imad Ezzeddine, aka I'm EZ
"We go through similar challenges in our own distinctive path and it's ok to talk about them. I welcome everybody in need to talk to reach out and I will kindly listen with open ears, open eyes, open mind, and an open heart," Imad said.
He opened up, saying: "I had my dark times that made me a better version of myself and, for everybody reading this article, remember, in every difficult time lies an opportunity."
Finally, we couldn't help but ask what his parents thought of his career path in music.
"Good question! Ha!" He exclaimed, and said, "They weren't pleased by my choice of doing music because, like every immigrant, they had dreams to have me become a doctor, a lawyer, or a famous politician."
"But they ended up respecting my choices when they started seeing positive results. In the end, parents just want to protect their kids and see them succeed."
Listen to his song "Too Soon":