Lebanese people often resort to their unmatchable humor to get them through the day. Regardless of all the problems we face, we always find a way to laugh about it. It's literally our defense mechanism.
Let's look at what Lebanon has been through in the past year. First, Lebanon's debt became a huge issue. Then we had a life-changing anti-government revolution demanding change.
Instead of fixing things, the government just sends our economy down the drain. Now everything is expensive, like meat, so people had to stop buying it. Then even more basic things became hard to buy.
Of course, the global pandemic had to hit us from one side making the economic situation even worse – and killing people too.
Alas, the port explodes… No joking matter there, except for the fact that it was allegedly caused by a welder. Then it seemed like a welder was on the loose because more fires started breaking out.
And finally, our president told us we're going to hell if the government does get form soon, which seems to be the case.
Akh, what can you say? Well, you can make jokes… and also get a mental health check. (Not that jokes won't be also running loose at the clinic).
Jokes about our fantastic, one-of-a-kind electricity…
When you remember that the blast investigation was supposed to end in 5 days…
"No welding allowed"
A legit question…
Fancy lentils, the new staple…
Translation – See how the middle class disappeared?
The fastest way to emigrate…
Translation – To whoever used to threaten me when I was young that he'd slap me so hard it would send me to America… Let him contact me urgently.
On the fires that keep happening…
New dangerous weapon…
Translation – The most dangerous weapons on earth:
Nuclear missiles
The American MOAB bomb
The Russian FOAB bomb
The Lebanese welder
The new sworn enemy of Lebanon
Trilingual Lebanon 2020
When your president tells you we're going to hell…
(Jhanam = Hell)
All the trust in our health system…
…And in the seriousness of our official lockdowns that have breaks in between…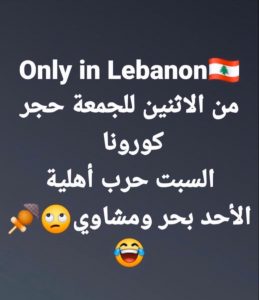 "Only in Lebanon… From Monday to Friday, a coronavirus lockdown, on Saturday civil war, and on Sunday beach and grills."
What can we say? Nothing beats the Lebanese humor, not even if the ground quakes underneath us!